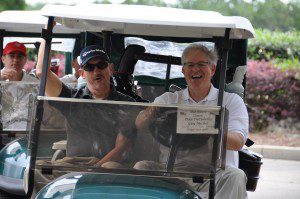 Dozens of golf carts paraded through Lake Nona Country Club, each heading out for tee time at the first annual Med School Classic golf tournament on April 22. As they passed, Dr. Deborah German, vice president for medical affairs and dean of the UCF College of Medicine, waved each golfer along, , thanking them for their support of the young medical school.
Central Florida business leaders completely planned and conceived of the Med School Classic Golf Tournament to raise money for M.D. scholarships. And the inaugural event raised $35,000 dollars that " will allow us to attract the best and brightest students to our medical school," Dr. German said.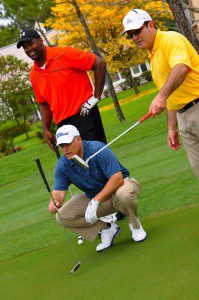 Supporters said they became involved to support the college and the overall vision of Lake Nona's Medical City as a life sciences cluster that will bring economic development to Central Florida. "We've seen a real good reaction, we have a sold out event with over 100 golfers," said Jim Warmus of the Averett, Warmus, Durkee Accounting Firm, which served as one of the founding sponsors of the Med School Classic "This is the first one, so hopefully this is just the building block for bigger and better things to come in the future." Organizers are already thinking of next year's event and hoping to attract more golfers and raise even more for scholarships.
Many of the donors said they hope a growing Medical City will increase the availability of top-tier medical care in Central Florida.  "It's not just Medical City that benefits, the whole community benefits from making Orlando a center for medical research and technology." said Dan DeCubellis of Carlton Fields Law Firm, who also served as a co-founder of the tournament.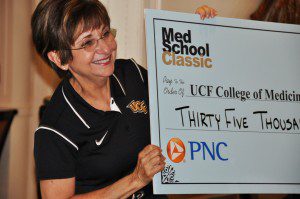 Participants played 18 holes of golf on the beautiful Lake Nona Country Club course, competing in multiple prize events and a million dollar hole-in-one challenge before gathering in the clubhouse for a full dinner reception. The tournament's best golfers were recognized with Sports Authority gift cards, but the College of Medicine received the most valuable prize. Dr. German accepted a giant  $35,000 check from the tournament proceeds.  "This could be a $5,000 scholarship for seven students, it really makes a difference," Dr. German said. "I want to thank you on behalf of all our students and faculty, because it allows us to really get talented people."
Post Tags