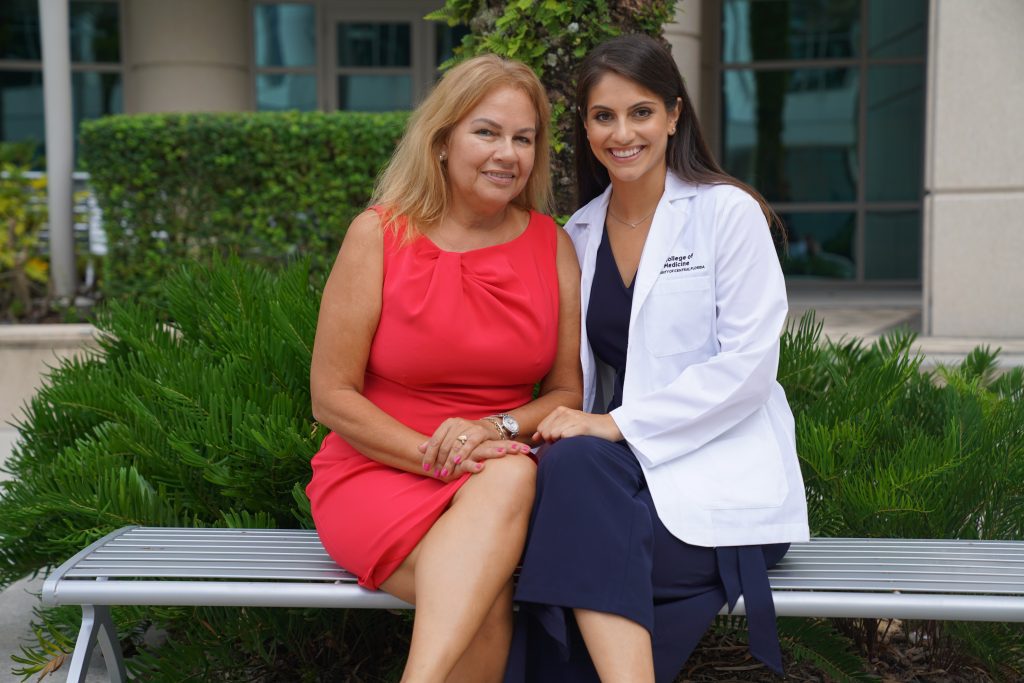 "I have cleaned houses for a lot of wealthy people, and I saw that they were able to get there through education, so that's all I ever wanted for my children." – Iris Luceno
Growing up in Cuba, the only toy Iris Luceno remembers was a doctor's kit – with a white coat and toy stethoscope she wore and dreamed of becoming a doctor. So when her daughter Lisvet began her first day of medical school at the UCF College of Medicine's White Coat Ceremony on Aug. 5, Luceno wept.
"I cried. I cried so much during the ceremony – tears of joy," she said. "It has always been my dream, and to see my daughter accomplish it was very, very special."
Lisvet, who received a psychology degree from the University of Pennsylvania, is the first in her family to graduate from college. Her mother is a housekeeper, her father a retired tile installer. The couple came to America in the 1980 Mariel boatlift. Iris was one of 3,000 Jehovah's Witnesses who fled Cuba in search of religious freedom.
"I have cleaned houses for a lot of wealthy people," Luceno said, "and I saw that they were able to get there through education, so that's all I ever wanted for my children. And even though I had to go back to cleaning more houses the day after the White Coat Ceremony, I did it with the biggest smile; because now I had a phone full of pictures to show my employers of my daughter receiving her white coat!"
Luceno came to the United States at 18, newly married and pregnant. With no money, she put off plans of going back to school and went straight to work at a clothing factory, trying to make enough money to bring her four siblings to America. Within the first few months, she miscarried and when she called home to tell her family the news, she learned her husband, whom she had left behind in Cuba, had died of a heart attack. She was now a teenage widow. It took eight years of working before she had enough money to bring her youngest sister from Cuba. Over the next two decades, she was able to bring over her parents and remaining siblings — another sister and two brothers.
Two years after arriving in the U.S., she met Roberto Luceno in Miami. He had also emigrated from Cuba after his family lost all of their wealth to the communist regime of Fidel Castro. Roberto loved to paint and came to the U.S. hoping to become an artist. But he had to earn a living, so he worked installing tile flooring for 30 years before retiring in 2011. After getting married, the couple settled in Naples, Florida where Lisvet and her sister, Lismary were born.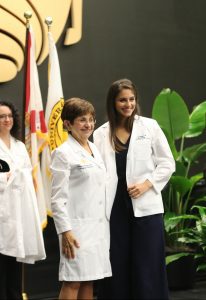 When Lisvet was in middle school, her father was diagnosed with gum cancer. Since he knew little English, Lisvet attended all of his doctor's appointments as an interpreter. The experience piqued her interest in medicine – and showed her first-hand the difficulties that language and cultural barriers pose in receiving quality healthcare.
"I saw how much my parents struggled not being able to find doctors who could understand them," she said. "My mom tells me stories about when my sister and I were sick as babies, she couldn't find doctors or nurses who spoke Spanish. She couldn't explain what was wrong with us and she couldn't understand them. At times, she felt so helpless, she would just cry."
Throughout the family's experience, "Siempre pa'lante, nunca pa'tras" – Always go forward, never backward – was their mantra. They are words Lisvet is carrying to medical school.
"Seeing how hard my parents have worked and the sacrifices they have made have helped to push me this far," she said. "Whenever I feel like giving up, I write notes to myself, like 'You are the daughter of Iris' and stick them up in my room to strengthen me. I also keep some of my Dad's paintings in my room to keep me inspired and motivated."
Gum cancer surgery left Roberto's face severely disfigured so he did not attend his daughter's White Coat Ceremony. Instead he watched on a live Facebook feed. And he's been sharing Lisvet's UCF experience ever since.
"It's the first thing I tell everyone I talk to," Luceno said. "Whenever I walk into a bodega or go to the gas station, I make it a point to tell everyone I run into that my daughter is going to medical school."
Post Tags