Communique

Research

Residents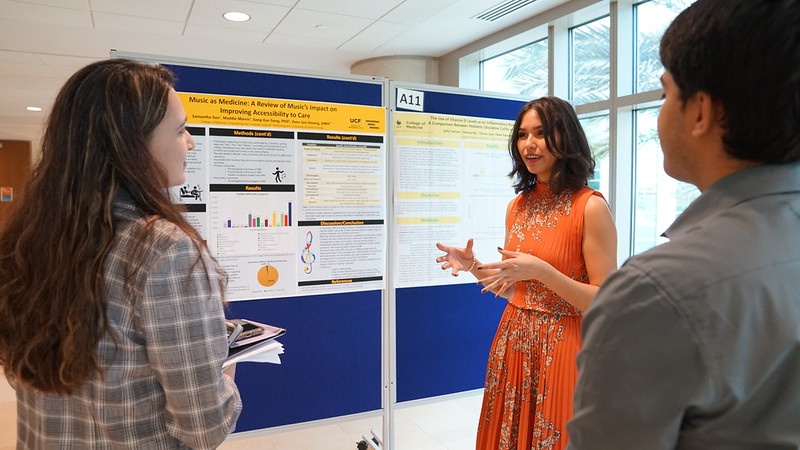 Growing up, Parag Vyas' room was filled with toy space shuttles and astronaut posters. His mother worked on shuttles with NASA in Houston and so he quickly developed an obsession with all things intergalactic.
Today as a second-year UCF medical student, he is channeling that passion into medical research, examining the use of handheld ultrasound devices so astronauts can monitor their health while in orbit.
Vyas was one of several hundred medical students who presented their research at the 14th annual Focused Inquiry and Research Experience (FIRE) Conference Feb. 17. The conference is the culmination of a two-year research module the students must complete to advance scientific knowledge and this year, for the first time, featured research by UCF residents, mostly out of Osceola and Ocala locations.
Vyas conducted a literature review to compare several pocket-sized imaging devices that connect to smartphones to see which ones would work best to help monitor astronauts who are vulnerable to medical problems such as trauma from floating space debris, muscle and bone deterioration, and blood circulation issues during space exploration. His study found that the Lumify hand-held ultrasound device was the top-ranked in terms of accuracy and image quality.
"Research is important because we can use it to shape the future," said Vyas. "Research allows us not only to advance medical knowledge but to make an impact in our society at large. As a clinician, you're treating your community, but research can go beyond your community, to help people who can't reach you."
During the FIRE conference, first- and second-year students do poster and oral presentations on their research. This year's topics included ankle injuries among NFL athletes, concussions among NBA players, developing treatment for pancreatic cancer, and racial and ethnic disparities in pediatric inflammatory bowel disease.
Six residents presented research posters on topics including a quality improvement initiative to increase skin cancer screenings,  implementation of common emergency department procedure checklists to improve resident provider efficiency, and knowledge of heart attacks among Georgia residents.
Second-year student Brittany Thompson remembers attending the FIRE conference as a UCF undergraduate and dreamed of one day presenting her research. On Friday, she realized that dream, presenting her study examining the use of diuretics to treat fluid build-up in the lungs caused by bronchopulmonary dysplasia (BPD) – a form of chronic lung disease that affects newborns.
"I have an older sister who passed in the NICU at 20 days old due to necrotizing enterocolitis (NEC), which is a gastrointestinal problem that mostly affects premature babies," Thompson shared. "I was actually named after her and her death really inspired me to research neonatology as a medical student, and I hope to train in a pediatric subspecialty like dermatology."
Mentored by Dr. Sreekanth Viswanathan at Nemours Children's Health, Thompson's study found that reducing the use of diuretics did not impact patient outcomes, which supported her hypothesis that diuretics were not an effective treatment or preventer of BPD.
Second-year student Samantha Sun looked at the use of music as medicine to improve access to healthcare in low-socioeconomic populations. She did a meta-analysis of previous studies exploring the use of music to treat a range of conditions.
"We looked at patients who were undergoing very acute treatments like surgeries and chronic conditions such as cancer, ALS, Parkinson's, dementia," said Sun, a music lover, who sings and plays the piano. "We found that music had a positive effect both mentally and physiologically.  It helped to reduce pain significantly, we saw a reduction in anxiety and depression, increased quality of life and even improved vital signs of patients as well. So overall, the results were very supportive of using music as a medicine, especially for those who couldn't afford expensive pharmaceutical treatments."
Dr. Steven Ebert, associate professor and director of the FIRE module, praised the diversity of the research presented, adding that he was delighted to have HCA-UCF residents presenting for the first time this year.
"I thought it was really fantastic," Dr. Ebert says. "We had had several basic science and translational studies with innovative medical solutions ranging from developing new drugs to attack cancer to using music as medicine. We also had several population health studies that looked at barriers that the transgender community is facing and racial disparities in healthcare."
The conference featured a plenary talk from Dr. John Newcomer, a psychiatrist and
President & Chief Executive Officer of Thriving Mind, a mental health and substance center.  Dr. Newcomer emphasized the importance of taking a holistic approach to treating patients with mental illness, keeping in mind the side effects of mental health drugs such as weight gain which increases the risk for diabetes and other complications.
Dr. Deborah German, vice president for health affairs and founding dean of the medical school was instrumental in developing the FIRE module to create in students a "spirit of inquiry" and help them understand the importance of creating new medical knowledge.   
"Our students' participation in the FIRE module teaches them about the origins of the knowledge that they will use throughout their whole career," she said. "And it's wonderful to see students fully embracing the scholarly approach to medicine."
Students were awarded top prizes in various categories judged by a panel of faculty members and other students.
The winners are:
Peer Choice Poster Presentation
1st Place: Daniell Sullivan
Project: Psychosocial Syndemic Factors Impacting High Risk Sexual Behaviors and HIV Prevalence Among Floridian Transgender Women
Mentor: Elena Cyrus Ph.D., UCF College of Medicine, Dept of Population Health Sciences



2nd Place: Chelsea Wu
Project: The Role of Vitamin D Levels in Evaluating Treatment for Pediatric Inflammatory
Bowel Disease (IBD) Patients and an Examination into Different Factors that Influence IBD Treatment Outcomes
Mentors: Hadeel Haddad MD; Pablo Palomo MD, Nemours Children's Hospital



3rd Place (Tie): Kira Eickman
Project: The Effect of the Source of Sexual Education on Intravaginal Practices Among
Emerging Adult Women
Mentor: Makella Coudray Ph.D., UCF College of Medicine, Dept of Population Health Sciences
3rd Place (Tie): Kristin Recker
Project: Virtual Reality Respiratory Biofeedback as an Adjunct Treatment in an Intensive Outpatient Pediatric Pain Rehabilitation Program for Adolescents with Chronic Pain: A Pilot Study
Mentor: Rachel Wasserman Ph.D., Nemours Children's Hospital
Peer Choice Oral Presentation
1st Place: Johan Joo
Project: In Silico Modeling of LAT1 Efflux Agonists for the Treatment of Pancreatic Cancer
Mentor: Otto Phanstiel Ph.D., UCF College of Medicine, Dept of Medical Education



2nd Place: Nikita Sardana
Project: A Study on the Effectiveness of Didactic Modules in Preventing Residents from Ordering Unnecessary Testing
Mentor: Shiva Kalidindi MD, Nemours Children's Hospital



3rd Place: Nicholas Pekmezian
Project: Does Intraoperative Glove Exchange Prior to the Handling of Shoulder Arthroplasty Implants Decrease the Rate of Infection? A Single Institution Retrospective Review
Mentor: Benjamin Service MD, Orlando Health



Faculty Choice Poster Presentation
1st Place: Stephany Bustamante
Project: Adherence to Transfusion Thresholds in Two U.S. PICUs
Mentor: Adalberto Torres MD, Nemours Children's Hospital
2nd Place: Eric Hosack
Project: Community Socioeconomic Determinants of Health and COVID-19 Mortality for Hospitalized Patients in Florida Hospitals
Mentor: Saleh Rahman MD, Ph.D., MPH, UCF College of Medicine, Dept of Internal Medicine
3rd Place: Daniel Press
Project: Clinical and Molecular Characterization of Oropharyngeal Squamous Cell Carcinomas by HPV Status
Mentor: Cesar A. Perez MD, Florida Cancer Specialists
Faculty Choice Oral Presentation
1st Place: Nikita Sardana
Project: A Study on the Effectiveness of Didactic Modules in Preventing Residents from Ordering Unnecessary Testing
Mentor: Shiva Kalidindi MD, Nemours Children's Hospital
2nd Place: Stephany Bustamante
Project: Adherence to Transfusion Thresholds in Two U.S. PICUs
Mentor: Adalberto Torres MD, Nemours Children's Hospital
3rd Place: Nicholas Pekmezian
Project: Does Intraoperative Glove Exchange Prior to the Handling of Shoulder Arthroplasty Implants Decrease the Rate of Infection? A Single Institution Retrospective Review
Mentor: Benjamin Service MD, Orlando Health
Post Tags