College of Medicine

Faculty News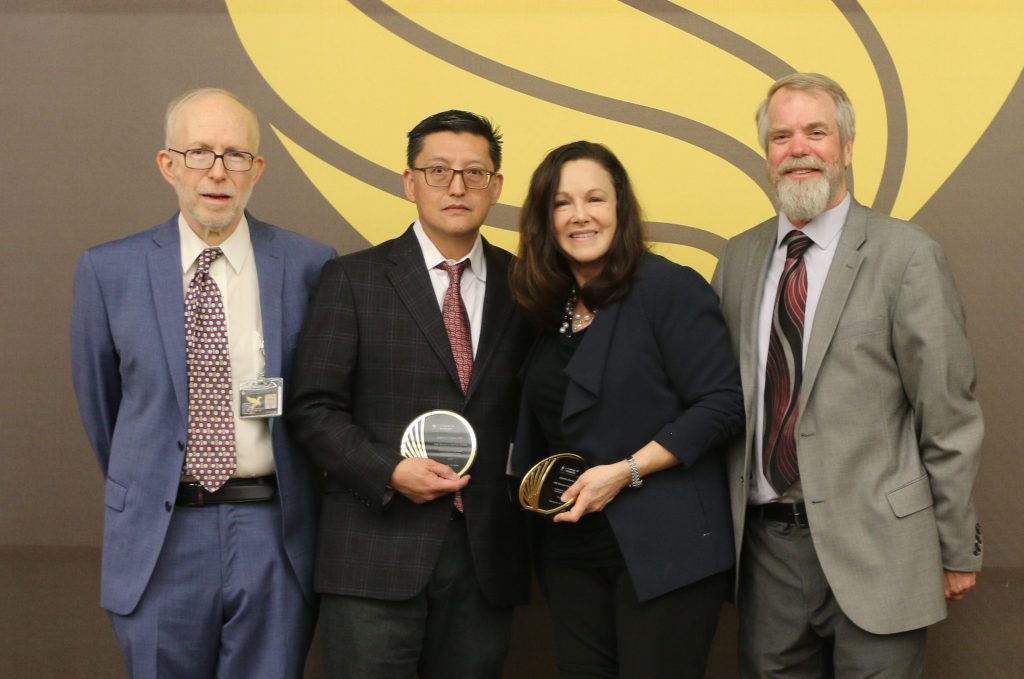 Sixteen faculty members and community physicians who helped advise medical students with their FIRE projects were honored for their mentorship. FIRE is a mandatory two-year research project at the UCF medical school geared at instilling critical thinking and inquiry among medical students.
To mark the ten-year anniversary of the program, mentors were recognized with commemorative plaques during the conference awards ceremony on February 22.
Since the program's inception in 2009, more than 700 FIRE students have received mentorship from some 330 core and volunteer faculty from partner hospitals Advent Health, Nemours, and Orlando Health as well as other universities and research institutions.
The mentors commit to helping medical students complete a scientific research project during their first two years of medical school at UCF. They often assist in formulating research questions, identifying important variables to consider, choosing target populations or samples, help with data analysis and have regular one-on-one meetings with students to discuss research projects.
Awardees included Dr. Manette Monroe, former associate professor of pathology, who helped create an equestrian therapy program for veterans suffering from mental and physical challenges. She has mentored 20 students over the ten-year period doing equestrian therapy research.
"It's been an honor to help the students with their research," said Dr. Monroe , "to help them discover and understand the importance of investigation and the role it plays to help them become better physicians."
Dr. Hubert Swana, urologist at Orlando Health, equaled Dr. Monroe's record of mentoring 20 students over the past ten years.
"Their enthusiasm is contagious and I'm inspired by their wonderful energy," said Dr. Swana. "Research at this stage is important as it allows students to think with innovation and also helps them understand medical research.
Dr. Stephen Ebert, who directs the FIRE module said the mentors have been critically important to the success of the program.
"FIRE is a true community effort. It's a long-term commitment that begins in the very beginning of year one, and very often that goes beyond the FIRE module, even after the students graduate. Some go on to help our students publish and present at conferences in their third or fourth-year of medical school and beyond."
Other mentors recognized were:
Dr. Naren Ramakrishna, Orlando Health, Radiation Oncology – 16 students
Dr. Paul Rosen, Nemours, Patient Care Improvement – 16 students
Dr. William DeCampli, Orlando Health, Congenital Heart Surgery – 14 students
Dr. David Harris, UCF, Medical Education – 13 students
Dr. Jonathan Kibble, UCF, Medical Education – 13 students
Dr. Judith Simms-Cendan, UCF, Obstetrics/Gynecology – 13 students
Dr. Lori Boardman, UCF, Obstetrics/Gynecology – 12 students
Dr. Jane Gibson, UCF, Medical Genetics – 11 students
Dr. Adalberto Torres, Nemours, Pediatric Critical Care – 11 students
Dr. Steven Ebert, UCF, Cardiovascular – 10 students
Dr. Caridad Hernandez, UCF, Clinical Education – 10 students
Dr. Lisgelia Santana-Rojas, Nemours, Pediatric Anesthesiology – 10 students
Dr. Jennifer Setlik, Nemours, Pediatric Emergency Medicine – 10 students
Dr. James Solomon, Private Practice, Dermatology – 10 students
Post Tags