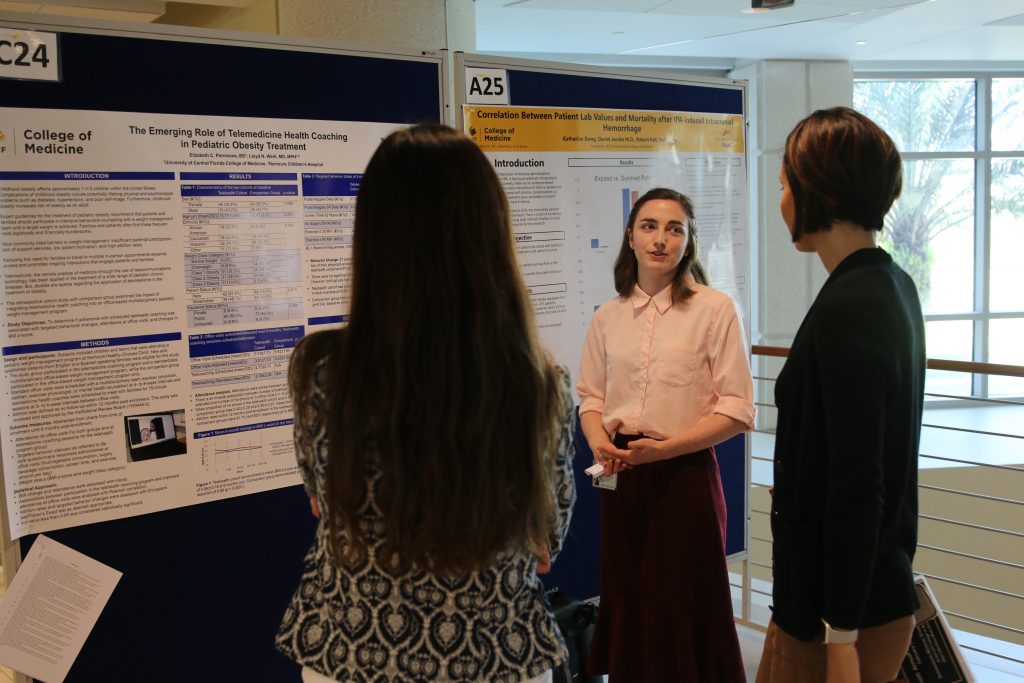 From depression to Down syndrome, bladder traumas to broken hearts – the medical investigations and discoveries on display at the 10th FIRE Research Conference were diverse and far-reaching.
The showcase is the culmination of the Focused Inquiry and Research Experience (FIRE) module, a two-year research project, required for all UCF medical students. Conducting their own research develops students' "spirit of inquiry," and gives students an opportunity to present and publish their research before they leave medical school.
During the day-long conference on February 21, students made oral and poster presentations on a range of research topics that examine better methods to treat and diagnose diseases, and identifying innovative ways to enhance care. Students competed for top prizes in various categories judged by faculty members and other students.
Some projects, like second-year student Ashley Siegel's, are a continuation of research projects they began before entering medical school. Siegel is working with the National Institutes of Health on an ongoing study that hopes to develop anti-oxidant based drugs that can prevent babies being born with Down syndrome. Her oral presentation of her study won her a third place in the Faculty Choice Awards.
Before enrolling in medical school, Siegel spent two years at NIH labs in Boston assessing the cognition and behavior of mice genetically engineered to have Down syndrome. There she developed a battery of tests using memory-based tasks to better understand how the syndrome affects cognition.
"From the test results, we were able to determine that the Down syndrome mice didn't learn as fast and had problems with memory. Once we can identify the specifics of what these mice are struggling with then maybe we can apply this knowledge to humans with Down syndrome," she said.
In the next phase of the study, the lab will administer drug therapies to the mice will see to see whether their performance on memory-based tasks improves. Siegel will continue to work remotely on the study, analyzing data and producing reports.
"Our hypothesis is that these drugs that we're developing, when given to pregnant mothers whose fetuses have need diagnosed, will improve the cognition in the fetus such that they will be born with a normal IQ, getting us closer to curing or preventing Down syndrome."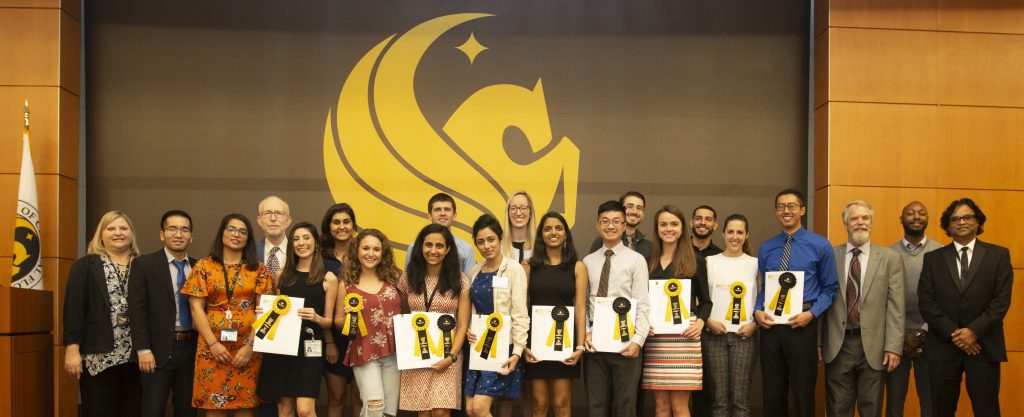 Several students are also finding new ways to look at diseases in the hopes of finding better treatments. Second-year student Kyle Sanchez is examining how the Zika virus, which has recently been discovered to be sexually transmitted, grows in testicular cells.
Sanchez explains that the Zika virus typically enters the blood stream through a mosquito bite and travels to various organs in the body from there. The virus infects the skin, causing a rash, but men diagnosed with the virus in their testes don't show any symptoms. Using tissue samples, Sanchez found that virus replicated much faster and caused more inflammation and cell death in the skin.
"We theorize that there are intrinsic factors in the cells that cause the difference in growth rate," Sanchez explained. "So if we can figure out what these cell intrinsic factors are, then as we're developing vaccines, we can also try to strengthen that particular cell's response thereby helping to eliminate the Zika virus."
Reflecting on the last 10 years of FIRE, Dr. Steven Ebert, associate professor and director of the module, said he is impressed with the diversity of the students' scientific findings and how much the program has grown since its inception.
"When we started in 2009 with only 40 students, it was kind of an experimental component of the medical curriculum," he said. "It wasn't initially embraced by some medical students, but at the end of the two years, every single one of them thanked us for what they had accomplished and the opportunities that the FIRE module provided."
Ten years since its inception, FIRE's footprint has extended beyond the walls of the medical school. More than 300 students have presented their FIRE research projects at scientific conferences nationally and internationally, including Australia, Canada, Switzerland and Italy. More than 200 students have also had their research published in leading academic journals.
Dr. Ebert said he hopes FIRE will continue to have an impact on the medical students and also improve healthcare.
"FIRE is about instilling in the students a lifelong love for learning, being inquisitive, and always trying to improve finding a better way to deliver healthcare," he said. "And even better, our research is making a global impact and we hope to continue to along this trajectory of success."
The 2019 FIRE Research Conference Award Winners are:

Poster Presentation Student Choice
First place: Chavi Rehani
Assessing Effect of Ventricular Assist Device Angle of Implantation on Probability of Thromboembolism to Cerebral Vessels Under Pulsatile Flow Conditions
Mentor: William DeCampli, MD PhD, Orlando Health and UCF COM
Second place: Chong Bin He
3D Collagen-Coated 4% Chitosan Scaffolds Enhance Proliferation and CD44 Expression in Prostate Cancer Cells Compared to 2D Cultures
Mentor: Stephen J. Florczyk, UCF COM
Third place: Nelson Menendez
Mini-Jupette for the Treatment of Mild Stress Urinary Incontinence, Climacturia and Foreplay Incontinence
Mentor: Jeffrey Brady, MD, Florida Hospital
Poster Presentation Faculty Choice
First place: Amanda McCann
The Effect of Major Psychiatric Illness on Pulmonary Function and Body Mass Index in Pediatric Cystic Fibrosis Patient
Mentor: Floyd Livingston, MD, Nemours Children's Hospital
Second place: Talia Helman
Can Integration of Data Driven Alarm Parameters Reduce Alarm Burden in Pediatric Intensive Care Units
Mentor: Adalberto Torres, MD, Nemours Children's Hospital
Third place: Deborah Shimshoni
Shock Tool Scores in Children with Sepsis: Identifiable Hypotension Scores Predict Mortality
Mentor: Adalberto Torres, MD, Nemours Children's Hospital
First-Year Oral Presentation Student Choice
First Place: Jake Tenewitz
Evaluation of a Novel Accordion Suture Technique in AponeuroticPtosis Repair
Mentor: Mont Cartright, MD, Medical Eye Associates
Second Place: Katie Ballantyne
A Retrospective Analysis on Benchmarks of Physica Literacy in Elementary Aged Children
Mentor: Cassidy Foley, MD, Nemours Children's Hospital
Third Place: Nathan Kostick
Use of Doppler Ultrasound for Diagnosis of Pediatric Concussions
Mentor: Todd Maugans, MD, Nemours Children's Hospital
Second-Year Oral Presentation Student Choice

First Place: Tryphina Mikhail
Cardiopulmonary Bypass and Associated Lymphopenia as a Predictor of Post-Operative Outcomes in the Pediatric CHD Population
Mentor: Mashael Alqahtani, MD, Nemours Children's Hospital
Second Place: Anjali Cherukuri
An a Priori Strategy in Selection of the Norwood Procedure Versus Its Sano Modification for First Stage Palliation in Single Ventricle Patients
Mentor: Kamal Pourmoghadam, MD, Orlando Health
Third Place: Jonathan Keyes
Assessing Sociodemographic Determinants of HIV Pre-Exposure Prophylaxis (PrEP) Persistence in a High Risk Population at a Large Urban Clinic in Central Florida
Mentor: Charlotte-Paige Rolle, MD, Edwin DeJesus, MD, Orlando Immunology Center
First-Year Oral Presentation Faculty Choice
First Place: Nathan Kostick
Use of Doppler Ultrasound for Diagnosis of Pediatric Concussions
Mentor: Todd Maugans, MD, Nemours Children's Hospital
Second Place: Jeslin Kera
Stratification of Nasolabial Anatomy in Unilateral Cleft Lip Patients
Mentor: Raj Sawh-Martinez, MD MHS, University of Central Florida COM
Third Place: Katie Ballantyne
A Retrospective Analysis on Benchmarks of Physica Literacy in Elementary Aged Children
Mentor: Cassidy Foley, MD, Nemours Children's Hospital
Second -year Oral Presentation Faculty Choice
First Place: Tryphina Mikhail
Cardiopulmonary Bypass and Associated Lymphopenia as a Predictor of Post-Operative Outcomes in the Pediatric CHD Population
Mentor: Mashael Alqahtani, MD, Nemours Children's Hospital
Second Place: Ashley Cozart
Do Transcutaneous Carbon Dioxide and Oxygen Measurements Predict Severity of Illness in an Emergency Department Population?
Mentor: Josef Thundiyil, MD, Orlando Health
Third Place: Ashley Siegel
Applying the CANTAB Based Visual Discrimination Test to Evaluate Hippocampal Learning in Mouse Models of Down Syndrome
Mentor: Faycal Guedj, PhD, National Institute of Health
Post Tags