College of Medicine

Faculty News

Research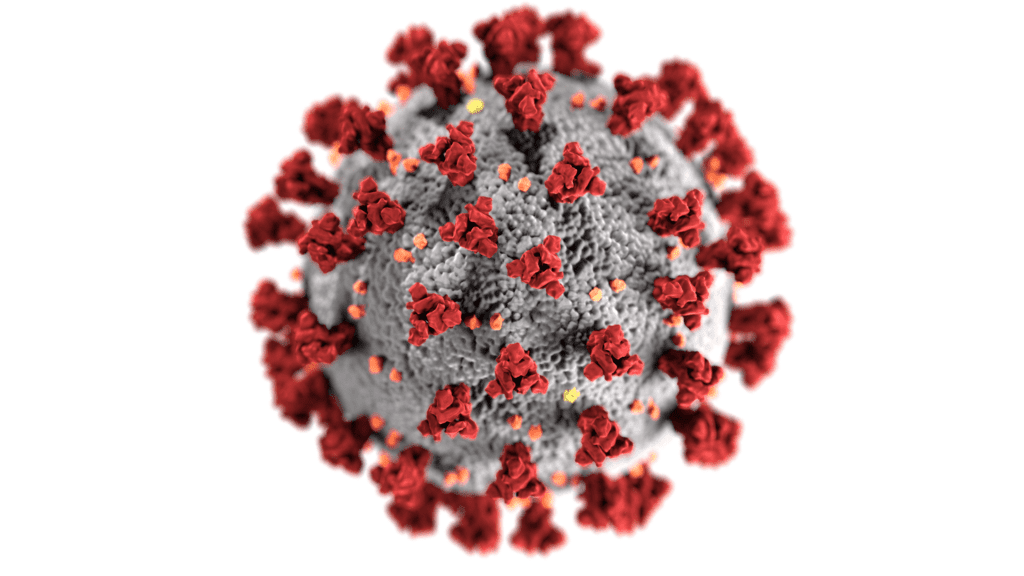 As COVID-19 continues to impact the world, College of Medicine researchers are doing their part to fight it. The medical school recently awarded $20,000 in start-up grants to each faculty research team seeking to better understand and treat the disease.
"COVID has had a tremendous impact not only on population health, but on our economy, our healthcare, our schools and many different parts of society," said Dr. Griff Parks, associate dean of research. "And it raises a number of research opportunities for our faculty to address some of these problems."
The funds are designed to help researchers generate preliminary data for projects that are competitive for larger grants.
Dr. Parks invited research ideas from faculty across the medical school. An internal review group selected five projects from a a pool of 18 applications.
"COVID-19 is still here. There are no cures, no vaccines and still so many problems in the medical field that the pandemic has presented to us," Dr. Parks said. "So, it's important that we support researchers who are trying to address those very important problems."
Here are the research projects: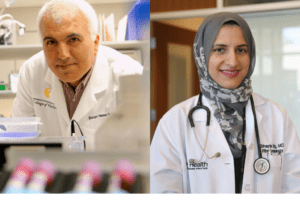 Saleh Naser (Burnett School of Biomedical Sciences) and Dr. Shazia Beg (Internal Medicine)
"Safety of anti-TNF monoclonal antibody therapy in elderly patients during COVID19 pandemic"
The majority of COVID-19 fatalities are in people who have underlying autoimmune inflammatory conditions like Crohn's disease and rheumatoid arthritis. This study will investigate how underlying inflammatory diseases, as well as anti-inflammatory medications, affect the susceptibility of patients to the COVID-19 virus and the persistence of the infection.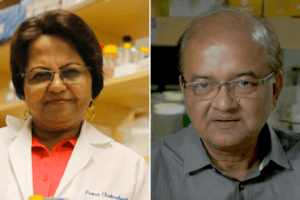 Drs. Ratna Chakabarti and Debopam Chakrabarti – Burnett School of Biomedical Sciences
"Development of SARS-CoV-2 screening assays to discover drug leads from fungi"
Natural products including fungi have been used to develop drugs for many diseases. As there are no effective drugs for COVID-19, this study will examine the use of fungal extracts to find new treatment options for COVID-19. It hopes to identify new chemotypes that interfere with the virus-host cell recognition mechanism.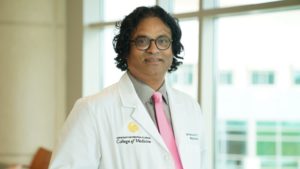 Dr. Saleh Rahman – Medical Education
"Retrospective epidemiological study of disparities in diagnostic and clinical outcomes in COVID19 hospitalized patients"
The effects of COVID-19 on the health of racial and ethnic minority groups are still emerging. However, current data suggest a disproportionate burden of illness and death among racial and ethnic minority groups. This study will try to understand how social determinants of health and health disparities impact diagnostic and clinical outcomes throughout Florida, particularly in the Hispanic population.
Dr. Annette Khaled (Burnett School of Biomedical) and Dr. Le Zhang (Nano-Engineering)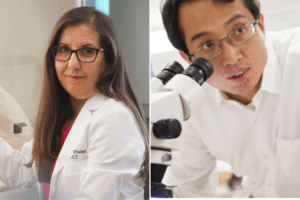 "Examining the human immune response to coronavirus using virus-mimicking nanoparticles"
This project will examine how the coronavirus causes the immune system to overreact, leading to life threatening lung damage. The team will create coronavirus "surrogates," using nanoparticles coated with proteins from the coronavirus. Using these viral surrogates, they will study how proteins from the coronavirus activate the cells of our immune system, disrupting the function of those cells responsible for protecting us from viral infections.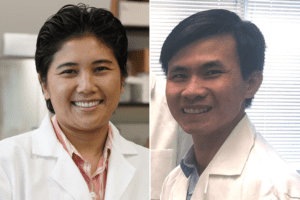 Drs. Hung Nguyen and Justine Tigno-Aranjuez – Burnett School of Biomedical Sciences
"Targeting glycolysis to control COVID-19"
During COVID-19 infection, important cells in our immune system, T cells and antigen presenting cells, are trying to respond to control and eliminate the virus. Antigen presenting cells (APCs) "present" portions of the virus to T cells which helps to activate them. T cells have direct cytotoxic activity against the virally infected cells and can secrete molecules to enhance the response by other immune cells. During COVID-19, APCs become dysfunctional and T cells exhausted which prevents them from carrying out their proper functions. The researchers believe that changes in the metabolism of these immune cells is key to this dysfunction/exhaustion and will try to manipulate or target metabolism to improve the response against SARS-CoV-2.
Post Tags
annette khaled

coronavirus

COVID-19

Debopam Chakrabarti

griff parks

Hung Nguyen

Justine Tigno-Aranjuez

Le Zhang

Research

saleh naser

Saleh Rahman

shazia beg