College of Medicine

Faculty News

Medical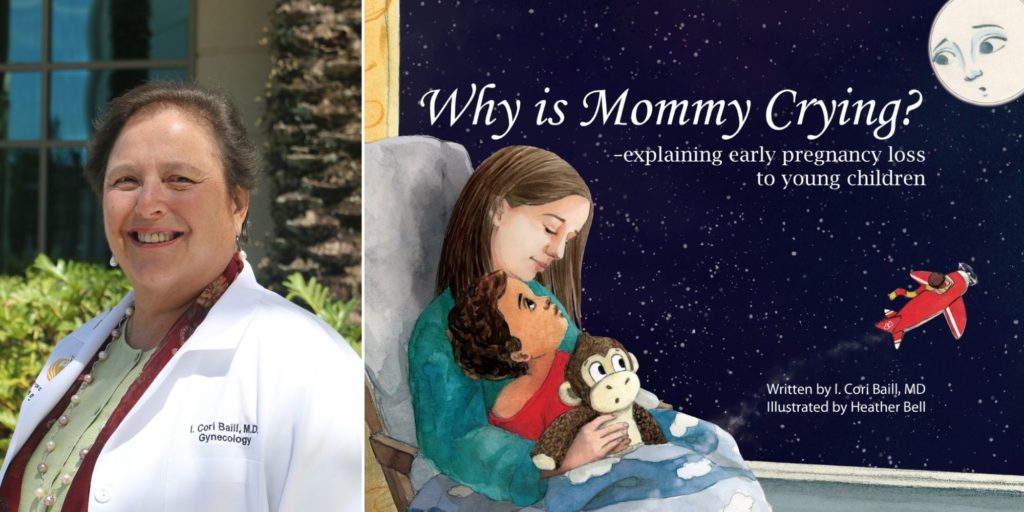 Sharing the news of a miscarriage can be a difficult conversation, particularly with younger children. As a board-certified OB/GYN with decades of practice experience, College of Medicine faculty member Dr. I. Cori Baill knows firsthand the stress of an early pregnancy loss on a family's youngest members, and often wished she had a resource to help her patients cope. This inspired her to write a newly published children's book, Why is Mommy Crying? – explaining early pregnancy loss to children.
"Miscarriages affect a third of pregnancies, yet there are few resources that address the grief of a young child who becomes aware of a parent's sadness, and none are specific to explaining miscarriages that occur in the early stages of pregnancy," said Dr. Baill, a Johns Hopkins trained physician who has always had an interest in narrative medicine. "I often wish there was some way to help families, not only to explain miscarriage to the youngest family members, but also offer comfort to their parents, extended family, and community."
The book tells the story of young boy, Max, whose mother is grieving the loss of an early pregnancy. Holding his stuffed animal Mink, Max goes to his parents' bed where it is always nice and warm. But there he finds his mother alone and crying and wants to know why. Prompted by his mother's loving explanation, Max uses his imagination to compassionately frame early pregnancy loss in a manner understandable to children as young as 3 years-old.
The book grew out of conversations Dr. Baill had 25 years ago with her then 3-year-old son who grew up in a household with two practicing physicians and often asked questions about conversations he would overhear.
"He would ask me questions like 'what does a miscarriage mean?' and 'where do babies come from?' " Dr. Baill said. "So, we had to figure out a way to explain these concepts to our son and daughter in a way that they could understand. And so, a lot of the language used in the book are from those conversations."
It was important to Dr. Baill that her book speak to all communities. So Max and his family are multiracial and the book includes language that is inclusive in in describing what constitutes parents and family.
"I wrote this book many years ago and it sat in a desk," she said. "I kept thinking somebody else is going to create this very needed resource. But as decades went by, it never happened. And so, when I became semi-retired, I decided that I was going to get this out of the drawer and do my best to complete it." This is the first children's book for Dr. Baill who has previously authored adult short stories inspired by her medical experiences that have been published in literary magazines, including the Bellevue Literary Review.
"Under any circumstances, one of the hardest things to do is to approach someone who is grieving," Dr. Baill said. "So, I'm hoping that this book will serve as a springboard to conversation and comfort for families experiencing miscarriage. I hope it can open the door and show that there is a friend, on the other side."
The book is currently available wherever children's books are sold and on Amazon.
Dr. Baill earned her medical degree from the University of Medicine and Dentistry of New Jersey -Rutgers Medical School in New Brunswick, NJ. After decades of private practice, she joined the faculty of the College of Medicine in 2015 and teaches clinical skills and serves on the admission committee. She said the medical school's support was instrumental in getting the book published.
"The College of Medicine has been the setting for an unexpected chapter in my life," she said. "I am grateful to be a part of such a wonderful professional community."
Post Tags