College of Medicine

Faculty News
Kelly Smith grew up in Osceola County around horses, but never dreamed they would have the power to help her cope with losing her left arm in combat.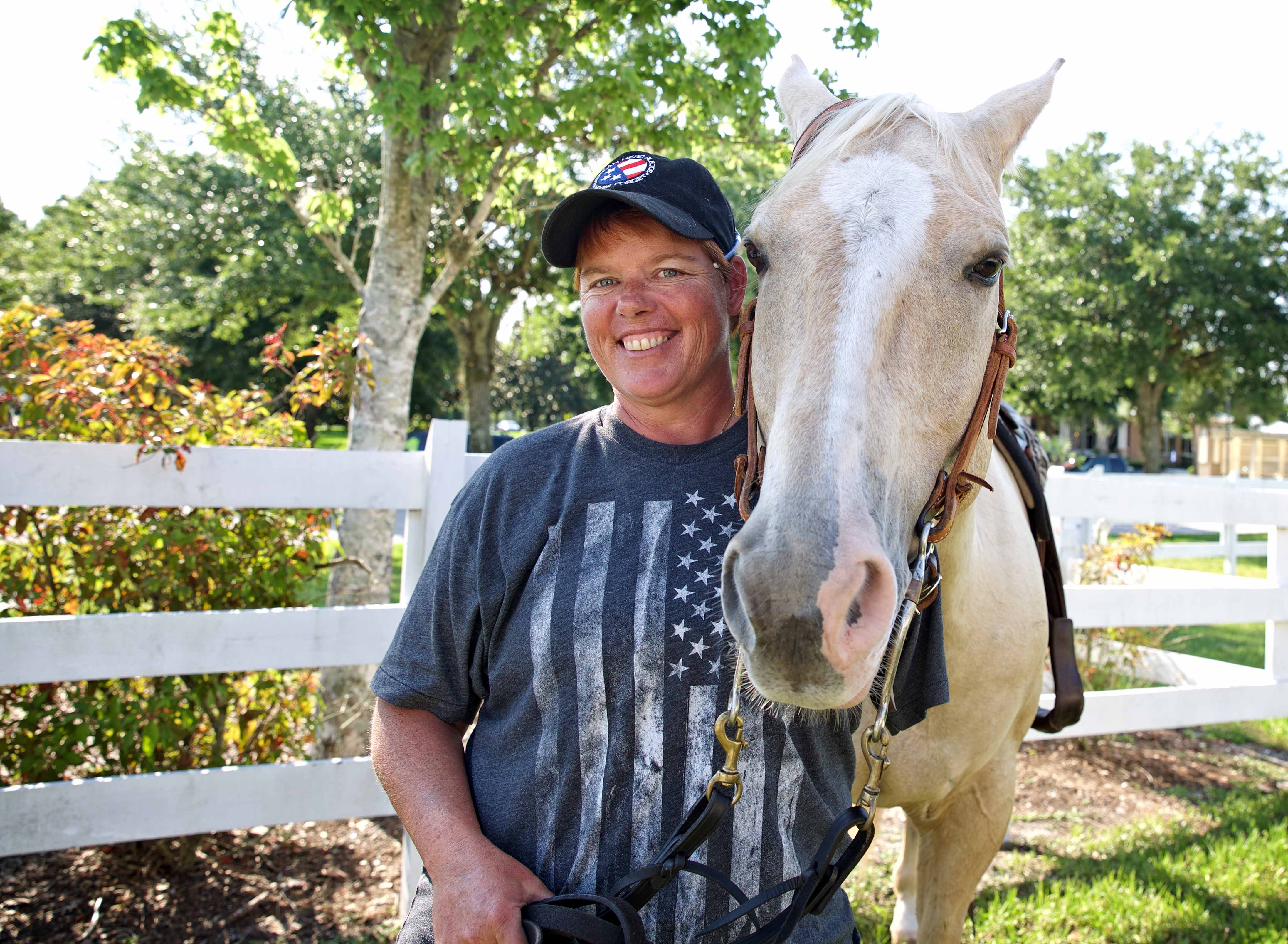 "I was very skeptical at first," Smith said. "I had pretty much made up my mind before I came here that this was not going to work for me. But you will be amazed at what it can do for you whether you like horses or not. It's a connection that you will never ever forget."
Smith, a wounded Navy veteran, will lead the Pledge of Allegiance at the opening ceremony of Osceola's new Therapeutic Equestrian Center. She will also be featured in the local PBS television special "The Divide: Bridging the Military-Civilian Gap" in July. The story will highlight the College of Medicine's Horses and Heroes program, which provides equestrian therapy to veterans suffering from mental and physical disabilities. The program was developed by Dr. Manette Monroe, associate professor of pathology and assistant dean of students at the medical school. "We're developing the TV feature to work within the mission of the PBS Veterans Coming Home initiative, which is to explore the divide in our community and those who are working to bridge the gap from both the civilian and military sides," said Kyle Mahoney Fuchs, promotions producer at WUCF, the Orlando PBS affiliate. "Horses and Heroes is such a wonderful example of that effort."
The TV show will air on Sunday, July 3 at 7 p.m. and highlight the stories of Smith, and Christopher Gordon, another veteran helped by the equestrian therapy program.
Dr. Monroe says horses are great therapists because they are sensitive to non-verbal communication and can easily become skittish around sudden movements or noises. Because of those traits, they can teach veterans how to manage their emotions and energy. The animals' unconditional love provides support, and the physical activity of riding improves balance, core strength and movement for veterans with traumatic brain injuries and amputations. Early research studies have shown a marked reduction in anxiety and depression among veterans in the program, and with the equestrian center in full operation, Dr. Monroe hopes to do more extensive research to develop best practices for riding therapy.
Osceola County agreed to build an equestrian center after hearing the early results of equestrian therapy. The $1.75 million facility is at Chisholm Park about 20 minutes from the medical school. The new center will allow riding sessions year-round because of its roofed riding area that can protect participants from the rain and sun. Smith, who grew up around horses and other animals in her St. Cloud hometown, is one of the first women veterans to go through the program. She was injured during her service in Iraq and had her arm amputated several years later.
"When I lost my arm, I had a pretty tough time of it," Smith shared. "It was not so much the loss of my arm, but it was more so having to get out so early in my career, adjusting to life back from tour and adjusting to my family and kids.
"I had a lot of attitude and anger management problems."
She noticed her mood changing after just two or three riding sessions. Her anger "just seemed to go away, without me even noticing it. My husband and my kids made the comments about how much nicer I was to be around and how we could actually go in public and they don't have to worry about me getting into an argument or anything else."
A self-proclaimed "city kid" from New York, Gordon, an army veteran who lost his leg in combat, had never been around horses. He had become a bit of a recluse after military service and thought horse therapy would get him out of the house.
"I saw a difference since the first day," Gordon told WUCF. "It really was something that motivated me to do other things. Once I saw how well it went, I decided to go back to school. I took that on and lots of other activities."
Dr. Monroe is eager to bring increased attention to the benefits of equestrian therapy.
"I want people to know that this is a viable way to help veterans," she said. "It's not a replacement for conventional care, it's an addition, something that may be an adjunct to help individuals make that extra step –that extra little bit of difference."
She is excited about the opening of the new facility. "It will give us a chance to help more people," she said, "because it really is about them, not us. It's about having a place where people who have any kind of reason to need therapeutic horsemanship have a place to come."
Post Tags