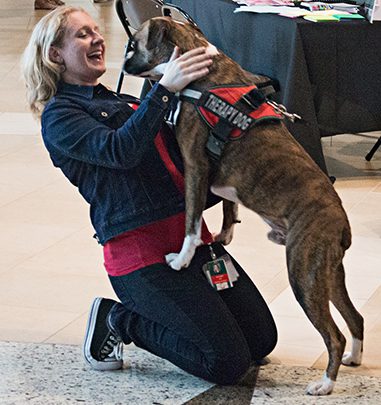 Understanding they need to stay healthy to keep their patient well, more than 100 UCF M.D. students attended the Healthy Knights Expo recently to learn ways to stay physically and emotionally fit.
The expo, now in its fourth year, is a collaboration between the College of Medicine's Office of Student Academic Support Services (SASS) and UCF Wellness and Health Promotion Services (WHPS).
Thirteen organizations participated, including the McCormick Research Institute, which partners with the college to research equine-assisted therapy, as well as UCF's police department, Recreation and Wellness Center, Student Health Services, and student organizations Mission Nutrition, To Knights With Love and Knights Pantry.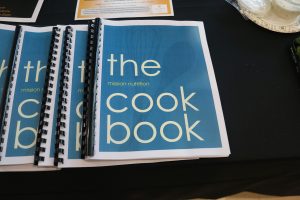 Lauren Otaguro, a second-year med student and president of Mission Nutrition, distributed cookbooks filled with nutritious meal options, including fried eggplant with onion marinade, red pepper gouda soup and turkey chili. Recipes were solicited from faculty, staff and students.
"Good nutrition is part of good health," she said. "It pops up in every single module that we have and is woven into the curriculum. We want to make sure that med students take care of themselves and prepare healthy meals."
The group aims to do more than just teach students healthy cooking techniques, said Dr. Robert Karch, Mission Nutrition's faculty advisor and a pediatrician at Nemours Children's Hospital. He's developing a nutritional medicine class elective that he hopes to introduce into the curriculum next year.
"The great burden of disease that young physicians are going to be encountering in their careers is going to be diseases of lifestyle, such as diabetes or heart disease. Knowing how to effectively counsel patients on healthy nutrition will be critical in order to be an effective physician now and in the future," he said.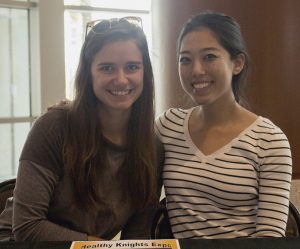 Before they become physicians, med students have to deal with sometimes overwhelming pressure, which can take a toll on mental health.
"It's really easy to forget to take care of yourself," Otaguro said. "We're under constant stress and working all the time."
That's where the college's Peer Support Program comes in. The program trains med student volunteers to teach their classmates about stress relief therapies including biofeedback and guided meditation.
"Med students tend to be overachievers. When we end up not doing as well as we think we should, there's a lot of anxiety involved with that," said second-year student Camille Carre, who volunteers for the program. "Having the support of another fellow student who's been in your shoes before can be a huge help for your self-confidence."
Post Tags