College of Medicine

Medical

Students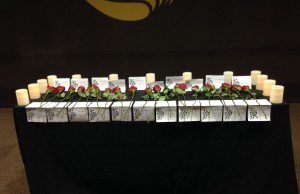 The College of Medicine thanked important donors known as "silent teachers" February 20 in honoring the individuals who had willed their bodies to science to help train future physicians.
In a traditional medical school "send-off" ceremony, first-year students ended their 17 weeks of Anatomy Lab by thanking their first patients for the gift of knowledge – not only about anatomy, but also about health, life and death.
Twenty-one roses – one for each donor – rested alongside candles in the Lewis Auditorium as students spoke of how their first patient impacted their journey into medicine. For many, the ceremony was about closure. "For me, the experience was more emotional than I thought it would be," first-year student, Kathryne Kostamo said. "As a group it let us resolve the feelings that some of us had bottled up for a while."
Anatomy professor Dr. Andrew Payer said students cope with a range of emotions during Anatomy Lab. Because UCF students spend 17 weeks determining their first patient's cause of death rather than just memorizing anatomy, their emotional reactions can be more intense. "Sometimes it's a very emotional thing," he said. "Once you find out what the problem was, you tie into the humanity of it and start to think about that person suffering before they died, and how hard it must have been for them and their families. You tie all that together, and I think it becomes a very valuable experience for a person who wants to become a physician."
M-1 class president Sami Saikaly emphasized the "generous sacrifice" that the donors and their families had made to UCF medical students. They could've been buried and had a normal funeral, but they decided to help others by donating their bodies," he said, adding that the donor's decisions to help medical students was invaluable because  "no amount of book work can substitute for the experience you get in the lab."
Kostamo shared the feelings of many students as she read  poem she had written about the day in lab when her group realized it was their patient's birthday:
I still do not have a cohesive decision on my experience, did I become desensitized or I am still an emotional person with coping mechanisms that can crack? And by the way, how are you supposed to feel? I like clear directions leading to concrete answers. I do not think I will ever find one with this situation. I end my muddled, confused thoughts with a final truth. Something I am sure of: Happy 79th birthday. I wish you were still around to enjoy it. And thank you, though I know I cannot thank you enough, thank you.  
Post Tags