College of Medicine

Faculty News

Medical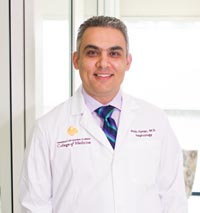 Members of the East Orlando Chamber of Commerce learned how College of Medicine doctors at UCF Health are "putting patients first."
UCF Health, the college's new faculty practice, was invited to speak at the January meeting of the chamber at the Stoneybrook East Golf Club.
Dr. Abdo Asmar, a nephrologist and the director of medical staff services at UCF Health, explained the practice's focus on prevention, wellness and personalized care. "At UCF Health, we are dedicated to putting patients first," he said. "We want to practice what we teach."
Audience members saw a PowerPoint presentation about the new center's services, staff and amenities and also received a brochure containing health tips for a happy, healthy 2012.
The featured speaker at the chamber event was Chief Judge Belvin Perry, Jr.
Post Tags