Burnett School

Faculty News

Infectious Disease Division
College of Medicine faculty members Alexander Cole and William Self are 2016 inductees into UCF's Scroll & Quill Society, which recognizes educators whose outstanding and sustained achievements have brought national and international attention to the university.
Both are infectious disease researchers in the college's Burnett School of Biomedical Sciences.
"We are very proud of these two outstanding faculty," said Burnett School Director Dr. Griffith Parks. "This induction is a testament to their productivity as they conduct cutting-edge research and train the scientists of tomorrow."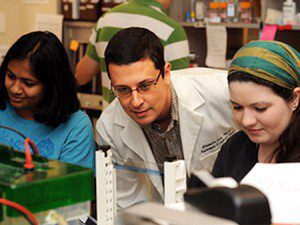 Dr. Cole's research focus includes HIV/ AIDS and Staphylococcus aureus ("Staph") infections, and his work looks to find treatments, offer better prevention methods and identify antimicrobial formulas to prevent the spread of disease. He is a multi-year member of UCF's Millionaire's Club, an exclusive group recognizing researchers who receive grants of $1 million or more in the fiscal year. He has received grants from the National Institutes of Health (NIH) for developing antimicrobials for the HIV infection and a Florida Department of Health grant for his partnership with UCF Health Services to see if smoking increases the risk of Staphylococcus aureus infection.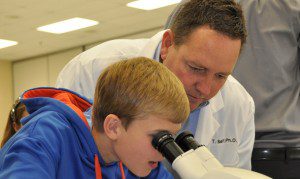 Dr. Self, a 2015-16 Provost Faculty Fellow, focuses his research on the biological role of selenium. Selenoproteins act as antioxidants, which protect cells from oxidative stress. Dr. Self is also investigating the use of nanoparticles to combat oxidative stress by reducing the level of reactive oxygen species in cells. He has been the PI and co-PI on research projects that garnered NIH and National Science Foundation grants. His lab is currently participating in a clinical trial for a microbial that would fight C. difficile, a common hospital infection. A teacher of undergraduate and graduate courses, Dr. Self is a highly sought after mentor for students and is currently working with Orange County Public Schools to create a teacher training program in biomedical sciences.
Post Tags