Burnett School

College of Medicine

Faculty News

Infectious Disease Division

Research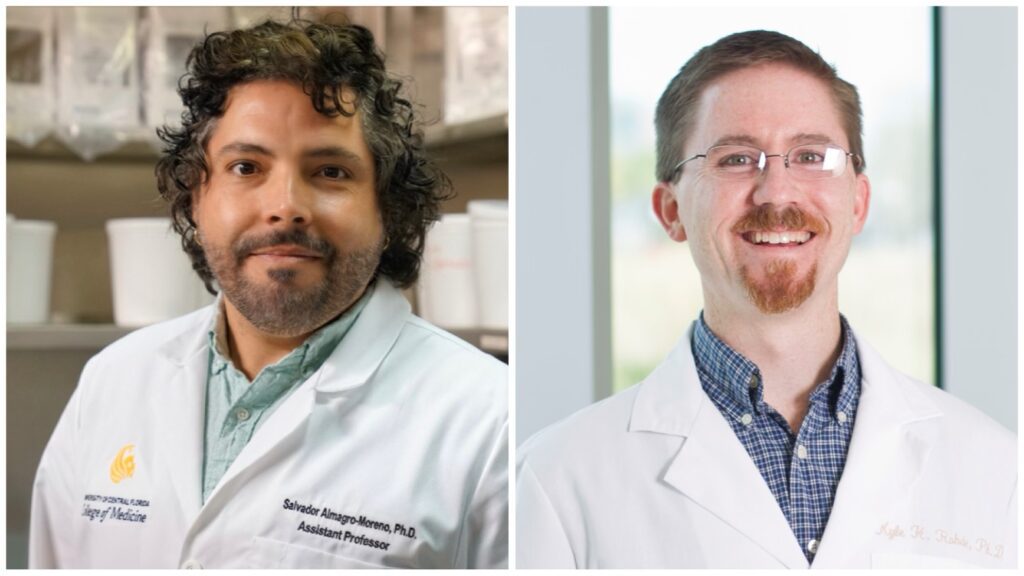 Drs. Salvador Almagro-Moreno and Kyle Rohde, infectious disease experts at the Burnett School of Biomedical Sciences, are this year's winners of UCF's Research Incentive Award for the College of Medicine. The award recognizes outstanding research, scholarly or creative activity that advances the body of knowledge in a particular field.
Dr. Almagro-Moreno's research focuses on a diverse group of marine bacteria that include Vibrio cholerae, the agent that causes cholera, a diarrheal disease associated with contaminated drinking water, and a flesh-eating bacterium endemic to the coastal waters of Florida called Vibrio vulnificus. When that bacterium comes in contact with open wounds or is ingested, for example through raw oysters, it can cause infections that can develop into deadly sepsis.
His goal is to understand how and why harmless bacteria change to become lethal and how they manage to survive between epidemics. His newest study revealed how the environment and certain genetic traits play a critical role in the process that trigger bacteria to become human pathogens.
An advisor to the FDA, he has received a highly competitive CAREER award from the National Science Foundation for his research and was recently selected among a multidisciplinary global think-tank to address the global threat to human health from emergent infectious diseases. He also received the "Ramon y Cajal" award, the most prestigious honor given by the Government of Spain to an early-career scientist. The work from his lab has been published in some of the world's leading scientific journals including Nature Microbiology, PNAS and Trends in Microbiology.
Dr. Rohde's research focus is tuberculosis, the leading infectious disease killer globally before COVID-19. The disease is caused by the bacteria Mycobacterium tuberculosis (Mtb).
Tuberculosis is often resistant to antibiotic treatments so Dr. Rohde has multiple collaborative projects employing different strategies to find new drugs to treat the disease. For example, his testing of various chemical extracts from sea sponges and other marine life identified 26 compounds that were active against replicating tuberculosis bacteria, 19 killed dormant bacteria and seven that were active against both. That research was featured on CBS This Morning.
He is also working to develop more effective therapies for Mycobacterium abscessus (MAB), which causes tuberculosis-like infections that are especially debilitating to people with Cystic Fibrosis, other underlying pulmonary problems and compromised immunity. Because MAB is notoriously resistant to most antibiotics, patients must often go through year-long multidrug regimens with less than a 50 percent cure rate.
In the past five years, Dr. Rohde has received $3.1 million in funding for 13 research proposals, including five National Institutes of Health awards. His research has been shared in 39 conference presentations, nine invited talks and 21 publications.
Winners of the Research Incentive Award receive a one-time award of $5,000 and a $5,000 increase to their base salary.
Post Tags
Dr. Kyle Rhode

infectious disease

Research Incentive Award

Salvador Almagro-Moreno