College of Medicine

Communique

Faculty News

Health Sciences Campus News

UCF Health
Dr. Raj Mitra, a nationally recognized expert in rehabilitation medicine and pain management, is the UCF College of Medicine's new Associate Dean of Clinical Affairs.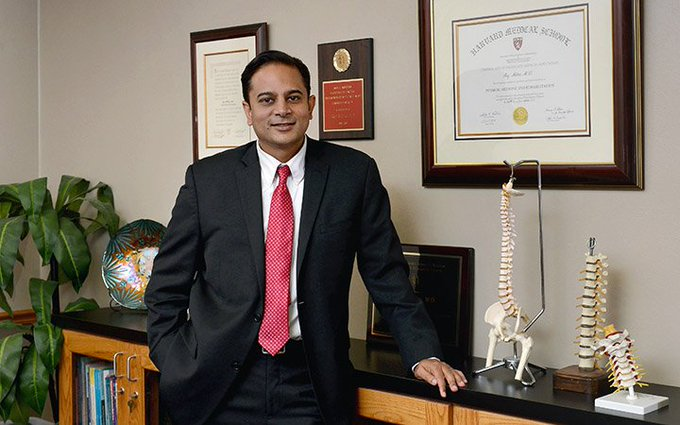 Dr. Mitra currently serves as the Senator Robert J. Dole Professor and Chair of the Department of Rehabilitation Medicine at the University of Kansas Medical Center and Clinical Service Chief of Kansas University Hospitals and Clinics in that specialty. He also has served on the faculty and had multiple leadership roles at Stanford University School of Medicine, including Medical Director and Chief of Rehabilitation Services.
His selection comes after a national search. In his new role, Dr. Mitra will lead the College of Medicine's clinical efforts, including UCF Health, its faculty practice. He will also be part of the leadership team for UCF's Academic Health Sciences Center, which includes the colleges of Health Professions and Sciences, Medicine and Nursing and Student Health Services, and be involved in the university's strategic partnership efforts with hospitals and clinical practices.
"Dr. Mitra is a rising star in academic medicine and we are thrilled he has joined the College of Medicine family," said Dr. Deborah German, vice president for health affairs and founding dean of UCF's College of Medicine. "His energy, innovative spirit and commitment to improving healthcare for all make him an outstanding fit for UCF and our emerging Medical City at Lake Nona."
A graduate of Michigan State University's College of Human Medicine, he did his residency and fellowship training at Harvard Medical School. He has done extensive research, advising and policy work on pain management, including ways to address the nation's opioid epidemic. He continues to serve as a physician advisor to the Centers of Medicare and Medicaid (CMS).
"There were so many factors that led me to be interested in UCF's College of Medicine," Dr. Mitra said, "including the excellent faculty and innovative, state-of-the-art facilities. I was especially excited by Dean German's vision to build a world class medical school designed to meet the needs of the future. This is so important, especially now that our country and Florida in particular has faced so many healthcare challenges, including a growing physician shortage. I really believe that the vision of the leadership team at the UCF College of Medicine will be a model for the country."
Dr. Edward Ross, UCF's Chair of Internal Medicine and Assistant Dean of Research, led the search committee.
Dr. Mitra began his academic work at Stanford University's School of Medicine, where he started as the Director of the Interventional Spine Center and Spine fellowship director. He advanced to Chief of the Division of Physical Medicine & Rehabilitation and Medical Director of Rehabilitation Services for Stanford's hospitals and clinics.
He joined the University of Kansas Medical Center in 2011, where he helped lead residency, hospital and diversity and inclusion efforts. His clinical practice includes care for patients with back, neck, hip and shoulder pain and muscle strain. His research focus is reducing pain through injections or treatments applied to the skin.
As department chair, he said his focus was to create and grow clinical and research programs focused on disability. During his tenure, he oversaw creation of eight new profitable clinical service lines, expanded the residency and created numerous clinical fellowships, built a top-ranked NIH-funded research program in both basic and clinical science, and grew the School of Medicine endowments.
He was awarded the Fulbright-Nehru Distinguished Chair fellowship in 2017 and spent four months teaching and analyzing the incidence of disability in India to identify cost-effective solutions for that nation's Ministry of Health. His research found that unemployment roughly triples the likelihood of disability and supported governmental initiatives to provide the disabled with employment opportunities.
He continues to serve as one of three peer reviewers for Medical Submissions for the Fulbright program. Additionally, he is the editor-in-chief of Principles of Rehabilitation Medicine, a comprehensive Physical Medicine and Rehabilitation reference textbook published by McGraw Hill.
Post Tags
associate dean

clinical affairs

hire

Raj Mitra