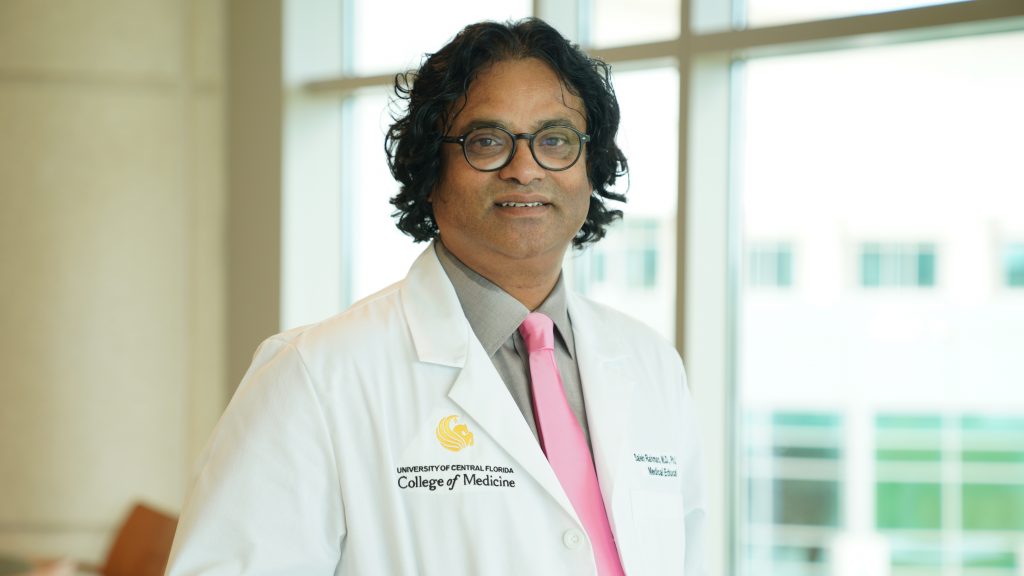 Dr. Saleh Rahman is the College of Medicine's new Interim Assistant Dean for Diversity and Inclusion.
Dr. Rahman received his Doctor of Medicine degree from Sir Salimullah Medical College, Dhaka University, Bangladesh in 1992, his Master of Public Health degree from Harvard in 1997 and Ph.D. in public health from UAB in 2001.
The UCF College of Medicine welcomed Dr. Rahman as a professor of medicine in 2016. A member of the Medical Education Department, he is responsible for integrating preventive and social medicine, epidemiology and biostatistics into the medical education curriculum. He is actively involved in the Focused Inquiry and Research Experience (FIRE) module. Dr. Rahman's research interests include health disparities, global health and prevention of diseases including diabetes, HIV and cancer.
"My goal is to bring and celebrate diversity in every aspect of our college and community," Dr Rahman said. "We must remember that any intolerance or bigotry must be answered by diversity and inclusion. Together, we can cherish and preserve ethnic and cultural diversity and become stronger with ideas, dignity, openness, healing, love and joy through inclusiveness."
Before coming to UCF, Dr. Rahman was a professor of behavioral science and Health Education at Florida A&M University and clinical research professor of medicine at Florida State University College of Medicine. He has received numerous teaching and mentoring awards and serves as an Editorial Board Member of Universal Journal of Public Health and as a reviewer of numerous peer-reviewed journals. He has so far published 27 books on literature in his mother tongue under the pen-name Sezan Mahmud.
"As a medical and public health scientist, I came to know that we as human beings are not very different, no matter if we are white, black or brown," Dr. Rahman said. "As a writer I came to know about different cultures and societies and learnt that our diversity and uniqueness is the best armamentarium to uphold humanity in the world. So, I am passionate about not only continuing the great tradition of diversity and inclusion at UCF COM, but also creating infrastructure and processes for inclusion that promote sustainability."
Has the UCF College of Medicine Positively Impacted You?
The UCF College of Medicine is a research-based medical school with a culture based on partnerships and collaboration. As a founding member of Orlando's Medical City we are proud to be your community medical college.
Find out how to give back to your medical school, today!