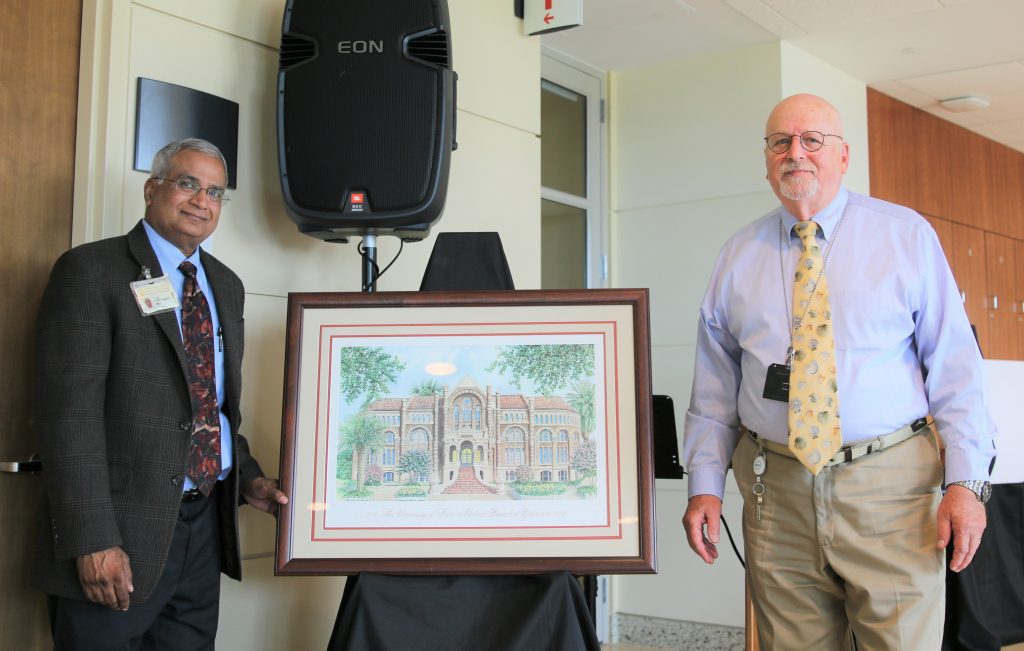 The "Old Red Barn" at University of Texas Medical School in Galveston brings feelings of nostalgia and gratitude to retired Orlando neurosurgeon Dr. Jogi Pattisapu. Forty years ago, when he "was 19 years old and didn't know beans about anything," he spent hours there learning to be a doctor. And one of his favorite teachers was Anatomy Professor Dr. Andrew Payer, a founding UCF College of Medicine faculty member who retired March 26.
On his last day of work, Dr. Payer asked to honor teaching and learning. At a small ceremony, he presented his former student with a commemorative print of "Old Red" that Dr. Payer displayed on his office wall for 10 years at UCF.
UT's Ashbel Smith Building, fondly called "Old Red" was built in 1890 as the first medical school west of the Mississippi. In 1991 Galveston artist Pam Heidt created the print for UT medical school's centennial anniversary. Dr. Payer purchased a copy of the print and Dr. Pattisapu had always admired it.
"Old Red is special to me," said Dr. Pattisapu.  "Some years ago I visited Andy's office and commented on the picture that was then hanging on his wall. I told him how it brought back a lot of pleasant memories for me and my wife. So this gift means a lot.
"Dr. Payer and others taught me well," Dr. Pattisapu said. "That foundation has led me to have a very fantastic career and a wonderful life and I'm grateful for it."
As College of Medicine faculty and staff looked on, Dean Deborah German thanked Dr. Pattisapu for helping establish UCF's new medical school. The physician served on the original curriculum committee and lobbied lawmakers to approve a new med school in Orlando. He and his wife, Annapurna, a local internist, also donated the grand piano on the first floor that students play during breaks from their studies.
Drs. Payer and Pattisapu worked together in designing UCF's state-of-the-art Anatomy Lab as a bright, innovative learning center.
"It was fun working with him; we reminisced a lot," Dr. Pattisapu said. "We wanted to create a school for the next century, and as a team we were able to look back at the good things we did so many years ago with the lab at Old Red and the benefits of it. I remember, like at Old Red, Andy wanted to have the lab on the top floor, as most medical schools have their anatomy labs in the basement, with no windows, no ventilation and poor lighting. And we were able to make that happen here."
The UCF Anatomy Lab has received national attention for its innovative technology and the way Dr. Payer uses it to teach the clinical aspects of anatomy. Cadavers in the lab are students' first patients. Young doctors-in-training spend the 17 weeks of Anatomy Lab determining their patient's cause of death and how lifestyle may have contributed to their illness and death.
In honor of Dr. Payer's contribution, Dr. German made a surprise announcement at the ceremony. The medical school is creating a bronze plaque honoring Dr. Payer that will hang at the entrance of the lab.
"I want to thank you for creating this learning center which is a living lab for the spirit of inquiry we instill in all of our students," Dr. German said. "Thanks for your wisdom and dedication to the field of learning."
Post Tags
Anatomy

anatomy lab

Andrew Payer

jogi pattisapu