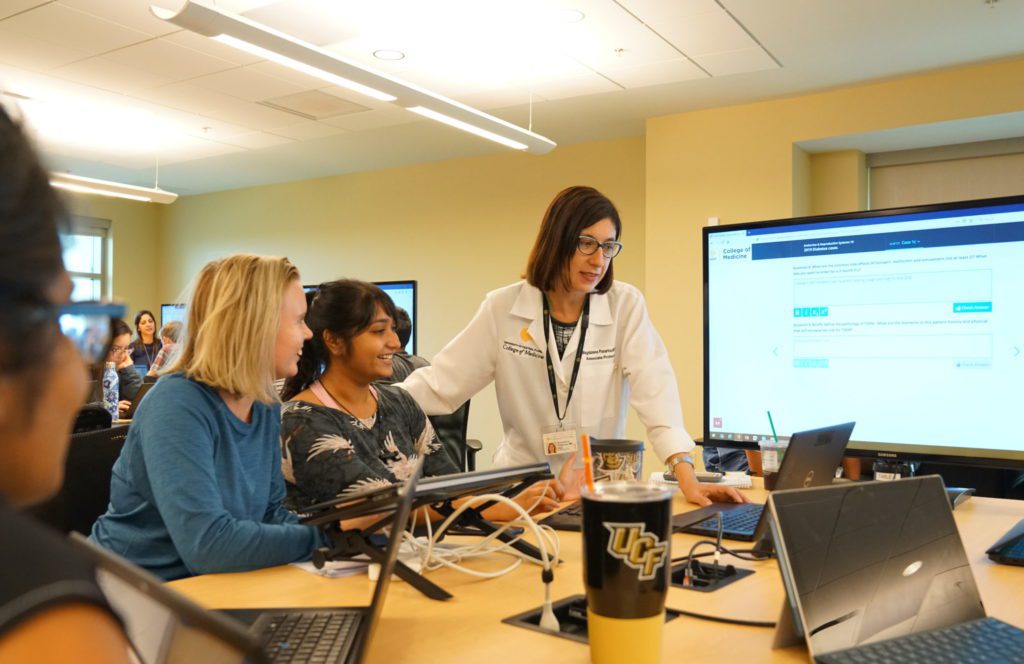 Dr. Magdalena Pasarica, associate professor of medicine, is the recipient of the UCF College of Medicine 2020 Scholarship of Teaching and Learning award.
The $5,000 scholarship recognizes outstanding contributions to the advancement of knowledge and teaching effectiveness.
A board certified family medicine physician with a Ph.D. in nutrition, Dr. Pasarica joined the medical school in 2014 and trains medical students and residents in family and lifestyle medicine for disease prevention.
"I love being able to influence the next generation of physicians," Dr. Pasarica said. "I enjoy seeing the gleam in their eyes when we discuss clinical cases. I enjoy listening to their amazement when they realize that what we discussed in class they are treating in real patients. I enjoy seeing them enjoying practicing medicine and treating patients with respect and compassion and growing into wonderful physicians that I can refer my family to."
At UCF, Dr. Pasarica collaborated on the design of the college's nationally recognized opioid curriculum and recently received a $250,000 grant from the Department of Children and Families to bolster the program. She also serves as medical director for the KNIGHTS student-run free clinic and is director for the internal and family medicine clerkship. She is an associate editor for the International Journal of Obesity and co-editor for two national journals.
"Being at UCF has given me the opportunities to translate my research and clinical expertise toward a meaningful and innovative learning curriculum for medical students and it's an honor to have been recognized," Dr. Pasarica said.
Post Tags
award

Magdalena Pasarica

teaching award