Burnett School

College of Medicine

Communique

Faculty News

Research
Dr. Griffith Parks, associate dean for research and director, Burnett School of Biomedical Sciences, is one of 17 faculty and staff projects that will receive about $5 million in Jump Start funds to advance UCF's impact under President Alexander N. Cartwright's 2021-22 Strategic Investment Program.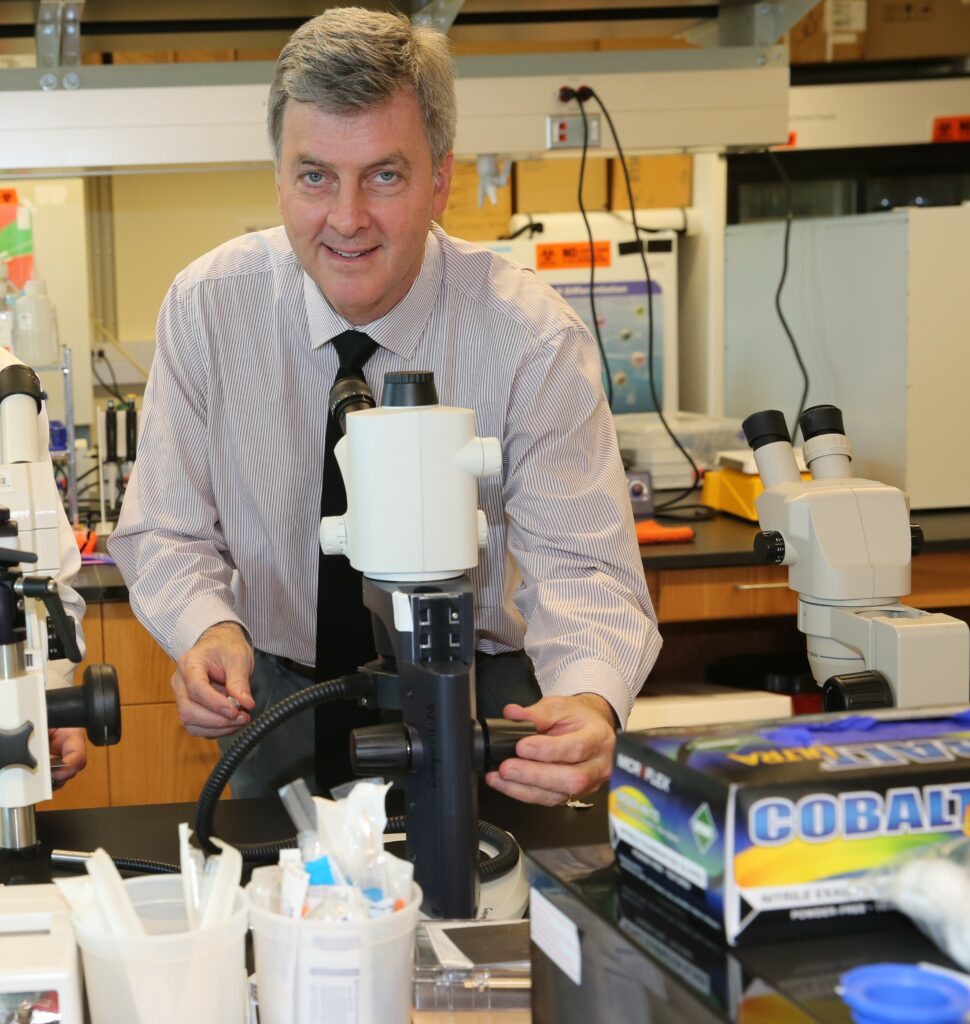 Dr. Parks received $300,000, with a $300,000 match, to purchase an ultra-high resolution tissue imaging system, which is intended to help researchers advance the understanding of cancer, neuroscience and infectious diseases.
The Jump Start Fund is one of three funds the president made available as part of his investment program to help position UCF as the world's leading public metropolitan research university. The program will award up to $50 million this fiscal year to projects proposed by faculty and staff that can elevate UCF's academic excellence, student success and impact.
Biomedical sciences research is heavily dependent on the use of animals as models for human disease. However, a major challenge is the ability to visualize, image, record and study the structure, content and organization of complex tissues.
For example, cancer research often involves the need to visualize the growth and characteristics of tumor tissue within the context of surrounding normal tissue, or to visualize how immune cells infiltrate the tumor site. To be effective, these studies require ultra-high-resolution images and the use of a large number of "markers" on one sample coupled to powerful analysis software. These markers for different cell types are important to distinguish normal tissue from the wide range of types of and to identify the immune cells in the tumor microenvironment. The tissue platform will allow researchers to conduct this visualization in large quantities and at a faster rate than they can do so with current equipment available at UCF.
"I am delighted that we were able to fund so many strong proposals and only wish that we had the resources to support more of them," said Michael D. Johnson, UCF's interim provost and vice president for Academic Affairs, in announcing the awards.
The Jump Start Fund focuses on funding one-time projects or purchases that will amplify UCF's impact. Proposals could address a variety of needs from research infrastructure and facilities renovations under $2 million to equipment, new programs, or temporary staff among others.
The Academic Excellence Fund will distribute $8.5 million recurring funds and $15 million in non-recurring funds. The Student Success Fund will award $1.5 million in recurring funds. The winners will be announced later. All three funds involve a review process leading to final decisions by the president and provost.
Seventy Jump Start proposals were submitted with more than 330 faculty and staff collaborating on the projects altogether. A complete list of all funded principal investigators and their teams is available here.
Post Tags
Jump Start Award

Research

tissue imaging