College of Medicine

Communique

Faculty News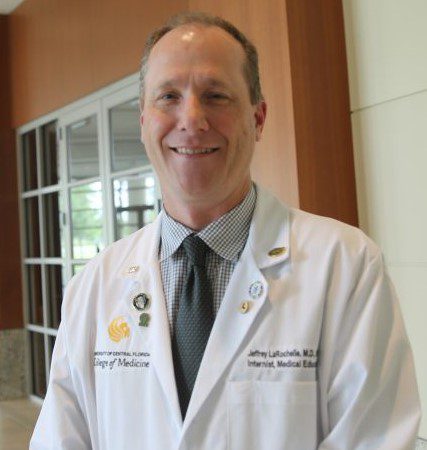 Dr. Jeff LaRochelle is the UCF College of Medicine's new associate dean of academic affairs, selected after a nationwide search.
Before being named as only the second academic affairs leader in the medical school's history, Dr. LaRochelle served as professor of medicine and assistant dean for medical education at UCF, where his research interests included the development of clinical reasoning, instructional design for clinical skills, and assessment and evaluation of learners.
"Dr. LaRochelle's commitment to learners, dedication to service, and leadership of clinical programs made him our top choice," said Dr. Deborah German, vice president for health affairs and dean of the medical school. "A diverse search — led by Dr. Diane Davey, associate dean for graduate medical education — interviewed outstanding academic leaders from across the county for this position and identified three extraordinary finalists. I am thrilled that a member of our UCF College of Medicine faculty has the expertise, experience and leadership skills to be selected among finalists from historic programs like the Ohio State University College of Medicine and the University of Miami's Miller School of Medicine."
An internal medicine specialist, Dr. LaRochelle came to UCF in 2017 after serving as director of integrated clinical skills and associate program director of the National Capital Consortium Internal Medicine Residency at the Uniformed Services University in Bethesda MD. He was also assistant chief of medicine at Walter Reed National Military Medical Center.
"This is a truly exciting time to be in medical education," Dr. LaRochelle said. "There is a national movement to better align what we teach and assess in our learners with what we value in a future physician."
In addition to his faculty roles, he cares for patients at the Orlando VA Medical Center. A Colonel in the U.S. Air Force, Dr. LaRochelle was called to active duty in the early days of the pandemic and led a COVID-19 hospital team in New York City when it was the epicenter of infections.
He received his M.D. and M.P.H. from the Uniformed Services University after earning undergraduate degrees in Microbiology and English from the University of Florida.
With a new UCF-HCA hospital open and the emergence of the Academic Health Sciences Center to unify UCF's healthcare education, research and patient care efforts, Dr. LaRochelle said the university has the opportunity to bring about a "transformational change in the continuum of medical education. As we navigate this new landscape, our North star should always be the patient, and I am reminded of my mentor's words, 'Embrace complexity, act with simplicity.'"
Post Tags