College of Medicine

Faculty News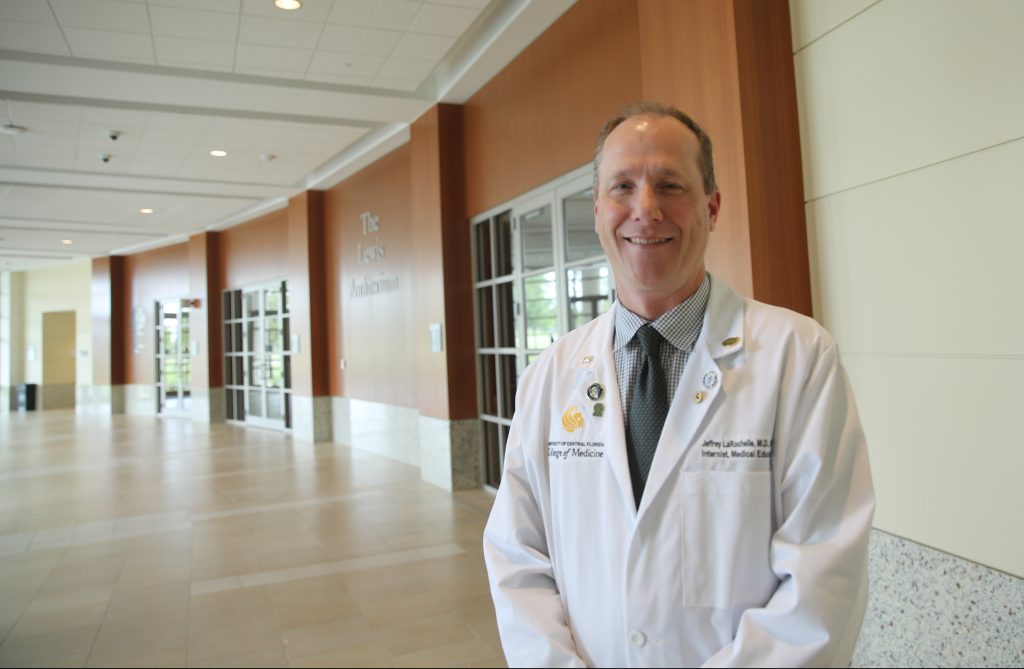 College of Medicine faculty member Dr. Jeffrey LaRochelle was recently named the new assistant dean of medical education. Dr. LaRochelle first joined the medical school in 2017 as an associate professor, serving as core faculty for the Practice of Medicine modules that give students practical clinical experience in the first and second years of med school. Dr. LaRochelle fills the position left vacant by Dr. Jonathan Kibble who is now assistant dean of students, replacing Dr. Sergio Salazar who retired last month.
Dr. LaRochelle, who is also a lieutenant colonel in the Air Force reserves, brings to the position expertise in applying medical education theory to teaching, assessment and evaluation of clinical skills and clinical reasoning.
"Medical education is more than presenting a series of facts for students to memorize," he said. "Clinical reasoning is more about making connections between facts and an application of skill sets. And that's what really attracted me in a more meaningful way to education."
Dr. LaRochelle is also serving on the Curriculum Transformation Advisory Group, which is helping to revise the M.D. program curriculum for today's learners.
"Our emphasis is on the concept of an integrated curriculum that provides flexibility for learners and fully engages them in their education — integration, flexibility, and engagement are of key importance," he said.
Dr. LaRochelle said his long-term goal is to develop an academic culture that emphasizes value and meaning for every learning experience and to ensure that learners are engaged in all aspects of the curriculum.
"There are always quicker ways to get from point A to point B, but when you do that you miss important aspects along the way," he said. "We want students to be completely engaged in their journey as they become physicians."
The most rewarding part of teaching, he said, is watching that 'aha moment' when students connect with what they are learning.
"Everyone has a different way of understanding clinical problems," he said. "And so it's almost like finding the key that fits and unlocks each student's knowledge."
Dr. Juan Cendan, chair of medical education, describes Dr. LaRochelle as an experienced medical educator with a strong track record of excellence in student assessment and bedside teaching.
"He has a great understanding of what a medical trainee needs to know along each phase of their development and values both the clinical and basic sciences as formative to the student," Dr. Cendan said.
Dr. LaRochelle also serves as staff physician and resident preceptor at the Orlando VA Medical Center. Before joining UCF, he held several positions at the Walter Reed National Military Medical Center and Uniformed Services University of the Health Sciences, where he also received his M.D. and M.P.H. He completed his residency training in Internal Medicine at Wilford Hall Medical Center.
Post Tags
Juan Cendan

larochelle

med ed

medical education