College of Medicine

Faculty News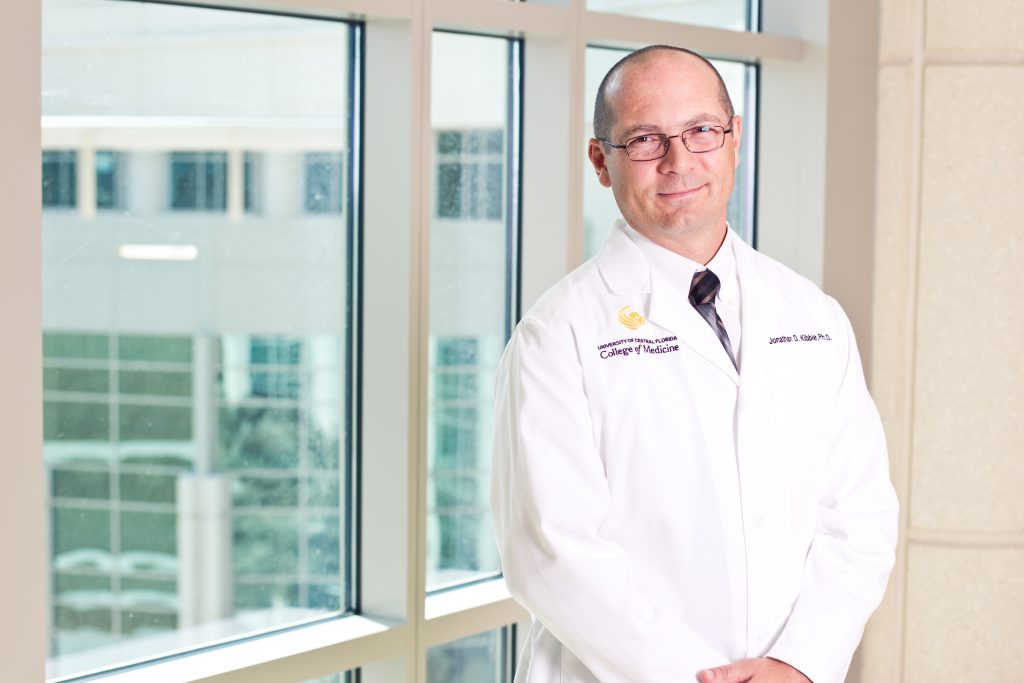 Dr. Jonathan Kibble says the best part of teaching is watching his students grow and succeed. An advocate for integrative and interactive learning, Dr. Kibble is the recipient of the 2018 Guyton Educator of the Year Award.
The national honor, presented by the American Physiology Society, recognizes faculty who have demonstrated excellence in classroom teaching and a commitment to improving physiology instruction.
"This award means quite a lot to me," said Dr. Kibble, a professor of physiology who also serves as assistant dean of medical education, "because a few amazing mentors in my professional life have won this award in the past. So for me, it's really meaningful to be placed alongside them in that sense."
This is Dr. Kibble's second national award for teaching excellence. In 2015, he received the Alpha Omega Alpha Robert J. Glaser Distinguished Teacher Award from the Association of American Medical Colleges. He has also received several teaching awards at the College of Medicine and other medical schools he has taught.
A British native, Dr. Kibble joined UCF's medical school in 2008 at its inception and was extensively involved in creating the college's innovative curriculum. Dr. Kibble has a passion for innovation and developing learning materials. He has published a medical physiology textbook, The Big Picture: Medical Physiology, a series of physiology flashcards and created mobile apps that take students on an interactive journey through the body to learn how organs and systems work.
"Medical education is particularly fascinating for me," Dr. Kibble said, "because it's a very complicated enterprise that brings together so many different challenges from a training and education standpoint and also from an assessment standpoint."
As a young medical student at the University of Manchester, Dr. Kibble's interest in physiology was piqued when he received a scholarship to take a year off med school and pursue an undergraduate degree in physiology. He fell in love with the science and decided to seek a a Ph.D. in the subject.
"I am particularly attracted to physiology because it is a very conceptual discipline," Dr. Kibble said. "It relies less on memorizing details and more on an appreciation of the human system and understanding mental models of how organs work."
Dr. Kibble has taught over 4,000 medical students during his time at UCF, and previously at the Memorial University in Canada, St George's University in Grenada and Sheffield University in the UK. He has published more than 40 peer-reviewed journal articles and reviews on medical education assessment and evaluation and serves as an associate editor for the Advances in Physiology Education journal.
Dr. Kibble will receive the award at the American Physiological Society's Experimental Biology conference in San Diego, April 21-25.
Post Tags
aamc

faculty

jonathan kibble

kibble

national award

physiology

teaching