Burnett School

Cancer Division

College of Medicine

Faculty News
College football and the fight to cure breast cancer are natural partners, thanks to Orlando's AutoNation Cure Bowl. And on November 5, College of Medicine cancer researcher Dr. Annette Khaled was honored at a UCF football home game along with officials from the Cure Bowl, the only bowl game in America where all proceeds go to a charity – the Breast Cancer Research Foundation.
Dr. Khaled, graduate students who help with her research, Alan Gooch, executive director of the Cure Bowl and other Cure Bowl officials were introduced on the field of UCF's Bright House Networks Stadium, during the UCF-Tulane game. The Knights won 37-6.
This year's AutoNation Cure Bowl is Saturday, December 17 at 5:30 at the Orlando Citrus Bowl Stadium. For more information on the game, please visit http://curebowl.com/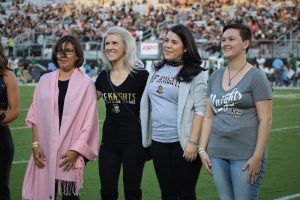 Dr. Khaled's work focuses on metastatic or spreading cancer cells that leave the original tumor and travel to the brain, bones and lungs. That's what kills most cancer patients. She is using innovative therapies and techniques – including nanoparticles – to hunt down the fleeing cells, attack and destroy them. In a recent study, she detailed how the peptide CT20, which she discovered in 2012, kills fleeing cells by disrupting the folding mechanism inside cancer cells mediated by a chaperonin.
By discovering how the peptide inhibits the chaperonin's folding ability, Dr. Khaled said scientists can develop multiple therapies for fighting metastatic cancer. An advantage of the peptide is that the amounts that kill cancer cells do not kill healthy, non-cancer cells. That means using the CT20 peptide may have less traumatic side effects of most chemotherapies. As part of her research, Dr. J. Manuel Perez, a former UCF researcher who specializes in chemistry and nanotechnology, developed nanoparticles to transport the peptide specifically to metastatic cancer cells. The next step in the research is to put the therapy into preclinical testing and clinical trials. And recently SEVA Therapeutics Inc., a Massachusetts-based pre-clinical biotechnology company, licensed the nanoparticle-peptide technology for the purposes of future research that ultimately could lead to new therapies. The nanoparticle-peptide combo, now called SEVA-108, is expected to undergo a comprehensive safety evaluation by the end of this year. If successful, clinical testing in patients would start as early as the fourth quarter of 2017.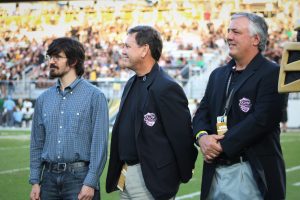 Dr. Khaled is one of five researchers in Florida to receive a $250,000 grant from the Breast Cancer Research Foundation, the largest private funder of breast cancer research worldwide, having raised $530 million and so far awarding $58 million to 237 cancer researches across six continents. The foundation supports what it considers eminent cancer scientists. In Florida in addition to Dr. Khaled, the organization supports research at the University of Miami and Mayo Clinic. The Breast Cancer Research Foundation is the only A+ rated breast cancer charity in the United States, giving 91 cents of every dollar it receives to researching a cure.
While many bowl games donate to charities, the Cure Bowl is the only one specifically dedicated to a philanthropic cause. "I do believe that cancer is solvable if you give the money to the right researchers," said Gooch. "And we believe Dr. Khaled is that."
Post Tags