College of Medicine

Communique

Diversity

Faculty News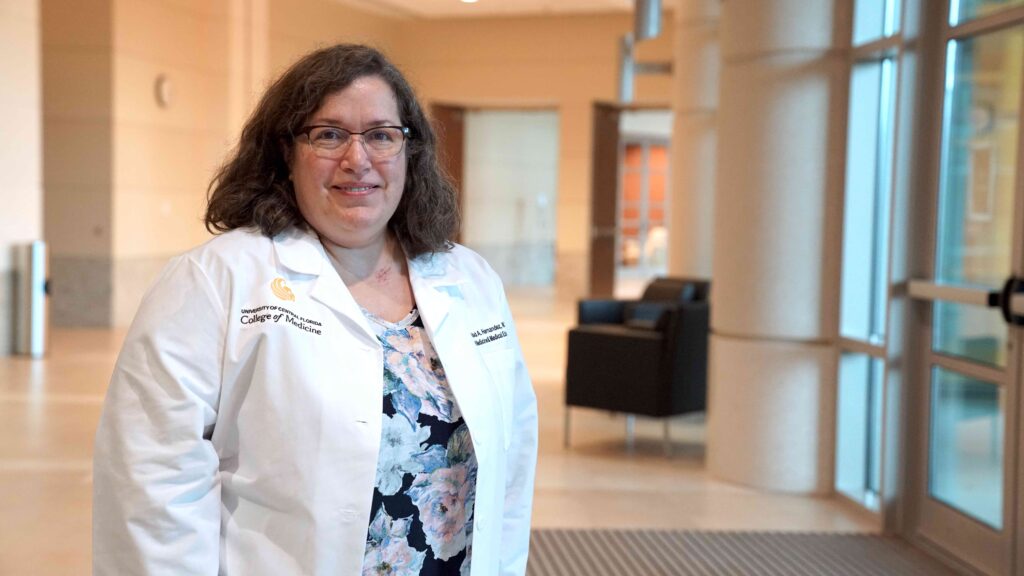 Dr. Caridad Hernandez is the College of Medicine's new chair of medical education. Dr. Hernandez joined the UCF College of Medicine in 2011 as director of the Practice of Medicine modules that teach first- and second-year M.D. students subjects that include clinical reasoning, patient communication, professional identity development and providing culturally sensitive care. With two decades of experience in medical education, she has served on the M.D. Curriculum Committee since joining the med school, chaired the Program Evaluation Subcommittee, has taught numerous M.D, and interprofessional education courses, and has received multiple grants for her research into effective systems of medical education.
"It is an honor to lead a department and team of faculty dedicated to the pursuit of excellence in teaching and learning, and to the success of our students," Dr. Hernandez said.
Providing care to the underserved is one of Dr. Hernandez's passions. An internal medicine specialist, she is medical director and faculty advisor for the Chapman Compassionate Care for the Homeless clinic in downtown Orlando and also cares for patients at the Apopka farmworkers' clinic. She has received multiple teaching and service honors from COM and the university, including UCF's Women of Distinction, Women Making History, and Scholarship of Teaching and Learning awards. She is a graduate of the Hedwig van Ameringen Executive Leadership in Academic Medicine® (ELAM) fellowship and the Dean's Leadership Enhancement Program.
"This promotion recognizes Dr. Hernandez's leadership, community service, research and educational achievements," said Dr. Deborah German, vice president for health affairs and founding dean of the UCF College of Medicine. "These experiences will serve her well as she leads the outstanding faculty team responsible for training tomorrow's physician leaders."
Before coming to UCF, Dr. Hernandez was an associate professor of medicine at the University of Pittsburgh School of Medicine, where she served as clinical site director at the University of Pittsburgh Medical Center. She also served as associate director for faculty development and chief of the Hospitalist Section at the University of Florida College of Medicine. Dr. Hernandez received her M.D. from University of California San Francisco, completed her internal medicine residency at Yale and also completed a general internal medicine fellowship at University of North Carolina at Chapel Hill.
Post Tags