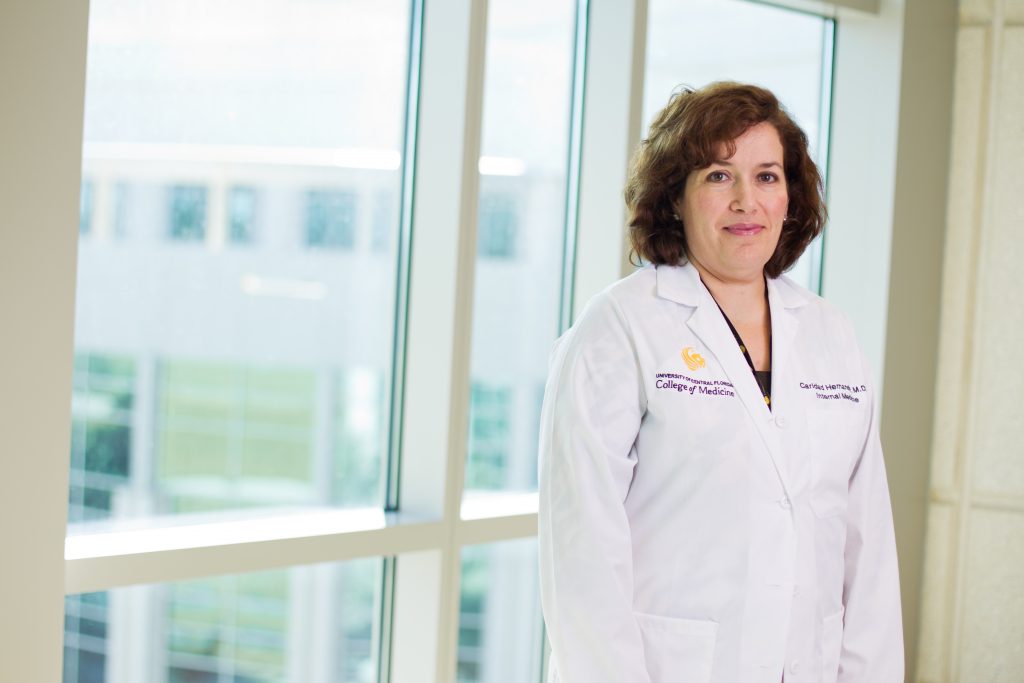 Dr. Caridad Hernandez was named one of UCF's "Women of Distinction" for her efforts to bridge the healthcare cap suffered by Orlando's homeless.
The award, given yearly by UCF's Center for Success of Women Faculty, honors achievements in teaching, research and community service. Other 2019 winners are Dr. Anne Bubriski, a lecturer in the department of Women and Gender Studies for coordinating the Young Women Leaders program, and Dr. Julia Listengarten, professor and artistic director of Theatre UCF, who was honored for Pegasus PlayLab, a festival dedicated to developing plays by emerging playwrights.
As founder and director of the Chapman Humanism Initiative in Medicine at UCF, Dr. Hernandez worked with medical students to establish the Chapman Compassionate Care for the Homeless Clinic. It provides skin and wound care for downtown Orlando's homeless population and connects them with local healthcare resources. The outdoor monthly clinics have cared for more than 100 patients since it opened in January.
"The initiative is really led by the students — they really were the impetus for it," explained Dr. Hernandez, an associate professor of internal medicine. "But I've always had a passion for service and I live downtown, so I'm very aware on a daily basis of the needs of people who find themselves in really unfortunate circumstances. So this is really a way to help address a problem that I see daily."
The program aims to deliver healthcare to homeless and medically vulnerable people directly where they are located, while linking them to community services and resources. Held in a pop-up tent equipped with essential medical equipment and supplies, the clinic provides treatment for skin conditions and wounds, over-the-counter medications and hygiene kits. The UCF College of Medicine students and faculty also partner with the Orange County Health Department to administer Hepatitis A vaccines to help curb Orlando's current outbreak. Unsheltered homeless patients are especially at risk for the disease.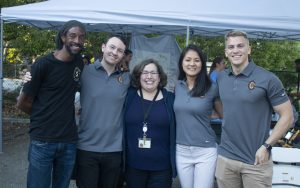 "Access is a problem for many," Dr. Hernandez said, "and if you bring the services to people, they will use the services. They do want to get vaccinated, they want their blood pressure or diabetes treated. So it's made me even more aware of the needs and want to do more to help.
She is working to expand the clinic's services indoors to a new Orlando Rescue Mission facility downtown. She believes a permanent location will allow the medical school to offer more services.
"We really want to expand this program," she said, "and my goal is really to have a mobile unit so that we can increase the frequency of our services and improve access in areas where there's great need."
Dr. Hernandez is also part of an Orange County group working to establish a needle exchange program to help stem the high rates of new HIV and Hepatitis C cases among IV drug users.
Board certified in internal medicine, Dr. Hernandez joined UCF in 2011 after holding previous faculty appointments at the University of Florida and the University of Pittsburgh. She received her M.D. from the University of California, San Francisco and completed her internal medicine residency training at Yale-New Haven Hospital. In 2017, the UCF Center for Success of Women Faculty named her a "Woman Making History"
Post Tags