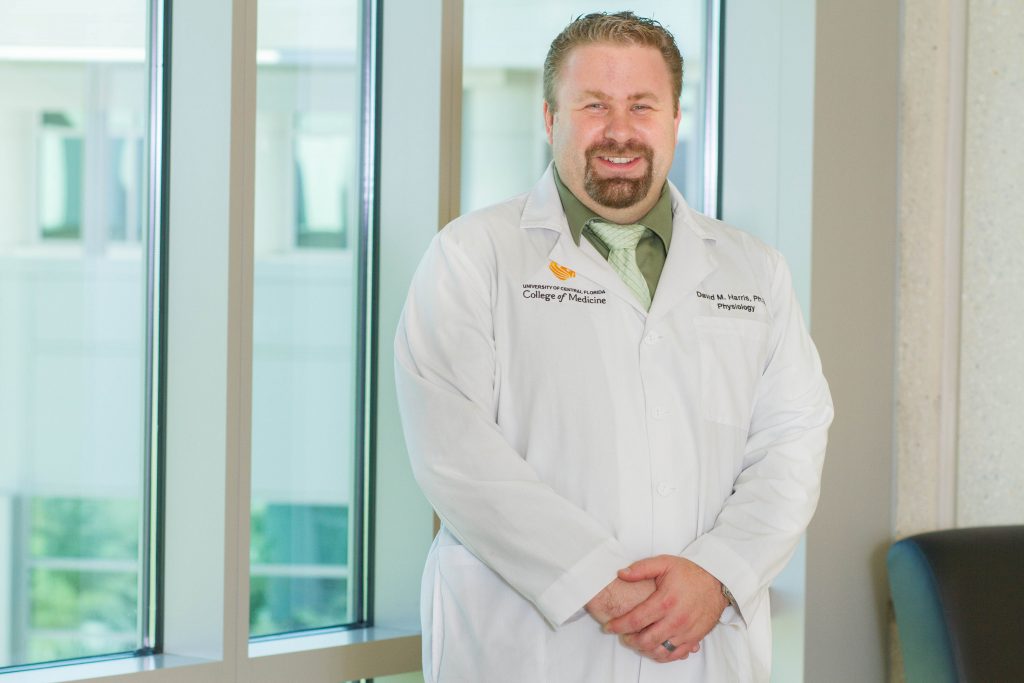 For Dr. David Harris, the key to ensuring his students' success is taking an evidence-based approached to teaching and learning,
"For me, education was my biggest avenue to grow as a person," said Dr. Harris an associate professor of physiology at the College of Medicine. "So, I think we owe it to students to do it the best way possible.  I believe if we don't use the methods that evidence has shown has worked, it's like a disservice to our students."
For his innovative and evidence-based teaching methods, Dr. Harris received the Early Career Award for Excellence in Teaching and Innovation by the International Association of Medical Science Educators. The award recognizes an IAMSE member who has made significant innovations in enhancing teaching, learning and assessment in the early years of their career.
Dr. Harris, who has been with the UCF College of Medicine since October 2011, uses high fidelity patient simulations to enhance the learning experience for pre-clerkship students. These simulations involve the use of life-like computerized mannequins presenting with various medical scenarios that require students to diagnose and offer solutions on how to treat the "patient." Dr. Harris has published several peer-reviewed articles on the benefits of these simulations.
"These types of simulations are used a lot in residency training and in hospitals settings and typically used a lot less in the pre-clerkship years, – the first two years of medical school," Dr. Harris said.  "So a lot of my research is really trying to find how to use that effectively with the first-year med students primarily. We've found it's a good method to learn skills such as communication and we're doing a little more to enhance critical thinking and clinical decision making."
Dr. Harris was previously awarded a New Investigator Award and a Teaching Career Enhancement Award by the American Physiological Society, and has received a number of teaching awards from the College of Medicine.
Previously a course director of medical physiology at Drexel University College of Medicine, Dr. Harris received his Ph.D. in physiology from the Temple University School of Medicine, Philadelphia.
"I'm really passionate about medical education, because I think our students will potentially shape the health care system in the future," Dr. Harris said. "By making them learn better, my hope is to eventually improve patient outcomes and patient safety in the future. First-year medical students are very right for that because typically that's where the seed is planted."
Has the UCF College of Medicine Positively Impacted You?
The UCF College of Medicine is a research-based medical school with a culture based on partnerships and collaboration. As a founding member of Orlando's Medical City we are proud to be your community medical college.
Find out how to give back to your medical school, today!