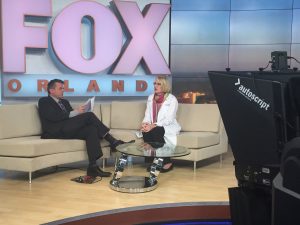 New guidelines released by the Accreditation Council for Graduate Medical Education will soon allow first-year residents to work up to 24-hour shifts, 8 hours longer than the previous limit. College of Medicine's associate dean and faculty member, Dr. Diane Davis Davey discussed the advantages of this change in an interview on FOX 35's Good Day Orlando.
Click the link below to watch video.
http://www.fox35orlando.com/good-day/241769217-video
Has the UCF College of Medicine Positively Impacted You?
The UCF College of Medicine is a research-based medical school with a culture based on partnerships and collaboration. As a founding member of Orlando's Medical City we are proud to be your community medical college.
Find out how to give back to your medical school, today!