College of Medicine

Faculty News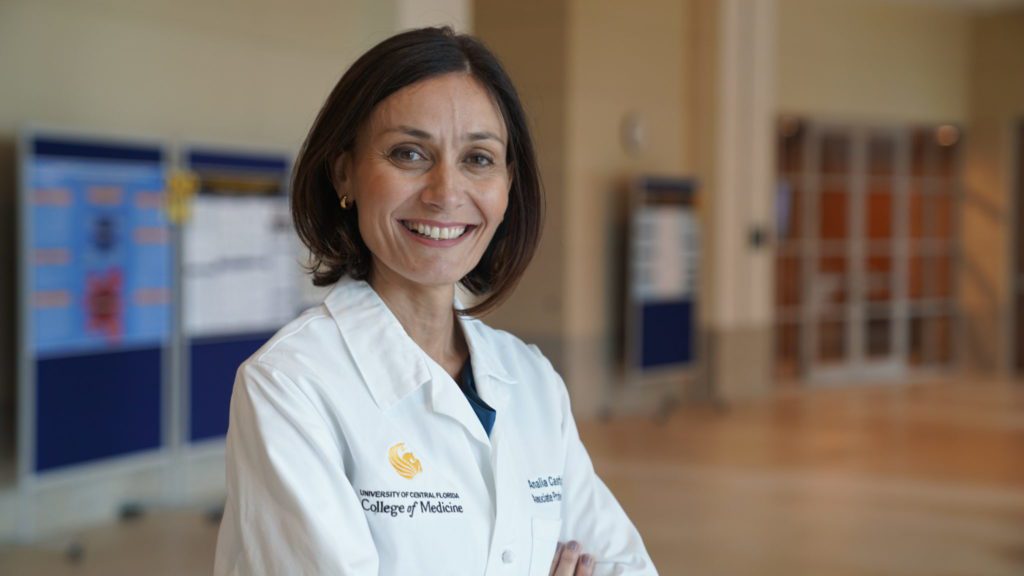 College of Medicine faculty physician Dr. Analia Castiglioni is one of three women faculty honored by UCF President Alexander N. Cartwright on Wednesday with the university's Women of Distinction Award. The award recognizes women faculty for their contributions to innovative teaching, with an emphasis this year on student engagement. Awardees were honored in an online conferencing ceremony and were given $1,000 in professional development funding.
A founding faculty member, Dr. Castiglioni is the medical director of the Clinical Skills and Simulator Center, where students learn the foundational "doctoring" skills — such as patient-centered communication and interpersonal skills, physical-exam skills, critical thinking and clinical reasoning — through interactions with simulated patients.
When the COVID-19 pandemic began, the inability to conduct face-to-face sessions disrupted all clinical-skills instruction and assessment at the College of Medicine and across the country.
Dr. Castiglioni recognized the extended nature of the pandemic early and led her team through an accelerated yet complex transition to online experiential clinical skills instruction that continued to include standardized patients. This involved adopting a new integrated video-conferencing platform to deliver online clinical-skills instruction that allowed for synchronous interactions of students and simulated patients, small-group activities and assessments.
Conversion of required performance-based assessments in the MD program to an online platform required significant redesign and development. This achievement was recognized nationally when she was invited to share the development and implementation of this new format in a peer-reviewed online forum put on by Directors of Clinical Skills, a part of the American Association of Medical Colleges.
Dr. Castiglioni led a team of faculty members in the development of new content that trained the students in the MD program to be prepared to evaluate patients in an online environment. As a result of her efforts, UCF medical students are now trained and prepared to engage in telemedicine.
The other 2020 winners are:
Cheryl Briggs, School of Visual Arts and Design
Laurie A. Pinkert, Writing and Rhetoric
Post Tags