College of Medicine

Communique

Faculty News

Student Affairs

Students
He is a renowned microsurgeon who helped patients regain the use of their limbs, a former boxer, a pilot who designs his own planes. And as Dr. Jose Borrero approaches his 80th birthday, he is still educating UCF medical students to be skilled, compassionate physicians.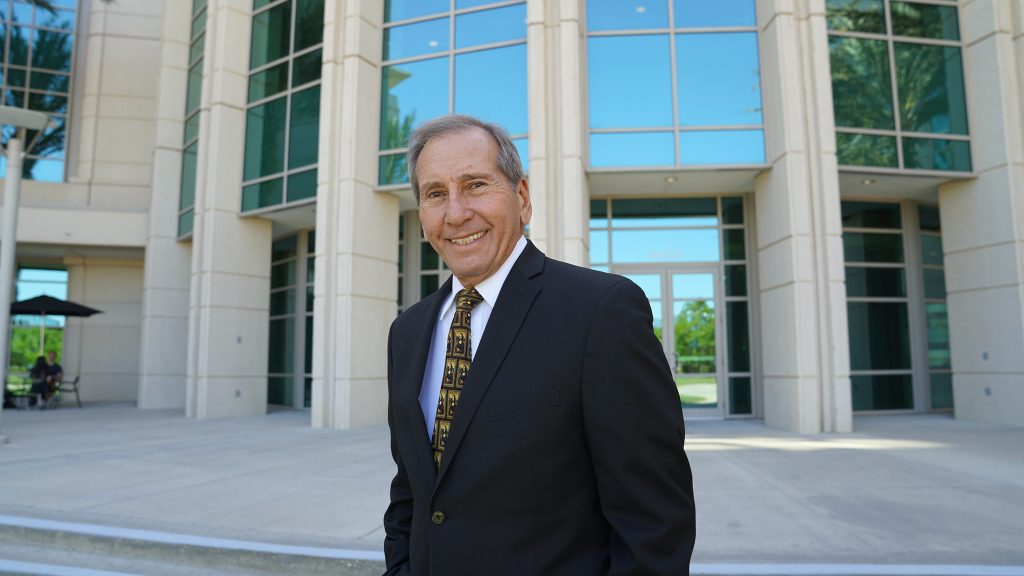 Dr. Borrero became a founding faculty member at UCF's College of Medicine after a surgical career that fills scrapbooks – stories of how he reattached limbs, fingers and toes that patients lost in accidents. How he replaced severed fingers with toes so a patient could play the guitar again. How he traveled to Latin America to do surgeries that helped children regain the use of their bodies again.
Although he is retired now, he still teaches and mentors UCF medical students. Recently, he taught a course to second-year students on the musculoskeletal system and the process of reattaching nerves, blood vessels, arteries, veins, tendons and bones through microsurgery, done with tiny sutures and magnifying lenses.
The class included the opportunity to meet one of his former patients — Gina McConnell, now a cardiothoracic nurse. In the summer of 1979, at age 12, she was accidentally shot by another child playing with a 12-gauge shotgun. The buckshot missed her heart by a half-inch but severely injured her left shoulder and chest.
She told UCF med students how Dr. Borrero had patiently explained each of her multiple reconstructive surgeries, how he had drawn pictures to show her what he was going to do. Doctors had originally said they would need to amputate the young girl's arm to save her life. Dr. Borrero saved the limb. "I want to say thank you to someone who has changed my life dramatically," she said, turning to her physician in a College of Medicine classroom.
Then she gave this advice to the doctors-in-training: "Take time to see your patients. They are people, not just cases. Pair your skills with compassion."
Dr. Borrero talked to students about the challenges he had faced in the operating room and with post-op care, including infections. He gave them examples from his days as an Air Force flight surgeon during the Vietnam War. "Don't give up," he said when discussing challenges. "Get on with it. Try and solve the problem. I'll tell you what my father told me. All it takes is effort, and effort is free."
His lecture was part of a module that combines dermatology, rheumatology and the musculoskeletal system. The module is directed by Dr. Shazia Beg, a rheumatologist who also cares for patients at UCF Health, the College of Medicine physician practice, and leads UCF's rheumatology fellowship.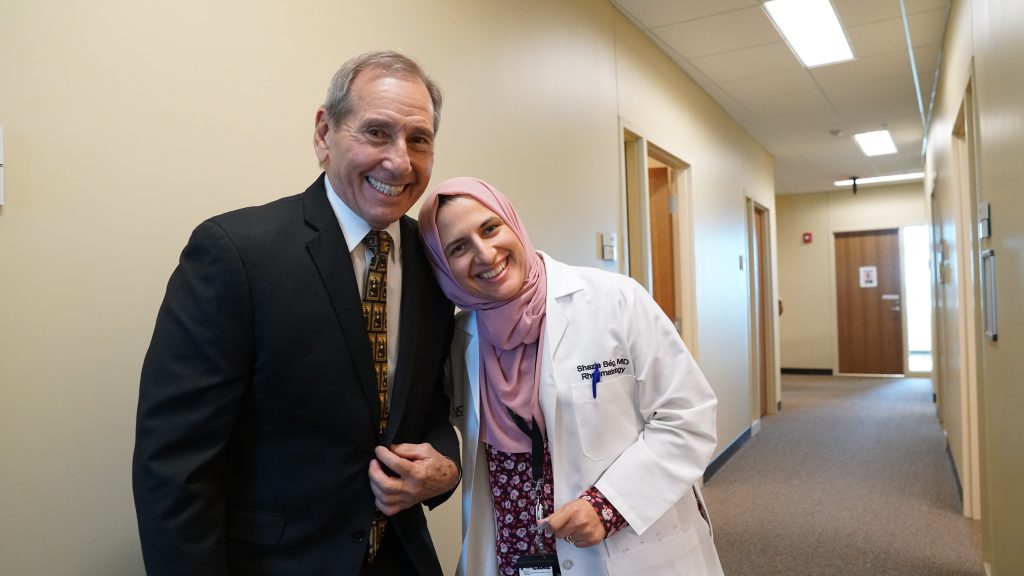 Drs. Beg and Borrero have partnered in the module for the past 12 years. "Dr. Borrero always has inspiring stories of being a pilot, war veteran, educator and surgeon in multiple countries around the world," she said. "Besides giving great lectures on nerve and orthopedic topics, he has always tried to also communicate the value of hard work, diligence and patience, which students and I have appreciated a lot."
Class of 2014 College of Medicine alumna Dr. Casey Sabbag still remembers Dr. Borrero's lessons – and continues to seek them today.
She calls him "one of my biggest mentors in medical school and beyond." She said he influenced her to pursue a military and a medical career. Dr. Sabbag is a hand and microvascular surgeon and Vice Chair of Orthopedic Surgery at Brooke Army Medical Center in San Antonio. Dr. Borrero provided guidance during her residency at Mayo Clinic and her fellowship and the two continue to communicate about surgical options for her patients.
"I first met Dr. Borrero as a first-year medical student in Anatomy at UCF College of Medicine in 2010," she said. "He has influenced my entire career from the very beginning by being the person that he is and remains to be today."
Interested in helping the College of Medicine and its medical students? Consider serving as a Dean's Advising Academy Leader (AAL). Advisors follow a cohort of students across all four years of medical school to support and encourage them in their studies and career. AALs receive all the resources and support needed to be the strongest possible advisors. For more information, please contact Dr. Marcy Verduin, Associate Dean for Students, at marcy.verduin@ucf.edu.
Post Tags