College of Medicine

Faculty News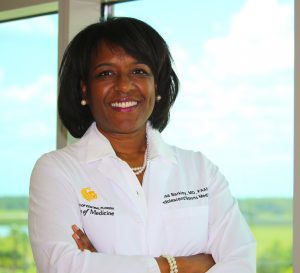 Dr. Lisa Barkley, assistant dean for diversity and inclusion at the UCF College of Medicine and a specialist in family, adolescent and sports medicine, has been elected to serve on the executive board of the Society for Adolescent Health and Medicine (SAHM).
The international multidisciplinary group is committed to improving the physical and psychosocial health and well-being of adolescents.
During her three-year tenure on the board, Dr. Barkley will help the board create a strategic plan for providing increased health initiatives for adolescents in all areas, from sports to nutrition to mental health.
"SAHM does a lot to advocate for adolescent health issues, so it's an important milestone for my specialty area," said Dr. Barkley"Especially in the changing social environments for adolescents everywhere, I really will be advocating for inclusive practices and initiatives that the organization can do to strengthen youth to be healthy adults."
As the head of the college's Office for Diversity and Inclusion, Dr. Barkley leads UCF's pipeline program that helps high school students from underserved communities navigate a path to medical careers. She also cares for adolescent patients at UCF Health, the College of Medicine physician practice and has received multiple awards for her contributions to diversity and the community.
Post Tags