Burnett School

College of Medicine

Communique

Faculty News

Infectious Disease Division

Research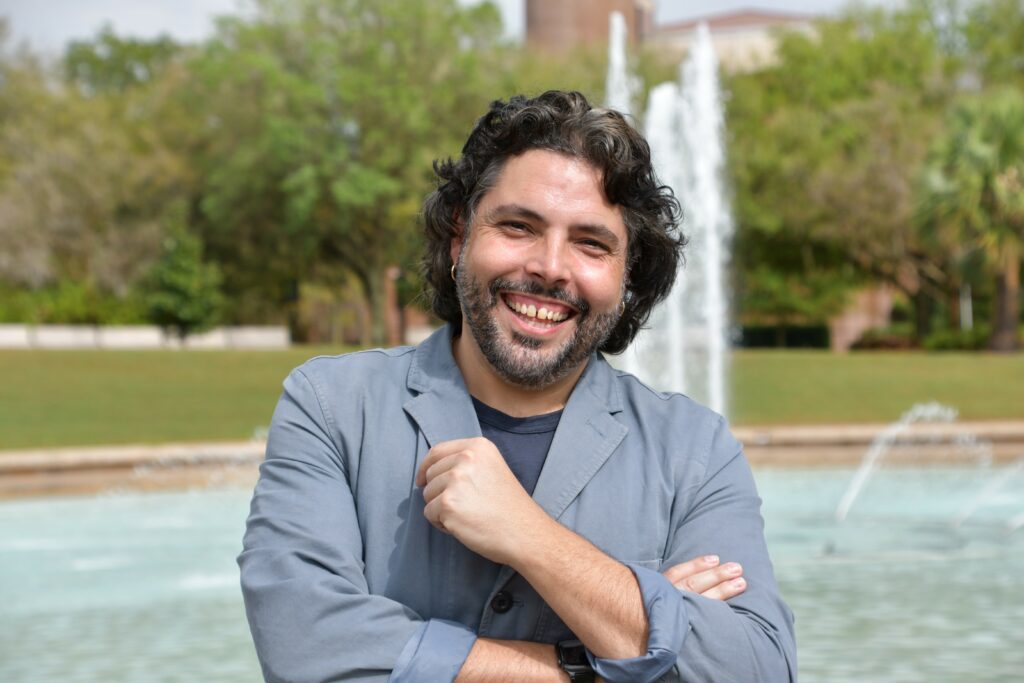 College of Medicine microbiologist Dr. Salvador Almagro-Moreno is one of five UCF Reach for the Stars honorees, an award that recognizes early career professionals with highly successful research and creative activity with a national or international impact. The honor is second only to the Pegasus Award, UCF's highest academic honor.
A native of Southern Spain, Dr. Almagro-Moreno joined the Burnett School of Biomedical Sciences in 2017 and established his lab that focuses on the emergence and evolution of bacterial pathogens. He's dedicated his scientific career to one question: Why do harmless bacteria sometimes turn lethal? After almost two decades of work in the United States and abroad, often sampling hip deep in muck, he has penned his latest academic paper about the molecular mechanisms and drivers that lead to the emergence of novel pathogens. It's a hefty piece of work that creates a map for what factors need to be considered to predict when bacteria will transform to cause disease in humans.
Dr. Almagro-Moreno searches for answers in a way that seems part scientist and part detective.
"I see myself as bold and a risk taker," he says. "For me, the risks were worth it."
Today, Almagro-Moreno has 31 publications, most of them as first or senior author in highly prestigious journals. They include some of the top journals in the microbiology field – Nature Microbiology, PNAS, Trends in Microbiology and mBio. His research has been funded by the National Science Foundation (CAREER award), the National Institutes of Health and the Binational Science Foundation.
His work is so well respected that he provides expert opinion to the FDA on Vibrio vulnificus risk, the flesh-eating bacteria. The Research Corporation for Science Advancement also recently named him a Scialog Fellow for his work looking at the risk of novel emergent pathogens. But what sets him apart isn't just his innovative research skills. It's his passion for preparing the next generation of scientists. He used part of his CAREER grant funding to establish the Synergy Scholars program at UCF and a bridge program with the Universidad Interamericana de Puerto Rico. The former aims to foster an inclusive and supportive community that nurtures academic excellence among outstanding underrepresented scholars by providing the development tools necessary to build a successful career in the biomedical sciences.
"I'm truly humbled and thrilled by the Reach for the Stars," he says. "In particular, the fact that UCF appreciates the outside-the-box thinking of my research program. I truly believe we need more non-traditional approaches in order to solve the world's most wicked problems. Besides, being an outsider also happens to be where I'm most at home."
An assistant professor, he is a member of the university's Sustainable Coastal System Cluster & Genomic and Bioinformatics Cluster.
He earned his Ph.D. in Microbiology from National University of Ireland and was an E. E. Just Postdoctoral Fellow at Dartmouth College
Other 2022 Reach for the Stars honorees are Yue "Gurt" Ge, assistant professor in the School of Public Administration; Zhishan Guo, assistant professor of electrical and computer engineering in the College of Engineering and Computer Science; Yeonwoong "Eric' Jung, assistant professor of Materials Science and Engineering in the NanoScience Technology Center and Department of Electrical and Computer Engineering in the College of Engineering and Computer Science; Chrissy Kolaya, assistant Professor in the English Department
Post Tags
burnett school of biomedical sciences

honoree

infectious disease

Research