Burnett School

College of Medicine

Faculty News

Students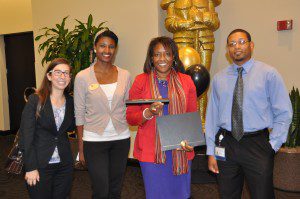 The UCF College of Medicine's office for Diversity and Inclusion was honored for its commitment to the education and development of its team by the university' s Human Resources Department. The office received  the "Order of the Baton" award at the annual Organization Development and Training Recognition Ceremony on October 25.
The honorees were commended for offering effective professional growth opportunities for their employees. College of Medicine Assistant Dean for Diversity and Inclusion, Dr. Lisa Barkley, talked about how her team is working to learn with the community, and from it.  "This past year, the focus has really been on making our activities inclusive," she said. "We want to make sure we are hearing the voices of our students, faculty and staff throughout our college." Other winners of the Order of the Baton included the UCF Recreation and Wellness Center, Computer Services and Telecommunications, The Center for Distributed Learning, The Office of Instruction Resources, Health Services, The John C. Hitt Library Circulation Department and UCF Career Services Department of Employer Relations.
Dr. Barkley and her team have participated in diversity workshops and "Lunch and Learns" to continue improving their own skills as they strive to make the College of Medicine as inclusive as possible. The aptly-named "Order of the Baton" award is an actual baton that Dr. Barkley is encouraged to pass on to one of her team members each year. The honor is intended to motivate groups to get excited about professional development, and encourage their colleagues to do the same.
The Office of Diversity & Inclusion has also been very active in its work with the community, offering invaluable opportunities for students in underserved communities. The college's Health Leaders and Health Explorers programs allow diverse high school and middle school students to learn about health careers and equip them with the information and study skills that they will need to get there. The goal of the increase the representation of minorities in healthcare so that providers better reflect the patients they serve.  "Our mission is to really demonstrate that diversity and inclusion are core values in our patient care, our education and our community service," said Dr. Barkley, who is also a board-certified family, sports and adolescent medicine specialist at UCF Health, the medical school's physician practice.
With the "Order of the Baton" award, Dr. Barkley's team hopes to continue showing the Central Florida community that UCF is "the medical school that belongs to us all."  "We've been really lucky because of how the community has embraced us," she said. "With the help of the council, we want to give back to our community and show that we want to be good partners."
Post Tags