College of Medicine

Health Sciences Campus News

UCF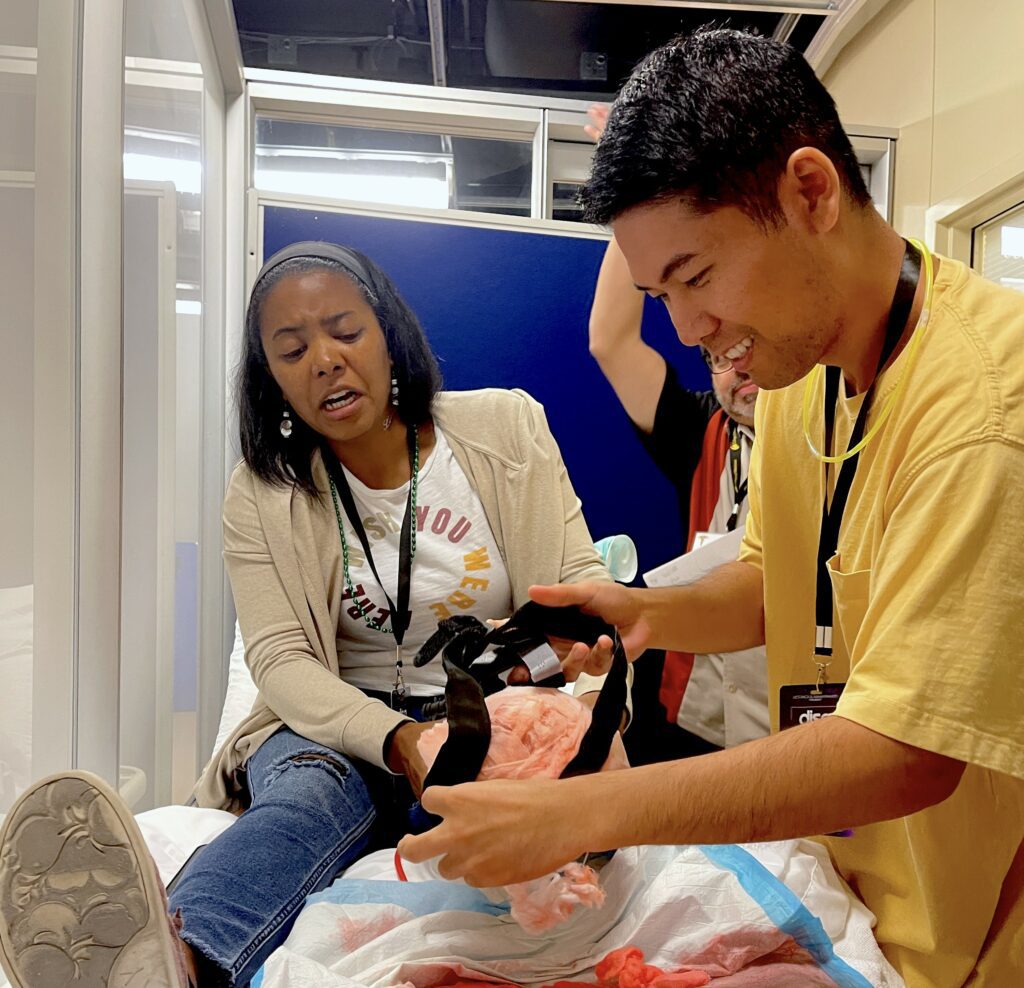 A patient screams in pain from losing part of her leg. Another is having difficulty breathing and is lying on the ground. The emergency department where they're seeking help rumbles from an earthquake and the lights flicker as physicians have seconds to decide which patient to treat first and how.
This scenario was part of a collaborative disaster preparedness training at the College of Medicine for UCF /HCA Healthcare and AdventHealth emergency medicine residents. The September 15 event was designed to give physicians-in-training a chance to practice their skills during challenging situations.
Dr. Shayne Gue is director of education for UCF/HCA residencies and fellowships at HCA Florida Osceola Hospital. He came up with the creative training idea to bring residents together from different Orlando area hospitals. "Disaster preparedness is a core tenant of emergency training, residents need to be trained on this every year. So, we developed an interactive and engaging ways to not only make it about education goals, but also about wellness, companionship and fellowship as well," Dr. Gue said, adding that he hopes to conduct more interactive training sessions in the future.
To keep the 60 residents engaged and competitive, the program split them into teams and rotated them through a mass casualty scenario, an escape room game and a trivia contest aimed at building knowledge and camaraderie. Faculty physicians evaluated the residents' skills and answers.
The mass casualty session was held at the College of Medicine's Clinical Skills and Simulation Center. A computer made sounds and movement to mimic an earthquake. Adding to the stress – the attending physician had been temporarily blinded because of injuries from the earthquake and had to make decisions based on what residents were telling him.
Dr. Drake Dickson, an emergency medicine intern at UCF/HCA tended to the patient on the ground. "Let's get some oxygen in her," he said, trying to comfort the woman struggling to breathe. He slipped an oxygen mask over her face and checked her vital signs.
Nearby was another patient played by Dr. Tracy MacIntosh, herself an emergency medicine physician and College of Medicine faculty member. She had the gruesome leg injury. Her bed was covered with "blood" and she grimaced in pain as residents placed a tourniquet on her leg.
Each team was timed and evaluated on their responses to their patients and how they prioritized care to treat the most seriously injured first.
Dr. Bridget Scheveck, a second-year resident at HCA Florida Osceola, said the training was particularly suited for the personalities of emergency medicine physicians because they have to move quickly from one patient to another. "I learned a lot about the start triage system and communication," she said.
Dr. Steve Cico oversees the 33 graduate medical education programs currently offered by the UCF/HCA consortium. "Teamwork is a key to emergency med and this really makes you work as a team," he said of the simulation. "It fosters so many skills that you will need without people realizing they're learning how to communicate better and how to be a stronger team leader."
He also praised the training partnership with AdventHealth: "One of the great things about this program was that it was combined with another residency program from AdventHealth so their residents and our residents can work together as team and learn from each other."
Post Tags
UCF-HCA residency consortium