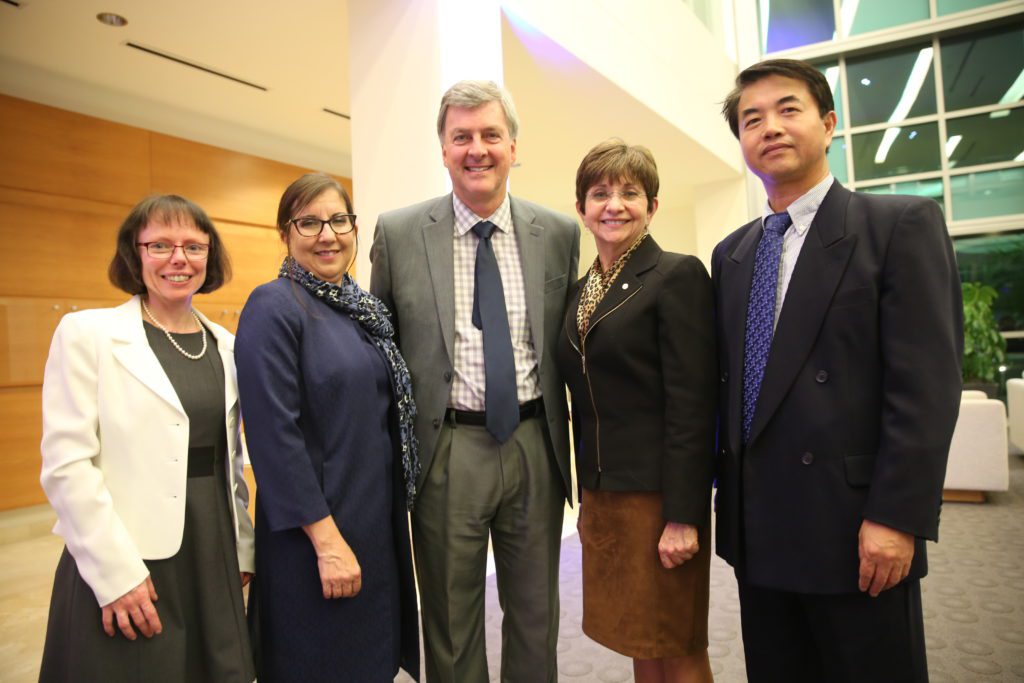 "Promising," "viable" and "critically-needed" were words College of Medicine supporters used to describe the innovative cancer research they learned about during a Dean's Society event Nov. 14.
"The Future of Cancer Research – a 21st Century Approach" presentation gave Dean's Society members an inside look into research being done at UCF and a firsthand look at UCF Lake Nona Cancer Center which served as the venue for the gathering.
The event's host, Dr. Deborah German, vice president of health affairs and medical school dean, explained that the cancer center will become a one-stop location for cancer research and treatment.
"Here, it will be different," she said. "Basic science researchers – who study cells and what makes them become cancerous, who study our genes to find out why some of us are genetically predisposed to cancer – will work next to the doctors caring for patients and the scientists overseeing patients in clinical trials of the newest cancer therapies."
She introduced the panel of four UCF College of Medicine cancer researchers as "cancer assassins who will play a key role in starting our new UCF Lake Nona Cancer Center."
Dr. Griff Parks, the college's new associate dean for research, shared his research on using viruses, like parainfluenza and Zika, to target and help kill cancer cells. Dr. Parks explained how he engineers the viruses to target, infect and kill cancer cells but not normal cells. He also played a time-lapsed video which showed how an engineered parainfluenza virus caused breast cancer cells to self-destruct in just four days.
"Conventional treatments are basically just poisons that you put into your body with the hope that they kill cancer cells quicker than normal cells," Dr. Parks said. "But they are not precise; neither are they using technologies to make therapies specific."
"So what we need are these new technologies that bring people from different fields into cancer biology, such as nanoparticles, viruses and NK (Natural Killer) cells into cancer therapies," he said, speaking of the diverse research background of the UCF researchers on the panel.
One of those researchers is Dr. Annette Khaled, who leads the College of Medicine's Cancer Research Division. She spoke about her research on treating cancer cells as "addicts" to kill them. She said cancer cells are "addicted" to a protein-folding process that allows them to grow and spread. Dr. Khaled is using nanoparticles to target chaperonin, a molecule that helps proteins fold correctly.
Using the analogy of socks, Dr. Khaled said, "If we can block this chaperonin and make it difficult for the cancer cells to fold their socks, then we can deprive them of the proteins they need to grow and survive and they will eventually die."
Dr. Alicja Copik presented her use of the body's Natural Killer or NK cells to fight cancer. She supercharges them with nanoparticles and programs them to kill cancer cells faster and better.  In her presentation, she shared a video of the NK cells or "the body's warriors" as she calls them, eating cancer cells. Dr. Jihe Zhao shared how he is combining Herceptin, an already FDA-approved  drug, with nanoparticles to help kill breast cancer cells that have become resistant to conventional drug therapies.
Dr. Parks said it's important that Central Floridians know innovative cancer research is happening in their own back yard. "With the formation of the cancer center, it's important that we get our community and our donors informed and excited about the things that we're doing," he said. "It's also really important for the community to see where we as basic scientists fit into the plan for linking a pipeline of basic, pre-clinical and clinical patient care."
Several Dean's Society members echoed those statements. Donna Mylrea described the research presentations as "very, very impressive."
"At my age, cancer is definitely a health concern," she said. "We've made so many medical advances over the years — doctors are now doing open heart surgeries and so much more, but yet so many people are dying of cancer and it's scary. So, I strongly believe it's a disease that needs to be researched the most. What we heard tonight sounds very promising and we're thrilled to be able to partner with UCF and be part of this."
Has the UCF College of Medicine Positively Impacted You?
The UCF College of Medicine is a research-based medical school with a culture based on partnerships and collaboration. As a founding member of Orlando's Medical City we are proud to be your community medical college.
Find out how to give back to your medical school, today!