Burnett School

Diversity

Research

Student Affairs

Students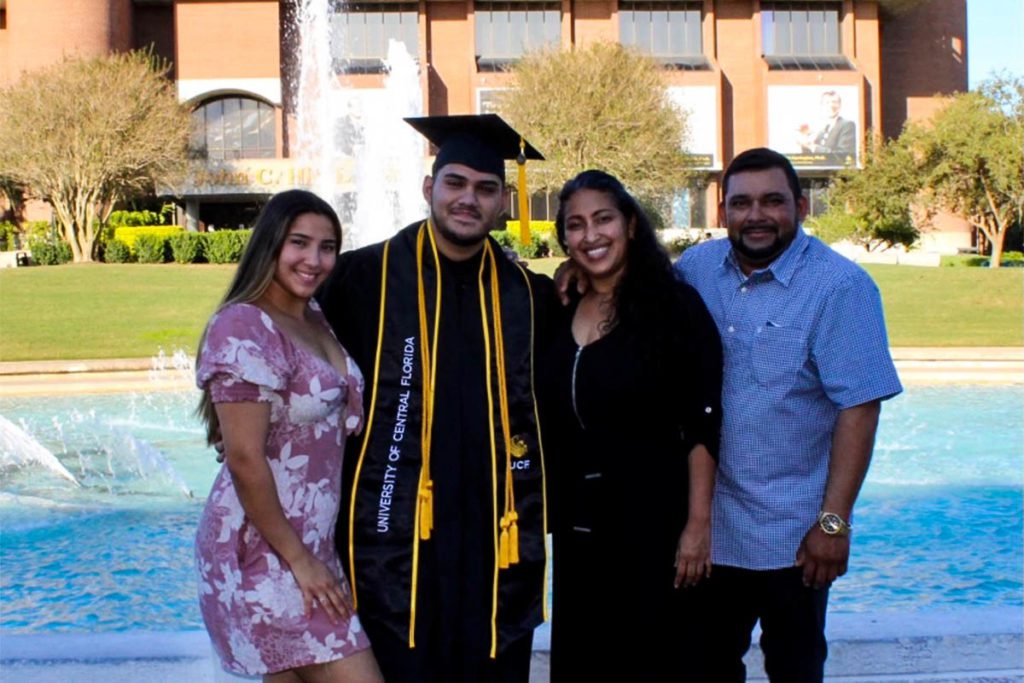 Ruben Mercado Santos realized he was "different" in high school.
When his friends were getting their driver's licenses and registering to vote, he couldn't. After living in South Florida since he was 5, the Honduras native began to realize what it meant to be an undocumented immigrant in the United States.
Mercado Santos is one of 203 young scientists who will graduate from the Burnett School of Biomedical Sciences in a virtual commencement on Saturday due to  COVID-19 physical distancing requirements. Those earning degrees include 188 undergraduates, 12 master's students and three Ph.D. candidates.
"There are times where you aren't judged for your talents or abilities at first, instead you're judged for your status," the 22-year-old says. "You can't control the challenges that come with your legal status, but you can try to find what opportunities are available to you."
Deferred Action for Childhood Arrivals, an immigration policy that allows individuals who meet several key guidelines and were brought to the U.S. as children to avoid deportation, was created in 2012.
DACA students, — also known as DREAMers — like Mercado Santos, have no access to federal aid, limited access to state aid, and in some cases must pay out-of-state tuition for college. With the goal of becoming a physician one day, he knew that he had to find a way to pay for school without creating further financial burdens for his older sister and mother, who were already working hard to provide for his family.
So he sought help from a high school advisor who encouraged him to apply for a scholarship from TheDream.US, the nation's largest college access and success program for DREAMers. Through a partnership with UCF, the organization has provided funding for Mercado Santos' tuition, along with a small stipend for books — and now he's days away from earning his bachelor's degree.
"I attended UCFs Grad Walk a few weeks ago, and when I walked across the stage … it was a culmination of all the sacrifices my mom and sister have made for me," the biomedical sciences major says. "The degree may have my name, but in reality it is awarded to all three of us."
The sacrifices became necessary when his estranged father, a businessman, began receiving death threats and eventually a murder attempt from local gangs back in his home country. His mother, who was working in a pharmacy, feared they may be next and decided to seek safety in the United States.
Although Mercado Santos says his family had a comfortable life in Honduras, he remembers feeling like anything was possible when they moved to South Florida. At first, family members who were already living here helped him, his mother and sister get by. Eventually the three of them were able to get their own place but it wasn't until Mercado Santos' arrival at UCF that he had his own room for the first time in his life. Although it was difficult to be away from his family, he knew he was serving a greater purpose.
"My mom always wanted to pursue a career like being a doctor," he says. "When we moved she said, 'I brought you here so you can be what I wanted to be,' and my sister told me she would make sure I have everything she didn't — and it's true."
Now each of them has their own residence and car, and his 26-year-old sister, who put off college so he could pursue his dreams first, will be starting her own collegiate journey soon.
"I always thought America was a place of opportunity — if you work hard you get what you want and in many instances that's true," Mercado Santos says.
Given the difficult circumstances he grew up with, the desire to help others is a major driving force in Mercado Santos' life, from why he wants to be a doctor to why he's spent hundreds of hours volunteering with Service and Love Together at UCF and Hearts for the Homeless — two student organizations committed to serving underserved communities.
"I like helping homeless individuals because that could have easily been me when I moved here to the States — it was hard," he says.
He's also a dedicated member of Pre-Med American Medical Student Association and has spent hundreds of hours shadowing local doctors and volunteering as a Spanish interpreter at a clinic.
"It hits home being in rooms with patients who don't speak English, so to be able to communicate their needs and issues to healthcare providers is one way I'm proud to help others," Mercado Santos says.
He's contributed to cancer research in assistant professor of medicine Wencai Zhang's lab, gaining hands-on experience, knowledge and inspiration for his studies.
"It is pleasant working with Ruben and he really cares for others," Zhang says. "His creativity in research surged when he published his second paper while volunteering in my lab. I expect great success for him in the future."
Although he isn't sure about the specific field of medicine he wants to pursue, Mercado Santos knows the type of doctor he wants to be — kind, compassionate and willing to help those who may not have access to affordable healthcare, since he says he knows what it's like to not be able to get medical care.
As he prepares for his next chapter, attending medical school, he is more grateful than ever for the support that got him this far.
"When I came to UCF I didn't have to worry about if I was welcomed or liked here — UCF has never treated me differently in terms of status," Mercado Santos says. "I've had the same access to opportunities as any other student, which has allowed me to focus on being the best pre-med student now to later be the best physician in the future. I can just be who I want — the good person my mom tells me to be and the hardworking person my mom has inspired me to be."
The Burnett School offers undergraduate and graduate degree programs in biomedical sciences, biotechnology and medical laboratory sciences.  Graduates enter jobs in research and medical labs, continue onto medical, veterinary, and other related professional schools, or pursue further post-graduate studies to become research scientists.
The Burnett School ceremony will be streamed live on UCF's Facebook and YouTube pages at 11:30 a.m. and will be archived on YouTube afterward. The keynote commencement speaker for all virtual celebrations on December 19 will be Suneera Madhani, Fattmerchant's founder and chief executive officer. She is a payments and technology innovator who has catapulted her business idea from a startup to processing over $5 billion in payments.
Post Tags