Burnett School

College of Medicine

Faculty News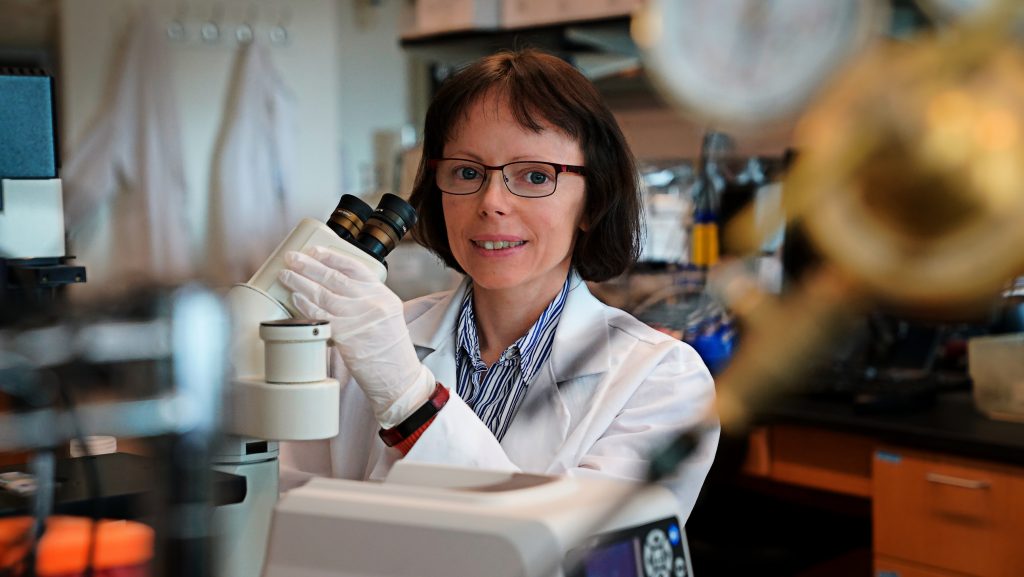 Biotech company CytoSen, co-founded by College of Medicine researcher, Dr. Alicja Copik is being purchased by Netherlands-based bio-pharmaceutical firm Kiadis Pharma to develop new treatments options for cancer patients.
CytoSen's journey began in 2016 when Dr. Copik, a researcher at the Burnett School of Biomedical Sciences, developed a nanoparticle, which stimulates natural cancer killing cells, increasing their ability to fight cancers.
Natural cancer killing cells, or NK cells are part of the body's defense system and act as an army to protect us from invaders like viruses and infections. Dr. Copik has discovered a way to make NK cells even more powerful – by stimulating them with nanoparticles that multiply them and heighten their killing ability.
Activated NK cells have advantages over other cancer therapies. First, they seldom cause side effects like chemotherapy and radiation. And the NK cells don't attack healthy cells. So cancer patients could safely receive additional NK cells from people who are not a 100 percent match.
"We do basic science for years and we often make small discoveries that don't get recognition, but years later it can make a huge impact," said Dr. Copik, who welcomed the recent acquisition.
"It's not something we can always expect," she added, "but to have our research discoveries proven successful is very satisfying and it keeps me going, knowing I'm doing something worthwhile and important and this partnership will only allow us to make a bigger impact."
Dr. Copik, a native of Poland, arrived in the U.S. 20 years ago. After completing her Ph.D. and post-doctoral fellowships, she began studying natural killer cells, and then moved to UCF.
The nearly $70 million dollar deal is the largest biotechnology company purchase in Central Florida's history. The only other company to come close was VaxDesign, which sold in 2015 for $60 million.
"This is exactly why the region has invested in biosciences," says Robert Igarashi, co-founder of CytoSen. "It is so companies like ours could blossom."
When it came time to build a company to commercialize the technology for greater patient benefit, Dr. Copik, Igarashi and other co-founders formed CytoSen. CytoSen licensed the technology from UCF and entered the UCF incubation program.
The terms of the sale include an upfront consideration of 1.94 million shares of Kiadis stock. Once the company accomplishes six clinical development and regulatory milestones, CytoSen's owners will receive another 5.82 million shares. As of June 5, Kiadis' shares were trading at 7.80 Euros, or $8.81.
The deal showcases the power of Central Florida's economic development ecosystem, powered by years of dedicated partnerships led by the University of Central Florida.
For Kiadis, the acquisition is an opportunity to bring two different types of cell-based immunotherapies together under one company. The result could potentially help cancer patients around the world.
"I am excited about this unique opportunity to bring NK cells and T cells together to benefit patients with devastating diseases", added Robert Friesen, Chief Scientific Officer for Kiadis.
"The UCF Business Incubator Program has been a very good vehicle to foster this company to its present form," Igarashi says. "This was an early stage operation at the beginning and they significantly helped us reach this major milestone."
The company started at the Research Park Incubator and for the past two years was headquartered at the Winter Springs Incubator.
"This is an outstanding success story for the UCF Business Incubation Program," says Carol Ann Dykes Logue of the UCF Research Park Innovation District. "While certainly this is an atypical accomplishment, this proves anything can be possible with a great product or service accompanied by a great business."
The company plans to continue to operate out of the Winter Springs Incubator, providing economic impact to the east Seminole County community.
"Our programs are uniquely designed to help grow companies, allowing them to work together and prosper while continuing to grow the cities that partner with UCF on this program," says Jerry Ross, president, National Entrepreneur Center. "CytoSen's success should help other companies in the biotechnology field in our program see the potential future and help them grow as well."
Post Tags