College of Medicine

Communique

Diversity

Faculty News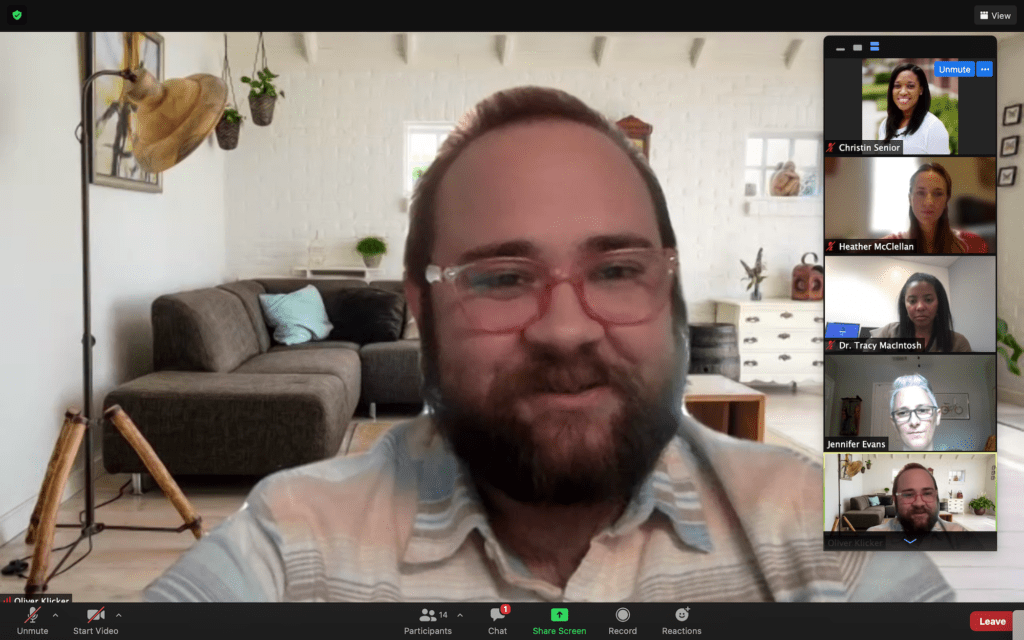 Almost 20 percent of LGBTQ+ adults say they avoid seeking healthcare because they fear discrimination, according to a recent study, leading to poorer health outcomes for those patients.
Oliver Klicker knows this fear all too well. Klicker, who was assigned female at birth and identifies as a transgender man, said that despite suffering from a range of medical issues, he hesitated going to doctors because the visits were too stressful.
"Coming out as transgender was very challenging for me. And it is something that will follow me for the rest of my life, because every time I see a new care provider, I end up having to come out," he said. "When I was younger, I would often try to avoid going to new doctors, because the experience was overwhelming, especially if I'm seeking emergency care – it's a whole thing that I have to prepare myself for."
Klicker, a commercial project manager for a solar company, shared his experiences at a virtual workshop hosted by the College of Medicine's Office of Diversity and Inclusion June 7. The workshop featured Klicker and his partner, Dr. Jennifer Evans, a clinical psychologist who works with LGBTQ+ patients at the University of Florida Pediatric Endocrinology Youth Gender Clinic. The workshop, held to mark Pride Month, discussed barriers to healthcare for LGBTQ+ patients and offered practical tips for health professionals to better serve the community.
Klicker shared that many healthcare providers thought he was imagining his ailments. "Whenever I had told them my symptoms they would always say, 'Oh it's all in your head or it's because you're trans or it's the hormones you're taking.'
"I've also met many endocrinologists who are just not willing to treat trans people," Klicker added, "because there's still this belief that it's just a phase, or even worse, there's a level of bias and lack of willingness to accept that this is my identity."
Dr. Evans, who identifies as queer and non-binary, suggested ways healthcare providers can provide more compassionate care.
"As a queer person, I'm always scanning, and I know a lot of my patients do also," said Dr. Evans, who provides counseling and therapy to LGBTQ+ teens and adults. "I'm always scanning to see is there any kind of signal that this provider is queer-affirming. It could be brochures in the waiting room, office decor, flags or Safe Zone stickers, buttons or pins or even books on your bookshelf. I can tell you personally, there is a relaxation and ease that comes over me if somebody acknowledges that queerness exists."  
She also encouraged healthcare professionals to learn more about current on issues within the LGBTQ+ community.
"It's great to be able to affirm your patients and make them feel comfortable," she said, "but it's another thing to have an awareness, and a willingness to read the newest literature or standards of care for trans people."
Small gestures — such as using correct pronouns when referring to patients — are also meaningful, Dr. Evans added. "Ask if you're unsure. It's a good idea to ask for preferred pronouns on your intake forms. It allows the patient to feel safe and prevents the need for awkward questions."
Klicker also advised providers to listen, ask questions and seek feedback from their patients.
"Always ask 'How can I make your experience better?' 'What's your experience been with our billing or with our staff?,'" he said. "It's also important to talk to your staff, because while you can be affirming in your practice, if your office staff is not that will also affect the patient experience."
Dr. Tracy MacIntosh, the medical school's new associate dean of diversity, equity and inclusion, thanked the speakers for sharing their experiences to show medical students, faculty and staff how to provide better, more inclusive patient care.
"Even though we may mess up or say the wrong things on a daily basis, the important thing is that we understand our limitations, and we realize that we need to do the work to create safe spaces for our patients," Dr. MacIntosh said. "I heard you say the word kindness and that's really that's what it comes down to. It's pretty profound and that's why we're here as physicians, that's what we've all signed up for."
Post Tags