Burnett School

College of Medicine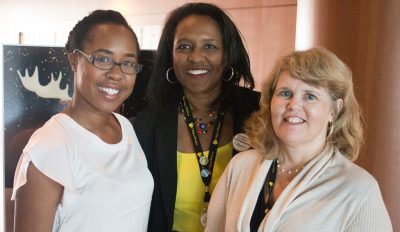 College of Medicine colleagues offered their unique perspectives on inclusion October 20 during a UCF Diversity Week event designed to encourage discussion and appreciation of differences. The event was dedicated to Dr. Carlene Grant, the med school's assistant director of diversity, who died unexpectedly several weeks ago. Dr. Grant was our founding clerkship coordinator for pediatrics and in her new role had been working with students, faculty, staff and the community on inclusion initiatives.
Student groups, the college's Council for Diversity and Inclusion and the Health Sciences Library presented perspectives on increasing inclusion for people who have traditionally been overlooked in medicine. "Our goal is to provide opportunities for diverse groups to share their experience and perspectives to inspire discussions on making the medical school more inclusive," said Dr. Lisa Barkley, assistant dean for diversity and inclusion.
UCF's Student National Medical Association chapter works to increase the number of African-American, Hispanic and Muslim physicians in America and helps support pipeline programs to increase the diversity of the healthcare workforce. Second-year M.D. students and SNMA leaders James Lee and Gabriel Williams said their goal is to help minority children realize that healthcare is an career option even though few have seen a doctor of color. "Their attitude is the same as mine when I was in high school," Williams said. "I don't know if I can do this. I don't know if being a doctor is even possible for me."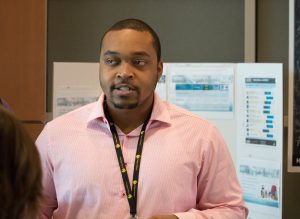 Lee said increasing the diversity of healthcare providers will make care more accessible and more comfortable for all patients, noting that many women would prefer a female OB-GYN but did not have that option when few women entered medicine. Through mentorship, he said, he and other SNMA leaders want to "change the image of the black male. We're not just what you see on TV news. We're not all LeBron James. We're changing the dynamic not just for doctors but for scientists, engineers."
Another group presenting at the event was one of the medical school's newest student organizations, LGBTQ+ Medical Students and Allies. Leaders talked about the challenges that LGBTQ+ students face in navigating visibility during med school and residency and being a strong voice for the community.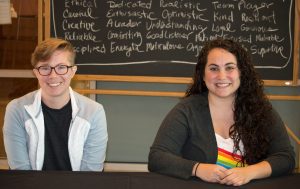 One of the group's goals is to increase education and awareness about the LGBTQ+ community and to encourage discussions and open dialogue. Leaders shared information on the health disparities their community faces because of stigma, discrimination, appropriate training or a simple lack of awareness. For example, several gay women described how physicians had automatically prescribed contraception and pregnancy testing because the women said they were sexually active – without asking if they were having relations with men, women or both.
"It's about assigning gender without asking, assuming," said second-year medical student Ann Warner. "We want to find ways to increase awareness so people can be more affirming and to encourage people who are unsure or have a question to just ask."
The student Obstetrics and Gynecology Interest Group talked to participants about the unique health needs of women, including healthcare disparities between how men and women are treated for disease. Second-year M.D. student Katie Brennan explained how a recent study showed that orthopedic surgeons recommend knee replacement surgery for women 22 times less often than they recommend it for men and how women's symptoms of a heart attack are different from men's, resulting in treatment delays.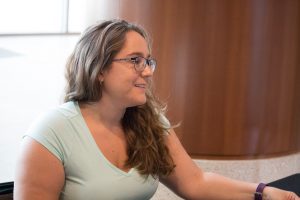 Brennan has a unique story surrounding her interest in women's health. She was studying veterinary medicine at Auburn University when she received a $10,000 grant to help women in Haiti get better feed to produce healthier farm animals to serve their community. When she traveled to the impoverished country in 2012, female residents said they didn't need better feed to be healthier, they needed Brennan's help in reducing death during childbirth. Most Haitian women live a four-hour walk to the nearest clinic or hospital and 1 in 93 will die during childhood sometime during their reproductive lives. "The women of Haiti inspired me to do something more," Brennan said. She decided to go to medical school and pursue a specialty in obstetrics-gynecology.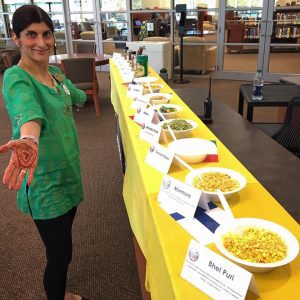 Other Diversity Week events included a spin-the-wheel discussion board with thought-provoking questions on inclusion and diversity presented by the College of Medicine's Office for Diversity and Inclusion and Council for Diversity and Inclusion that includes faculty, staff and students. In addition, the Harriet F. Ginsberg Health Sciences Library showed four featured TED Talk events where speakers shared their experiences with diversity. Topics included "The problem with Race-Based Medicine" and "What Do You Think When You Look at Me?"
Post Tags