College of Medicine

Faculty News
Internal medicine residents swapped the classroom for the kitchen recently as they learned the science behind healthy eating to share with their patients.  More than 20 physicians diced, chopped and sautéed everything from peppers to chicken as part of a culinary medicine class led by Dr. Jacque Nyenhuis, nutritionist and assistant professor for internal medicine.
"Patients are looking to their physicians for advice on evidence-based diets and ways to enhance wellness and prevent chronic diseases," said Dr. Nyenhuis who blends both lectures with actual cooking time in her workshop.
Sujit Routray, an internal medicine resident from Mumbai, prepared curry chicken from his homeland on a hot plate as the smell of garlic and other spices filled the air.  "This is the first time I've seen food bring the world together," he said of his fellow residents who hail from more than 25 countries. The variety of dishes included crepes filled with fresh fruit, skewered vegetables, avocado on corn disks, sushi and canchu, a Peruvian popped corn.
"This is a very unique opportunity for residents to learn both healthy foods from the patient side and the scientific side in a cultural context," said Dr. Abdo Asmar, the internal medicine residency program director as he watched the residents share foods.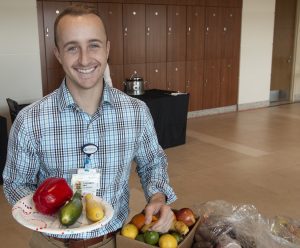 "We tell patients what not to do or eat, but we don't tell them how to put healthy eating habits into practice," said Dr. Asmar. Eating becomes even more complicated when patients are dealing with multiple health issues and in frustration ask, "Well, what then can I eat?" For example, kidney disease patients are supposed to avoid foods high in potassium or salt, but many foods low in salt are high in potassium, so finding a balance can be challenging, Dr. Asmar said.
Many physicians also aren't comfortable giving patients dietary advice, since it's not typically part of their training even though diet and health are strongly linked.
The Center for Disease Control says that more than two-thirds of the U.S. population is overweight, and nearly 35% of Americans are obese due to poor diet that can lead to other health problems like hypertension, diabetes or heart disease. Dr. Nyenhuis explained how the Mediterranean diet, which emphasizes fresh fruits and vegetables and less processed foods and saturated fats are known to have health benefits. According to some recent studies, the Mediterranean diet is associated with less inflammation and a reduced risk of stroke, cardiovascular disease and type 2 diabetes.
The internal medicine residents see patients at the Orlando VA Medical Center and also at Osceola Regional Medical Center. Many are dealing with more than one chronic condition such as diabetes and heart disease. Dr. Asmar said he hoped the hands-on nutrition training "serves as a bridge to what patients might be going through when they're cooking at home, and for the residents, how culinary medicine can impact their own food choices."
Post Tags
internal medicine residency