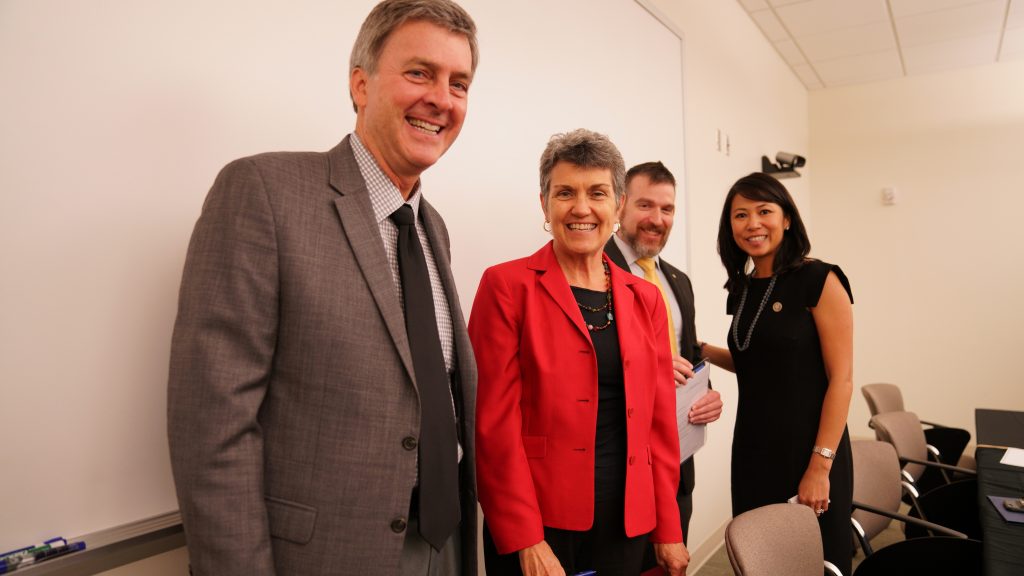 With more than 2 million visitors arriving each week, Florida is at an increased risk for infectious diseases such as the mosquito-borne Zika which affected close to 1,500 state residents last year.
To help keep Central Floridians safe, U.S. Representatives Stephanie Murphy and Darren Soto hosted a recent roundtable on Zika and other infectious diseases at the UCF College of Medicine's Burnett School of Biomedical Sciences. The lawmakers and medical school scientists discussed the risks posed by these diseases, and what UCF researchers and public health officials were doing to combat them.
The representatives heard from UCF infectious disease researchers Dr. Brad Willenberg and Dr. Griff Parks who last year received $1.3 million to research the Zika virus with the goal of understanding its effects on human health and developing a vaccine for the mosquito-borne illness. The funding was part of Gov. Rick Scott's authorization of $25 million in state funds to develop better testing and prevention for the mosquito-borne virus that authorities say has infected almost 5,000 people in the U.S., with close to 230 babies born with Zika-related birth defects.
Rep. Soto called the Burnett School's research "very encouraging" and was particularly fascinated with Dr. Willenberg's project that includes designing a mosquito surveillance tool that may assist in the Zika fight. The tool attracts the insects, feeds them a special gold nanoparticle-colored sugar water that diagnoses those carrying a disease, and turns the infected mosquitos a different color as a warning system to residents.
"I found it to be really futuristic," he said. "This will be a great tool to help determine if a neighborhood has problems with these type of diseases."
Dr. Parks spoke about an ongoing project that is studying the ability of some humans to neutralize the Zika virus through their immunity systems. His hope is to use research into that process to develop a vaccine.
"This was a tremendous opportunity not only to share the innovative research we are doing here at the Burnett School, but also to share our vision of developing a center of excellence focusing on infectious diseases," said Dr. Parks, who is director of the Burnett School. "Researchers are often hidden behind the scenes, so this roundtable was a great way for us to showcase and to put a face to the persons who are helping to keep Florida and the wider community safe."
In addition to Zika discussions, the representatives also heard from UCF researchers who are investigating solutions for other infectious diseases including Dr. William Self who studies the clostridium difficile (C. diff., an infection often caught by hospital patients) and Dr. Debopam Chakrabarti who is identifying antimalarial compounds from marine and other natural extracts. Dr. Kyle Rohde shared his research on developing new treatments for drug-resistant tuberculosis bacteria and Dr. Mollie Jewett spoke of her research on the tick-borne Lyme disease, studying the mechanisms of the borrelia burgdorferi bacteria which cause the disease.
Also participating in the roundtable were Dr. Coleen Boyle, director of the National Center on Birth Defects and Developmental Disabilities at CDC and Florida Department of Health officials, Donna Walsh, director for Seminole County and Kevin Sherin, director for Orange County.
Congresswoman Murphy commended the Burnett School team on the "innovative and important research" they were doing.
"It is clear that these UCF researchers around this table are experts in their field," she said. "It is very interesting to see how disease can affect civil society and national security and transcends borders, so it is very important to look at these issues and exercise continued vigilance as it relates to infectious diseases."
Rep. Soto said it's important for Florida researchers to continue pursuing protections for mosquito-borne infectious diseases. "Zika is still a threat," he said. "While we've had a decline this year because of dry weather, we still need to remain vigilant. It's critical that we understand it's going to be years until we get a vaccine for this, and so we need to continue funding research on these types of mosquito-borne diseases."
Has the UCF College of Medicine Positively Impacted You?
The UCF College of Medicine is a research-based medical school with a culture based on partnerships and collaboration. As a founding member of Orlando's Medical City we are proud to be your community medical college.
Find out how to give back to your medical school, today!