College of Medicine

Students
When Reem Abdalla (pictured above center) first enrolled in medical school, doing research was not on her list of priorities. But her recent experiences working on a major scientific study have her thinking differently.
"We're not just here to learn that this is a disease and this is how to treat it," she noted. "We're also here to try and figure out more efficient and better ways to look at things. The best gift you can give medicine is research, because research is what we use to progress toward better healthcare, and the College of Medicine offers you the opportunity to be able to do just that."
Abdalla was one of three students at the College of Medicine who walked away with top prizes for their research presentations at the recent Florida Hospital Graduate Medical Education (GME) Research and Quality Improvement Day.
The May 26 event, which saw close to 200 participants, featured scholarly contributions from students, residents and faculty in the form of oral presentations, quality improvement projects and research posters. Awards were presented in three categories: clinical research, quality improvement and case reports.
Abdalla earned second place in the clinical research category for her study, "CT Evaluation of Gastric Band Slippage: A Retrospective Study," which she conducted as part of the Focused Inquiry and Research Experience (FIRE) module, a mandatory two-year research course at the College of Medicine.
"It's very rewarding to see that what you've worked on is actually going to benefit patients in the future," Abdalla said. "I didn't expect to win an award at all. Of course I was very happy, but my main goal was to actually help the patients and to have my research published and used by other radiologists and surgeons. And to get recognized for it is also something great."
In her research, Abdalla was able to identify several criteria for using CT scans to detect band slippage and plans to conduct future research to compare the use of CTs with x-rays, which are more commonly used. The team has submitted the study to the Radiologic Society of North America for presentation at the next annual conference and consideration for publishing.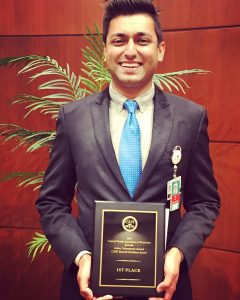 Rising fourth- year student, Ali Agha (left) took home two awards, the 2016 CAPI Annual GME Research Excellence Award for first place in clinical research for his study,  "Contribution of Screw Position to Correction of Axial Rotation in Adolescent Idiopathic Scoliosis" and first place in oral presentations for his study, "CT Radiation Dose Reduction in Robot-Assisted Pediatric Spinal Surgery."
"Research has been the best academic experience of my lifetime," Agha said. "I learned the full A-Z of the research process, not just doing IRBs (Institutional Review Board submissions) and experiments, but also communicating it through posters and oral presentations. And it has given me the confidence to take the skills that I have learned and apply them in the future."
Agha's study on scoliosis – an abnormal curving of the spine – looked at the placement of screws in patients at the apex or the most curved part of the spine as a corrective procedure.
"Most doctors place screws here to treat the condition, but it is usually the most difficult part to place screws," Agha explained. His study however found that placing more screws at the apex did not necessarily result in improved surgical outcomes.
The second study looked at ways to reduce radiation in pediatric patients undergoing treatment for adolescent idiopathic scoliosis. Agha and his team were able to produce a low dose protocol to reduce radiation exposure in pediatric patients undergoing robotic surgery.
"We were able to reduce radiation exposure by approximately 90 percent by changing some of the parameters on the CT machine, such as lowering tube voltage and current. And the images we produced were still acceptable for use during surgery," he explained.
Agha first presented his study on radiation exposure at the Society of Minimally Invasive Spinal Surgery Global Forum in Las Vegas last November, an experience he says gave him a boost of confidence that helped him win the top oral presentation award.
"When I first presented in Las Vegas, I envied the other doctors because they were so fluent in discussing their topics and what they were working on. It was my first time ever. But I think that experience, presenting in front of a much larger audience with doctors from across the world, prepared me for this. At the GME forum, I was more comfortable, confident and prepared for questions."
Agha expressed his gratitude to Drs. William Sensakovic, Laura Varich and residents at the Florida Hospital, as well as the College of Medicine for giving him "this opportunity to shine."
"Research is a very important aspect of medicine," he noted, "and it is one of the reasons I chose the UCF College of Medicine because it promotes our research endeavors and supports our goals."
Agha's research on radiation exposure is now under review for publication in The Spine Journal. He also plans to submit a poster presentation on the pedicle screw placement study to the Journal of Pediatric Orthopedics.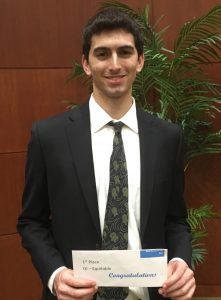 Ariel Botwin (right), who has a keen interest in healthcare disparities, won first place in the quality improvement category for his study, "The Effect of Insurance Status and Language Preference on Breast Tumor Size at Diagnosis."
Botwin, a rising third-year student, believes access to insurance and language preference greatly affect women's health, but for the most part have been ignored in research. His research, originally done for his FIRE project, found that women with no health insurance had an increased breast tumor size diagnosis compared to those with health insurance.
"Seeing all that hard work come to fruition was really great," said Botwin. "I'm really thankful to both my mentors Dr. Laura Bancroft and Dr.  Alric Simmonds Jr., who helped a lot and gave me some great advice."
Dr. Richard Peppler, associate dean for faculty and academic affairs, underscored the importance of research at  the College of Medicine, noting that it "creates a spirit of inquiry which gives students the foundation to be lifelong learners."
"The fact that we're a new school that has only graduated four classes, to see our students go out and succeed and be recognized is a good feeling," Dr. Peppler added. "It means that the faculty are doing something right with our students – giving them a good skill set with which to succeed."
Post Tags