Burnett School

College of Medicine

Faculty News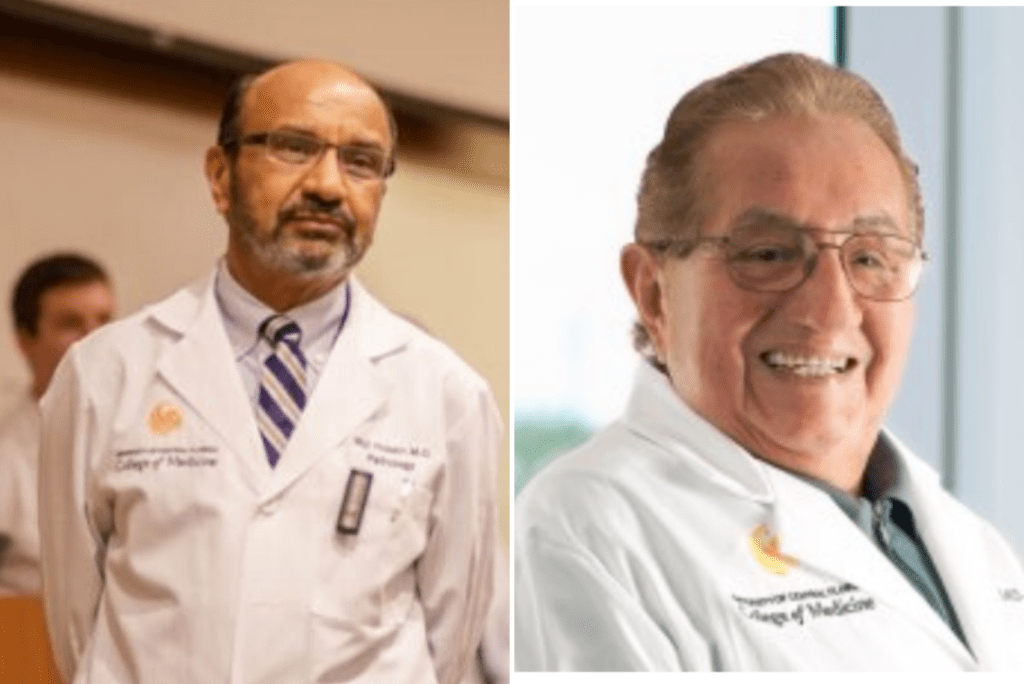 The College of Medicine recently bid farewell to two founding faculty members – Drs. Mujtaba Husain and Genaro Lopez – who officially retired from service on June 30.
A board-certified pathologist, Dr. Husain joined UCF in 2010 where he played an instrumental role in developing the pathology curriculum for the systems-based modules. He earned his medical degree from Dow Medical College and did his residency training at Deaconess Hospital and the University of Missouri Medical Center. Upon completing his training, he held faculty appointments at the University of Missouri School of Medicine, Wayne State University and the Cytotechnology School at the Detroit Medical Center before joining UCF.
Dr. Richard Peppler, vice dean and associate dean for faculty and academic affairs, rs thanked Dr. Husain for his contributions to students and UCF's medical education program.
"The 700-plus graduates we have had so far have some of your DNA in them and that is part of your legacy," Dr. Peppler said. "You should be very proud of your influence on them and the other faculty with whom you worked both within the college and in the university."
Dr. Husain was awarded Professor Emeritus status in February and plans to continue to be involved with the College of Medicine as a volunteer faculty member.
Dr. Lopez retired as a full professor from the Burnett School of Biomedical Sciences. He joined UCF in 2004 and served as director of the Pre-Health Professions Advisement Office. He said impacting the lives of his students was the most rewarding part of his job.
"I loved being able to motivate students towards their future career," he said. "I was able to inject the appropriate passion and interest in the career, advising them personally in my office for three or four hours each time through the years. Being able to directly influence the next generation of scientists and health care professionals was indeed a privilege for me."
A native of Ecuador, Dr. Lopez moved to the U.S. pursue his master's degree in veterinary sciences at the University of Maine and a Ph.D. in physiology at the Colorado State University. He later completed post-doctoral research at the University of California and earned a Doctor of Integrated Medicine degree from Pacific National University in Los Angeles and Beijing Medical College in China. He held faculty positions at Loyola University and California State University before coming to UCF.
"Genaro has been an important part of our Burnett family for a long time, making impactful contributions to educating the next generation of scientists," said Dr. Griffith Parks, associate dean for research and director of the Burnett School. "We will miss him and wish him the best in this new life phase!"
Now retired, Dr. Lopez said he plans to work on a project he shelved due to work obligations — writing his memoir — which will document his travels including his move from Ecuador to the United States and adapting to a new culture.
Post Tags
genaro lopez

griff parks

mujtaba husain

retirement

richard peppler