College of Medicine

Faculty News

Students
On the day before Father's Day 2013, hundreds of Central Florida men received the gift of good health at the Black Men's Health Summit, held at the Orange County Convention Center in Orlando.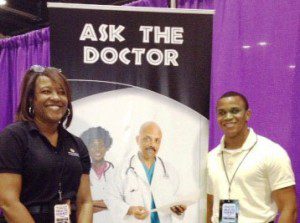 Representatives from the UCF College of Medicine contributed to the event by running an "Ask the Doctors" booth to help participants made sense of their health screenings and take steps to improve their health.
Dr. Lisa Barkley, a family and sports medicine specialist, who serves as assistant dean for diversity and inclusion, counseled  dozens of participants. "The men at the summit go through a variety of health screenings, and after that, they have a lot of questions." Dr. Barkley said. "Our role was to help them put together the pieces and have a plan for their own health."
Rising second-year M.D. student Ramone Eldemire also volunteered to work with patients. "We're trying to help black men have a more proactive approach to their health," Ramone said. "At the end of the day, we want to make sure that they have a physician of their own." He worked with several patients who had not been taking their prescribed medications, or were letting health problems linger without treatment.
For Ramone, the Health Summit served not only as an outreach opportunity, but also a real-world training ground for his own clinical skills. "You can read all the textbooks you want, but there's a lot more to it than that," he said. "Actually going out there in the field helped me understand that there are some social aspects to a patient's health that you have to treat, as well." He says that some men want to see themselves as invincible, and the idea of seeking health assistance is perceived as a weakness. It's a stigma that he hopes to dispel in his own approach to patient care.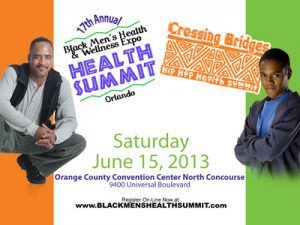 Other social factors such as income can also hinder health, which makes the health summit so important. "Many of the men do not have health insurance or are under-insured." Dr. Barkley said "The ability to come and get screened in an environment, where people are really interested in their well-being, is key."
According to the Centers for Disease Control, the average life expectancy of black men is 70.8 years — about 6 years behind the life expectancy of white men.  While the gap is closing, Dr. Barkley emphasized the importance of encouraging all patents to follow through on their healthcare. "I love being able to go and help people that might not have access otherwise," she said. "I think it's important for students to see that it's not so simple. There can be so many other factors that interfere with health problems and getting them treated."
Students and faculty hope to continue giving back through the College of Medicine's chapter of the Student National Medical Association. The chapter  began last year, and focuses on addressing the health needs of the minority community. With their faculty sponsor, Dr. Barkley, the group plans to assist with more events like the Black Men's Health Summit throughout the year.
Post Tags