Burnett School

College of Medicine

Communique

Faculty News

Research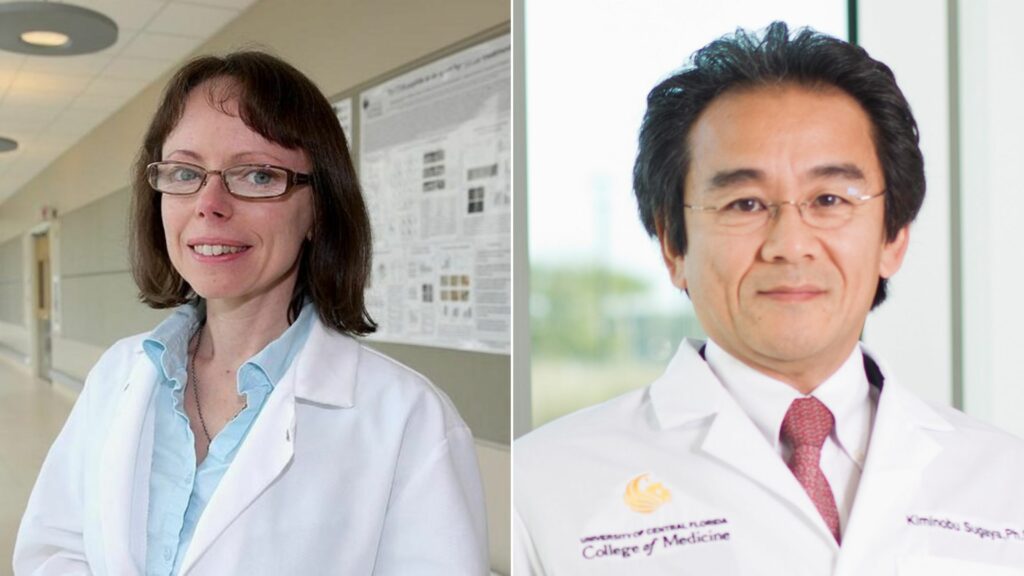 Two College of Medicine researchers who established patents for their medical inventions helped UCF rank 25th among public universities in the nation for producing patents and 60th in the world, according to a 2020 report.
The National Academy of Inventors and the Intellectual Property Owners Association ranks institutions every year based on the number of patents received and filed through the U.S. Patent and Trademark Office. Only the first institution listed on the patent is credited. The 2020 report shows UCF on a steady trajectory of growth, climbing five spots in the world rankings and four nationally.
With 46 patents, UCF was ahead of Carnegie Mellon, Texas A&M and Penn State, and just behind Ohio State (48) and Michigan State (47). The University of California system (597), Massachusetts Institute of Technology (383) and Stanford University (229) took the top three spots. UF ranked the highest among the Florida universities, coming in 11th with 140 patents.
College of Medicine inventions and technologies that led to patents in 2020 are:
Nanoparticle platform stimulates production of natural killer cells
Lead researcher: Associate Professor of Medicine, Dr. Alicja Copik
This invention relates to a nanoparticle-based platform for generating potent natural killer (NK) cells for cancer and anti-viral treatment. NK cells are part of the body's immune system and can kill tumor cells and virus-infected cells. The nanoparticle platform contains agents that stimulate the NK cells to increase their numbers, essentially creating an army of NK cells. This technology is licensed and in development for clinical use.
Combination drug treatment to treat neurological disorders
Lead researcher: Professor of Medicine, Dr. Kiminobu Sugaya
This invention relates to a combination therapy to treat neurological disorders such as Alzheimer's disease and Parkinson's disease. The treatment is a combination of the drug NBI-18, which increases endogenous neural stem cells, and phenserine, which reduces the production of toxic amyloid plaques in the brain. Mice treated with this combination therapy had increased neural stem cells production and improved performance in memory tasks.
"Patents is one measure of our growth and impact," says Dr. Elizabeth Klonoff, vice president for Research at UCF. "We are strategic about selecting the inventions for patent protection to ensure fiscal responsibility and to maximize the potential of receiving valuable patents. Steady growth of UCF's research base, inventions, patents and industry licensing partnerships feeds our economic ecosystem, which brings not only financial benefit to UCF, but also solidifies our place as a top-tier research institution. Doing our part means we benefit the local community and the society at large by contributing to technological advancements that improve people's lives and drive the economy."
Some of the 46 patents secured in 2020 have been licensed to companies, which invest in taking the product to market. That means more jobs and often investing in facilities, which all impact the economy. For example, Dr. Copik's patent for a natural killer-cell therapy against cancer, was licensed to a local company, which was recently acquired by Sanofi, an international pharmaceutical company. Patents are a long-term investment for a university, says Svetlana Shtrom director of UCF's Technology Transfer Office.
"Patents themselves do not generate revenue," she says. "Licensing patents to industry partners to facilitate transformation of promising research results into valuable products brings true benefit to the university and society. Our data has shown that it takes on average 5 years for 50% of our inventions/technologies to be licensed. It takes an additional 3 to 5 years or longer for companies to commercialize technologies licensed from the university and to begin selling products. The benefit to the university is realized when these products positively impact the well-being of our society through improvements in technology and public health."
Post Tags