Burnett School

College of Medicine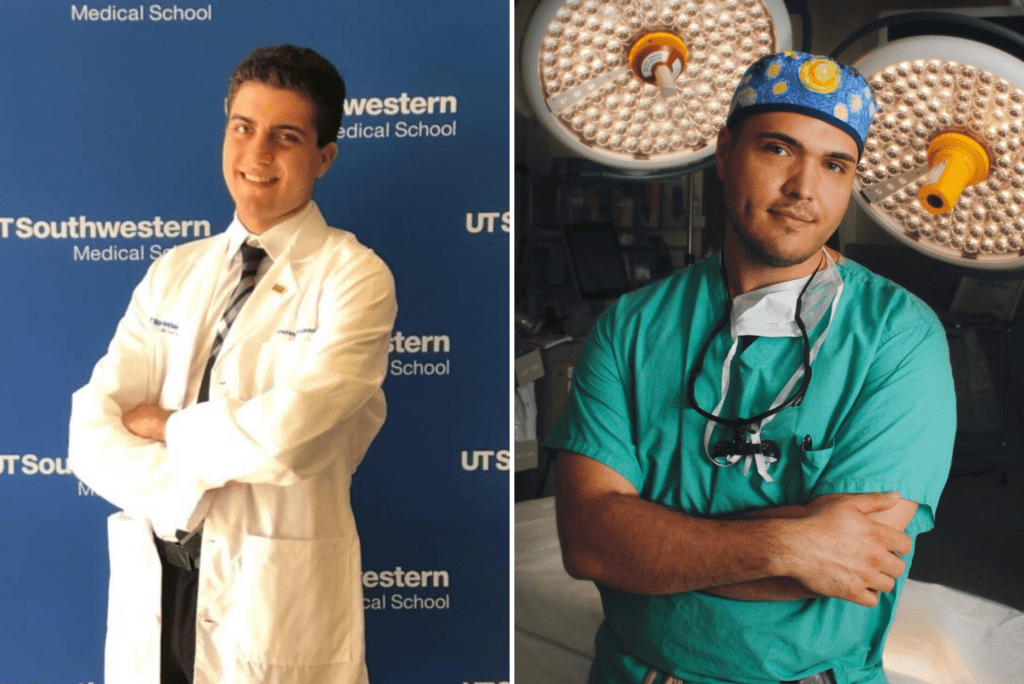 A Forbes magazine-featured philanthropist and a Grey's Anatomy producer are among UCF's most outstanding alumni being honored this year with the"30 Under 30 Award."
The two College of Medicine graduates are among 30 UCF alumni being recognized for their professional success, commitment to helping others and track record of giving back to the university and their local community.  This year's honorees also include leaders in space exploration, civil engineering and even dunking basketballs.
At just 23 years-old, Burnett School of Biomedical Sciences  graduate Andrew Aboujaoude is this year's youngest recipient. Aboujaoude is in his second-year of medical school at University of Texas Southwestern. This past summer, he completed Officer Training School for the Air Force.
"It was an honor to be considered for this award at just 23," Aboujaoude said. "It was an even bigger honor that the alumni board who are experienced and distinguished felt I was worthy of this recognition. Besides the recognition, I just keep doing what I love and the rest takes care of itself."
At UCF, Aboujaoude was a member of the UCF Burnett Honors College and the LEAD Scholars Academy, conducted research on malaria all while being involved in multiple co-curricular activities. He was also a recipient of the Order of Pegasus, UCF's most prestigious student award.  At  UCF he created a nonprofit organization, Hearts for the Homeless, that provided blood pressure screenings for Downtown Orlando's homeless population to help detect and reduce their risk of hypertension.  His work with the homeless earned him several awards, and captured local and national media attention including a feature in Forbes magazine.
"I've just always wanted to fix the world around me," Aboujaoude said. "There are so many issues we have, so much negativity and destruction, and I feel like the role of the physician is to do the exact opposite – to heal, fix and mend wounds and make everyone happy."
Set to graduate from medical school in two years, Aboujaoude will commission as a captain and says he will likely pursue a residency with the Air Force as he hopes to spend at least the beginning of his career serving troops, veterans and their families.
If you pay close attention, you'll probably see Michael Metzner's name in the rolling credits for ABC's medical drama series Grey's Anatomy. Twenty-nine year-old Metzner, who graduated from the College of Medicine in 2016, matched into a surgical residency at University of Texas Health San Antonio. In his second year of training, he took a research sabbatical to join the ABC production crew in what should been a three-month stint as a medical communications fellow. Three years later, he is now an associate producer. In this role, he helps writers conceptualize medical stories, and ensures medical accuracy throughout the entire production process from working with scripting, prosthetics and special effects design, onset filming and post-production editing.
Metzner has a lifelong passion for the arts and formed the Arts in Medicine student group at the medical school, pioneered The Script art and literary magazine, initiated the annual holiday showcase talent show, and secured a donated piano for Nemours Children's Hospital that he played for patients and their families.
"It's really an honor to be recognized especially because UCF has a special place in my heart," Metzner said. "The College of Medicine really helped to nurture my creativity and that really got me to where I am today. Whenever I went to Dean Dr. Deborah German with all my crazy ideas like creating an art magazine or a talent showcase she would always support them. My creativity blossomed at UCF and now I get to showcase it in front of millions of people every week."
The 2020 award recipients will be honored in a formal ceremony May 9.
Post Tags