Burnett School

College of Medicine

Faculty News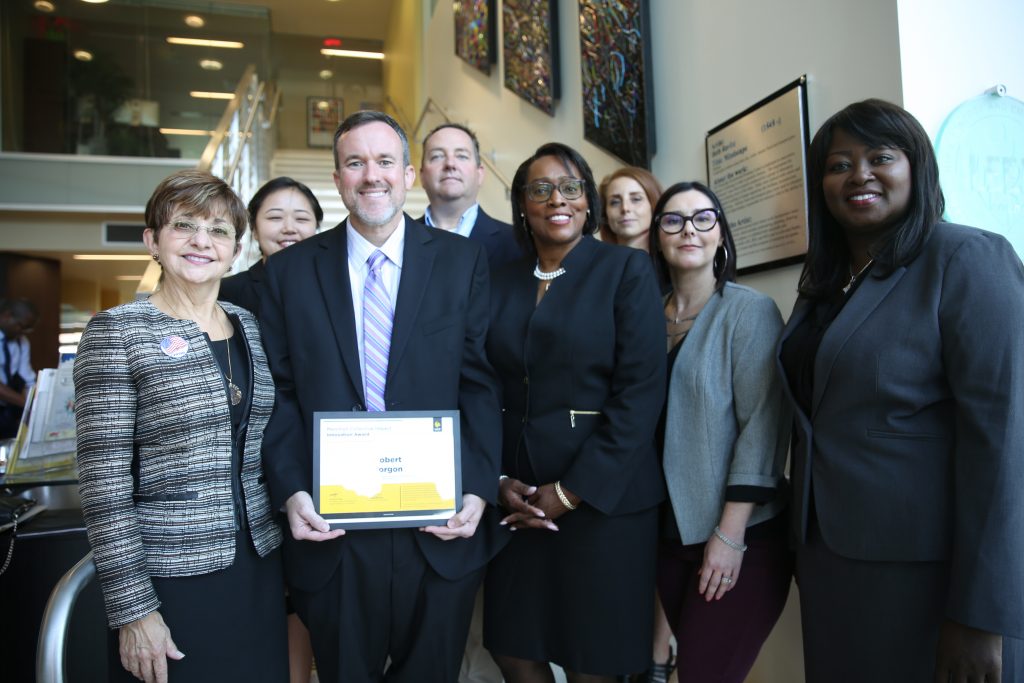 Reach and impact are at the core of PILOT — a program that gives promising biomedical sciences undergraduates opportunities to teach and do original research — and has earned a College of Medicine faculty member university recognition for his innovation.
Dr. Robert Borgon, associate professor of medicine at the Burnett School of Biomedical Sciences, received the Marchioli Collective Impact Innovation Award Nov. 6. The award honors faculty or staff members for innovative initiatives that align with the university's Collective Impact Strategic Plan.
PILOT (Peer Instruction and Laboratory Occupational Training) gives undergraduate students opportunities to teach, research and be mentored by faculty – experiences typically afforded only to graduate students. Some 360 students – about 30 per semester — have gone through the program since it began in 2009. Dr. Borgon leads the program with Burnett faculty members Dr. Ken Teter and Nicole Verity
PILOT students serve as teaching assistants for the Quantitative Biological Methods class – a large, required course at Burnett. They also get the opportunity to design and conduct independent research projects to get hands-on scientific training. Many have gone on to present their research state-wide and have won undergraduate research awards.
In presenting the award, Dr. Deborah German, vice president for health affairs and dean of the medical school, said PILOT helps address the university's strategic initiative to provide unique experiences to every student despite high student- faculty ratios.
"Dr. Borgon saw a need, and that need was to give more students a high impact research experience that was curriculum based, and he addressed this need," she said. "Having the students act as independent investigators, mentors and teachers provides a better experience and a higher level of learning than the traditional models."
Former PILOT student Haley Lehew is a senior who researches Alzheimer's disease and now mentors a cohort of other students in the program. She says PILOT not only helped her discover her passion for research, but confirmed her dream of becoming a physician scientist.
"The faculty members involved in PILOT have all played instrumental roles in my career as a student," Lehew said. "They helped me with everything, from academic advice, to how to change my experience to be better, and overall how to be a better scientist and a better professional. So I'm incredibly thankful that PILOT has allowed me to network with this amazing faculty."
Dr. Borgon said the program provides students with a "high impact experience" that can help them as they pursue their careers. "Students get unique teaching and research experiences to add to their CV which is very beneficial for medical school and graduate school applications. It's is also equally beneficial to faculty who get teaching assistance and also learn new ideas from the students on how to improve the course," he said.
Breven Gaines, a second-year Ph.D. student at the Burnett School attributes most of her success to Dr. Borgon and the PILOT program. She is the recipient of a highly competitive doctoral fellowship from UCF's Office of Research and is currently researching a cure for tuberculosis with College of Medicine faculty member, Dr. Kyle Rohde.
"PILOT not only helped me solidify my decision to attend graduate school but also provided me with tools I hadn't received in a traditional classroom setting," Gaines said. "It helped me build my confidence in public speaking, peer mentoring, teaching, but most importantly the program provided a means for us to uplift one another through the practice of science."
Dr. Borgon hopes to see similar programs started at other UCF colleges with large enrollments.
"If we are reaching 30 students each semester, and someone else can reach another 15 or 20 and we can keep scaling it up, maybe we can reach that goal of providing high impact experience for every UCF student," he said.
Post Tags
Burnett

elizabeth dooley

pilot

Research

robert borgon

undergraduate research