Burnett School

College of Medicine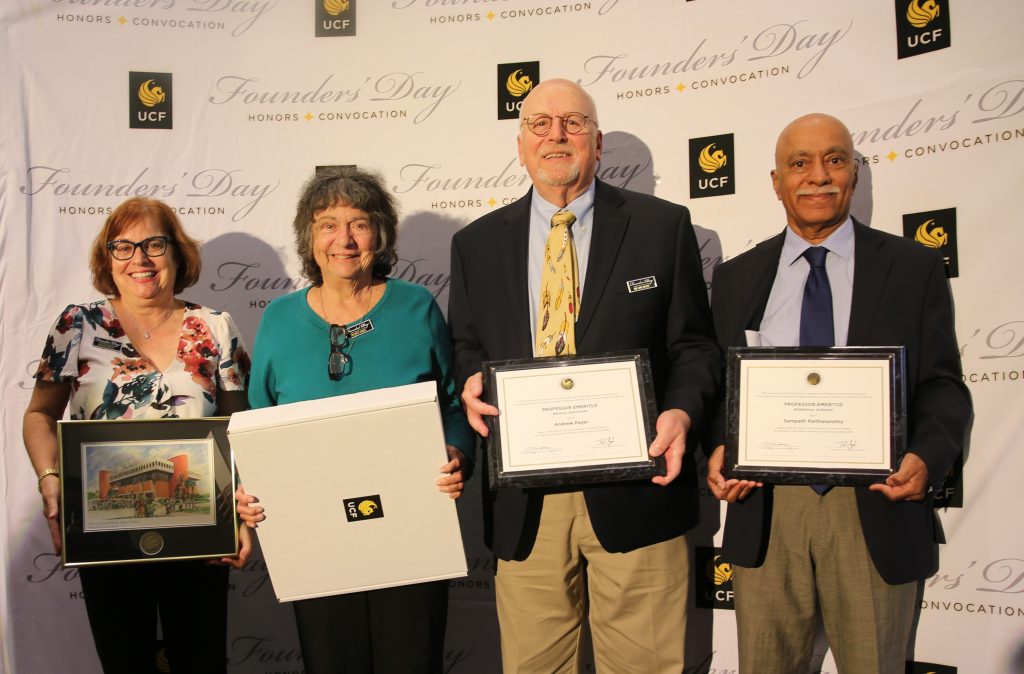 Roseann White joined UCF 50 years ago and planned on staying only a year. "My husband promised me we'd only stay one year in Orlando because this was such a small university when I came, and it had no medical school," she said.
Today, Dr. White is a tenured professor and associate director of academics at the College of Medicine's Burnett School of Biomedical Sciences. And on April 4, she was honored for five decades of service at the university's Founder's Day Convocation. The event honors faculty members for outstanding teaching, advising, research and professional service and for career milestones.
Other College of Medicine faculty honorees were retiring Drs. Sampath Parthasarathy and Andrew Payer, who were given titles of professor emeritus; Dr. Cristina Fernandez-Valle for excellence in research, and Dorilyn Hitchcock, director of the Medical Laboratory Science Program for 30 years of service to UCF.
Dr. White arrived at the tiny campus of then Florida Technical University in 1969, the second year Orlando's new university offered classes. She was armed with a Ph.D. in biochemistry from the University of Texas Southwestern Medical School and was hired as an assistant professor in the university's Biological Sciences department.
"I joke with my students that I was 10 years old when I started working here, but we know that's not true," she quipped. "The campus was in the middle of the woods. There was nothing here, two buildings perhaps and about 1,000 students." She quickly developed a strong sense of attachment to the university, falling in love with teaching, research and the 'very friendly student body," and made UCF her home.
She highlights watching the medical school being built from the ground up, and achieving match rates above the national average, as some of her proudest moments at UCF.
The professor emeritus title goes to retired professors with distinguished academic service.
Dr. Parthasarathy, who held the Florida Hospital Endowed Chair in Cardiovascular Sciences, is an internationally-renowned scientist credited with the co-discovery of a major cardiovascular concept – the fact that oxidized LDL cholesterol causes atherosclerosis.
"I am proud to have been named among the first emeritus professors from the medical school," Dr. Parthasarathy said. "This honor not only reflects my contribution, but also the College of Medicine who helped it possible."
Dr. Payer served as director of the College of Medicine Anatomy Lab. He created the high-tech lab for the new Medical Education Building, which opened in 2010 in Lake Nona, calling it "the Anatomy Lab of my dreams." The lab has received national attention for its innovative technology and teaching methods. UCF is just one of three locations in Florida where people can will their bodies to science.
"This award is a very special," Dr. Payer said of his emeritus status. "But the real honor is being part of the founding faculty, being a part of building the medical school and now being able to enjoying retirement."
Dr. Fernandez-Valle is researching drug therapies for neurofibromatosis type 2, a genetic condition that causes tumors to grow in the brain, along the spine and nerve tissues. Last year she received a five-year $3.1 million grant from the National Institutes of Health as well a $462,000 grant from the National Institutes of Neurological Disorders and Stroke towards her research.
Hitchcock, who is also assistant professor and undergraduate coordinator, leads a program that trains students to work in hospital, research and commercial labs. The program has received national recognition for excellence in students' performance on national board exams and its high job placement rate.
Post Tags