College of Medicine

Communique

Faculty News

Global Health

Population Health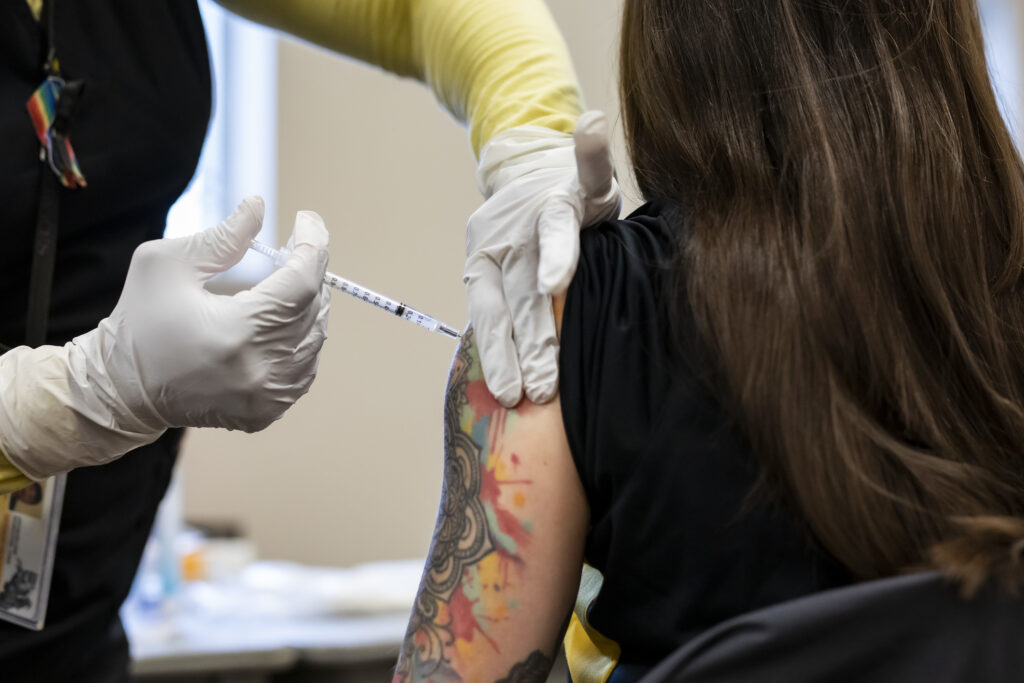 The advent of COVID-19 vaccines has provided a light at the end of the tunnel for a global pandemic that is going into its second year. However, College of Medicine epidemiologist Dr. Elena Cyrus believes the vaccine's efficacy is partially dependent on persons adhering to receiving their second doses.
Recent data from the Centers for Disease Control and Prevention (CDC) shows that more than five million people, or nearly 8 percent who received a first shot of the Pfizer or Moderna vaccines, have missed their second doses.
Before the CDC data release, Dr. Cyrus, who has done extensive work with HIV/AIDS populations, thought something similar might happen with COVID-19. After initial success with HIV treatments, patients did not follow through with their care, likewise people are opting not to get their second doses of a COVID-19 vaccine.
In a 2017 study on HIV patients who needed to make scheduled clinic visits for treatments, Dr. Cyrus found that some of the most common barriers reported were forgetting their appointments, being too busy and/or work obligations, and these circumstances can also occur for people who receive the two-dose vaccine regimen.
"At the time when I started to think about second dose adherence, the CDC had not yet released this data," Dr. Cyrus said. "My hypotheses were based on my extensive research in HIV disparities and vulnerable populations' barriers to accessing care, as well as my observations in clinics and reports I was receiving from COVID-19 providers."
While the reasons for missing a second dose will vary among individuals non-adherence, she said especially among younger people, there is an overinflated perception of protection the first dose can provide. "Some young people may think they have a natural immunity so they think that 'between my first dose and my youth I'm all set', Dr Cyrus said. "Consequently, they might be less likely to return to clinic for a second dose and may even engage in more high-risk behavior because they feel safe with just one dose." In fact, this is not true, and unless both doses are received, the individual will not have full protection against the virus."
And as the demand for vaccines decline and mass vaccination sites like those operated by FEMA are closing, more people will rely on primary care providers for their second doses.
"With the mass vaccination sites, it worked out that wherever you got your first dose you could also get the second dose there as well," Dr. Cyrus added. "But eventually vaccines will move to primary care providers and so people who have limited access to healthcare due to socioeconomic reasons will have less access to vaccines or facilities that provide them."
She added that with more people returning to work, it can also be difficult for people with strict schedules to leave work to get vaccinated, especially if their employer does not allow them time off. Also, people who may have been unemployed for some time may be trying to recover economically, and so missing an hour or two of work to get vaccinated may not be a priority. She noted that while health promotion campaigns are targeting vaccine hesitancy, they also need to consider access which is a common barrier for vulnerable populations.
As Florida and other states reopen and travel resumes, populations that were once in "lock down" are now more transient and mobile. Individuals can be in a different location when it's time for their second dose, and this can also contribute to them foregoing the second dose, or in some cases avoidance of the vaccine altogether.
"They may think if they take this dose now, what's going to happen in four weeks if they are not in the same area where they got the first dose," she said. "So that fear of missing the second dose means some people may not take the vaccine at all."
Vulnerable populations may also lack access to reliable transportation to get to vaccine sites in time for the second appointment and so may miss the scheduled window for the second dose.
"One of the largest problems is that the health systems are overwhelmed and there are many other health priorities, so it's difficult to keep up with adherence," Dr. Cyrus said. "Ideally, to help improve adherence, patient contact tracing can be helpful." In a previous study of non-adherent HIV patients, Dr. Cyrus' team found that contact tracing by trained social workers was successful in locating patients and re-engaging them in care.
Dr. Cyrus warns that even with the availability of vaccines, we are still not out of the woods until herd immunity is possible and is achieved. Outside of vaccine hesitancy, and non-adherence, there are threats of new variants emerging contributing to another surge or outbreak in the fall.
"Due to the volume of competing public health demands, something like vaccine adherence can fall through the cracks at this point, especially now when the majority of people are adhering. However, Dr. Cyrus recommends caution, as non-adherence can increase over time especially among vulnerable populations or key populations," she said. "It is important to monitor because COVID-19 outcomes among vulnerable populations can influence community spread, and will be key to what will evolve in the fall."
Post Tags