College of Medicine

Faculty News

Students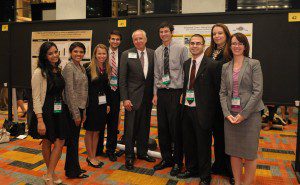 UCF College of Medicine students wowed the American Association of Medical Colleges (AAMC) national meeting with research presentations that AAMC CEO and President Dr. Darrell Kirch said "underscored their dedication to patients and the academic medicine community."
Seven student AAMC representatives presented research on topics ranging from emergency medicine simulations to peer academic coaching at the national AAMC meeting November 1-6 in Philadelphia. The organization displayed a photo of Dr. Kirch, the students and Dr. Marcy Verduin, associate dean for students, during the conference. Dr. Kirch praised the students' " valuable contributions in everything from aligning peer medical students for success, to the importance of working in teams, to improvements in global health."
Fourth-year student Jennifer Bazemore, who has been active with the AAMC since she started medical school, presented the college's Peer Academic Coaching (PAC) Program, which allows younger students to be mentored by upperclassmen. She detailed how student scores on the United States Medical Licensing Exam (USMLE) Step 1 exam have increased through the program.
"It's so amazing to be able to present anything I've done with the Peer Academic Coaching program," said Jennifer, who created the group as part of her Focused Intensive Research Experience (FIRE) project three years ago. "It's kind of like my baby that has grown into this awesome thing."
Third-year student Erin Kane was one of five students selected nationwide, to give a scheduled presentation on her work with emergency medicine simulations at the College of Medicine. In January, she organized an elaborate car-bus accident scenario at the annual Global Health Conference. UCF medical students posed as victims – decorated by movie makeup artists who were brought in to make the wounds look real. Student participants in the health conference had to triage to determine which patient received care first.
Erin said she came up with the idea from her pre-medical school work as a firefighter/EMT. Now she's inspired to think even bigger. . "Doing the simulations on a larger scale made me more interested in pursuing academic medicine and teaching," she said.
Other students presented UCF efforts such as a summer pre-matriculation program that helps prepare students just before they get to medical school and a program that transitions students into their third year clerkships. "Clearly UCF had a presence, and people were impressed by the research that our students were presenting," said Dr. Verduin. "There really was a buzz. People were excited about the projects, and wanted to hear what they had to say."
Students said they were especially gratified to see UCF's young medical school become more recognized on a national scale. "We're a pretty new school, so it means a lot to have UCF College of Medicine represented," Jennifer said. "This is my fourth AAMC conference, and every year it seems we get more and more recognition."
Added Erin: "I feel very proud to be one of the pioneering students that get to represent the school. It instills an even greater sense of school pride to be there at the forefront and see that what we're doing is innovative."
Post Tags