Burnett School

College of Medicine

Communique

Research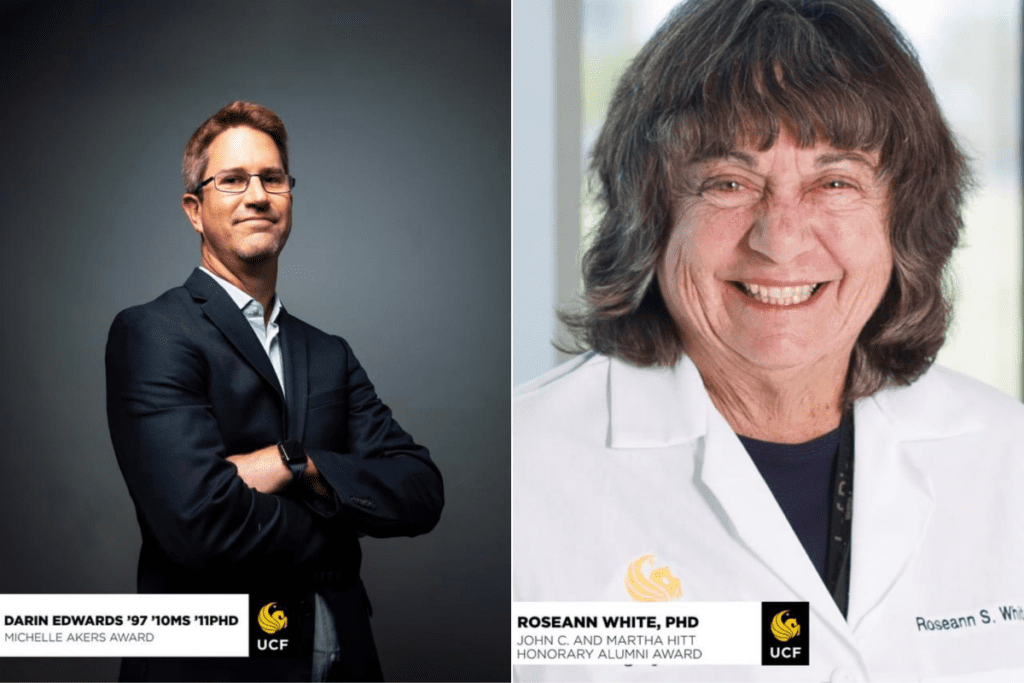 A College of Medicine alum and late founding faculty member have been named among UCF Alumni Shining Knights Award recipients for 2022. The 11 winners are being honored for their commitment to the university in the categories including the Michelle Akers Award, Distinguished Alumni, Honorary Alumni, Young Alumni, Distinguished Student and the Champion's Award.
A three-time graduate of UCF, Dr. Darin Edwards received the Michelle Akers Award bestowed to a UCF alumnus or alumna who has brought international acclaim to UCF through his or her accomplishments.
As senior director of immunology in the Infectious Disease Research Group at Moderna, Dr. Edwards led the team that developed and evaluated Moderna's vaccine for COVID-19, making a direct and positive impact on global health.
Dr. Edwards received a full scholarship to attend UCF's Burnett School of Biomedical Sciences for his bachelor's degree in biology and — after working as a computer programmer for nearly a decade — went on to pursue his master's degree in molecular biology and doctorate in biomedical sciences, with an emphasis on neuroscience.
The late Dr. Roseanne White, a founding College of Medicine and UCF faculty member, received the John C. and Martha Hitt Honorary Alumni Award – the highest annual award granted to a friend of UCF.
Dr. White arrived on the tiny campus of then Florida Technical University in 1969, the second year Orlando's new university offered classes. With a Ph.D. in biochemistry from the University of Texas Southwestern Medical School, she began as an assistant professor in the Biological Sciences Department. She played a key role in developing the curriculum for UCF's medical school. In 2019, she was honored for five decades of service to UCF at the university's Founders' Day Honors Convocation.

She often shared that she only planned to stay a year at UCF, because the new university was so tiny – just 1,000 students – and didn't have a medical school. But she quickly developed a strong attachment to the campus located in the woods of East Orange County, and its opportunities for medical education and research.
A beloved teacher, mentor, wife and mother, Dr. White passed away on Jan. 6, 2021. Her legacy endures through the Dr. Roseann White Memorial Endowed Scholarship, established by her family in her memory.
The 11 awardees will be honored in a ceremony at the Celeste Hotel on Thursday, Oct. 27 during UCF Homecoming week. See story on UCF Today for the full list of winners.
Post Tags