Burnett School

College of Medicine
They are discovering new treatments for diseases like tuberculosis, identifying new ways to reduce bad cholesterol, and trying to curb the spread of Lyme disease. And at UCF's recent Graduate Research Forum, these Masters and Ph.D. students from the Burnett School of Biomedical Sciences won all four research awards in the health and life sciences categories.
The annual research forum features graduate students from various disciplines sharing their innovative, original research and creative projects in poster displays.  Over 200 students and 80 faculty judges participated in the event that awarded  $16,000 for Best in Category research presentations.
College of Medicine Doctoral student Sarah Gitto was also awarded Top Graduate Teaching Assistant at the event.
First place winners will present at the Statewide Graduate Student Research Symposium April 21 at the University of South Florida.
Here are the winners: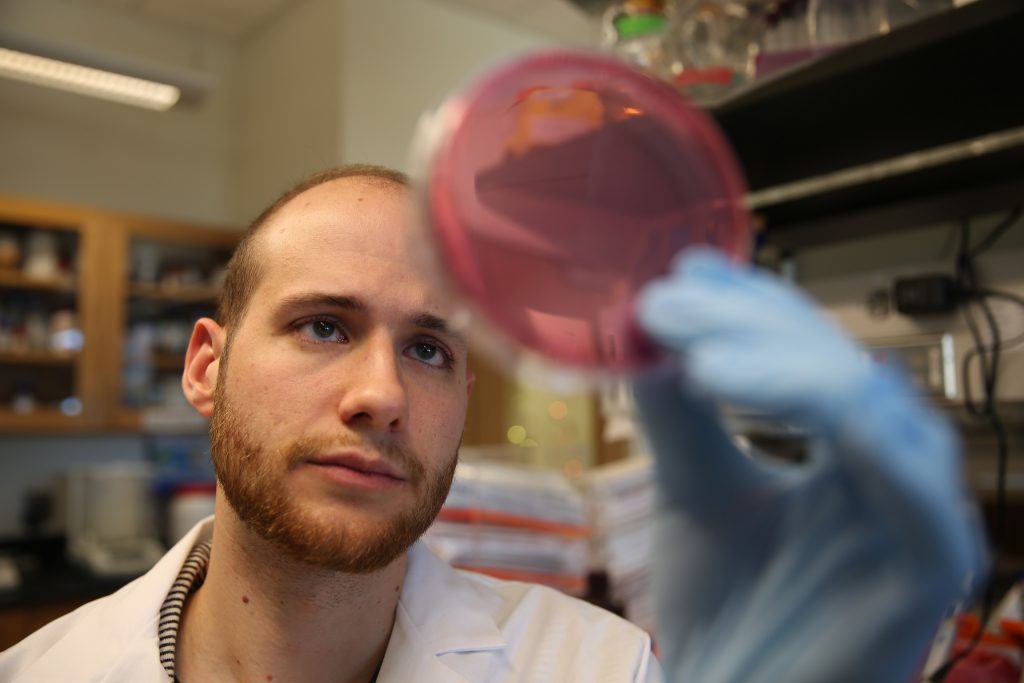 Philip Adams, Biomedical Sciences Ph.D.
First Place Doctoral, Health Sciences
Borrelia Burgdorferi Gene bb0562 Encodes a Membrane-Associated Protein Critical for Lyme Disease Pathogenesis
Mentor: Dr. Mollie Jewett
Co-Authors: Carlos Flores Avile; Mollie Jewett, Ph.D.
Adams has spent the last five years working with College of Medicine associate professor Dr. Mollie Jewett researching Lyme disease – a tick-borne illness afflicting more than 300,000 people a year.
From his research, Adams has identified a new gene (bb0562) in borrelia burgdorferi, the bacteria that allows the tick to spread the infection. "We found that when we remove this gene from the bacteria, the bacteria are no longer able to infect the animals which shows this gene is really important for causing Lyme disease," Adams said. "Learning more about the basic biology of the organism can help us find new therapeutics and diagnostic tools."
"This award is an honor and a reflection of the great mentorship that Dr. Jewett provides to me," Adams added, "and it's just really great to be able to present your work and to be recognized on this level."
His research on the survival mechanism for Lyme disease has been published in Nucleic Acids Research, an international peer-reviewed journal published by Oxford University Press. In 2014, he was also invited to train in RNA biochemistry techniques at the Max F. Perutz Laboratories in Vienna, Austria.
"Philip has matured over the past five ways in incredible ways," said Dr. Jewett. "He has been very successful and has become an expert in molecular biology, gene regulation, pathogenesis. I am very proud of him, and winning this award is the perfect culmination to the end of his career as a graduate student here."
After graduating from UCF this summer, Adams will complete a post-doctoral fellowship at the National Institute of Health.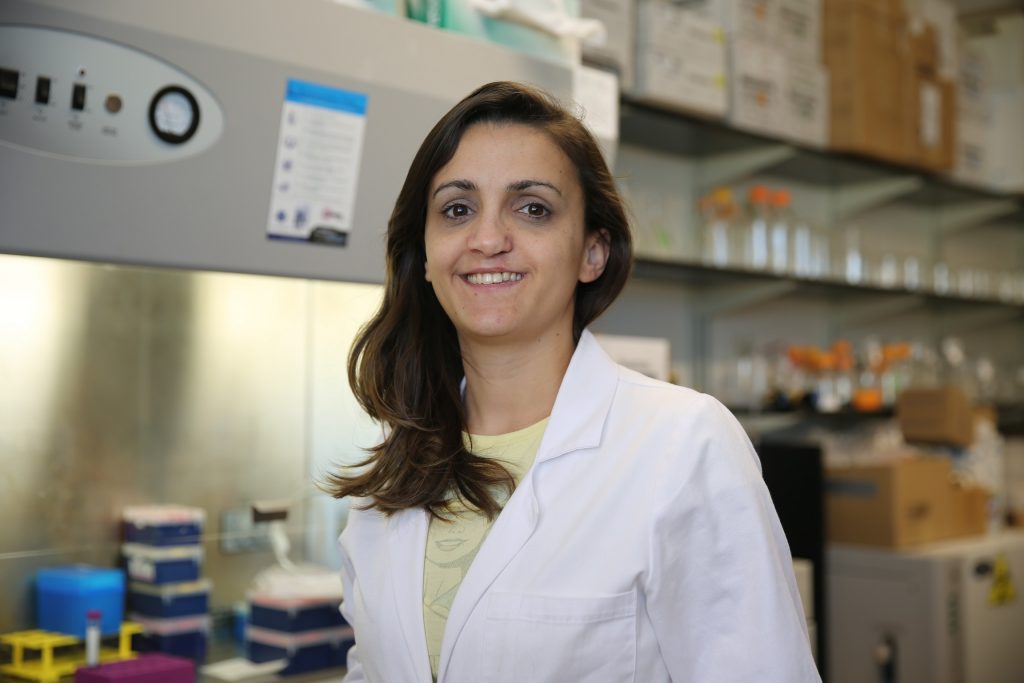 Carolina Rodrigues Felix, Biomedical Sciences Ph.D.
First Place Doctoral, Life Sciences
High-Throughput Screening of Marine-Derived Compounds Yields Potent Inhibitors of Dormant Mycobacterium Tuberculosis
Mentor: Dr. Kyle Rohde
Co-Authors: Rashmi Gupta; Sandra Geden; Amy Wright, Harbor Branch Oceanographic Institute, Florida Atlantic University; Kyle Rohde, Ph.D.
According to the Centers for Disease Control, tuberculosis caused 1.8 million deaths in 2015. Rodrigues Felix is trying to reduce future deaths by finding a new drug to treat this disease that affects one-third of the world's population.  Her research screens marine-derived compounds in sponges that can kill dormant or tolerant bacteria.
"The bacteria that causes tuberculosis are very difficult to kill because they can sometimes become tolerant to the drugs that are currently available," Rodrigues Felix explained. "The treatment we have now takes about six months with four antibiotics administered. So our goal is to find new molecules that can more effectively kill the bacteria and shorten the treatment time."
This is Rodrigues Felix's second win at the Graduate Research Forum, having received the top prize in 2015 for her research on TB.
"Carolina is setting a strong foundation for discovering new TB drugs and for others to be able to learn what we have learned," said her mentor, Dr. Kyle Rohde, an assistant professor at the med school. "It's always a proud moment to see a student get recognized for their hard work and achievements and it was well deserved."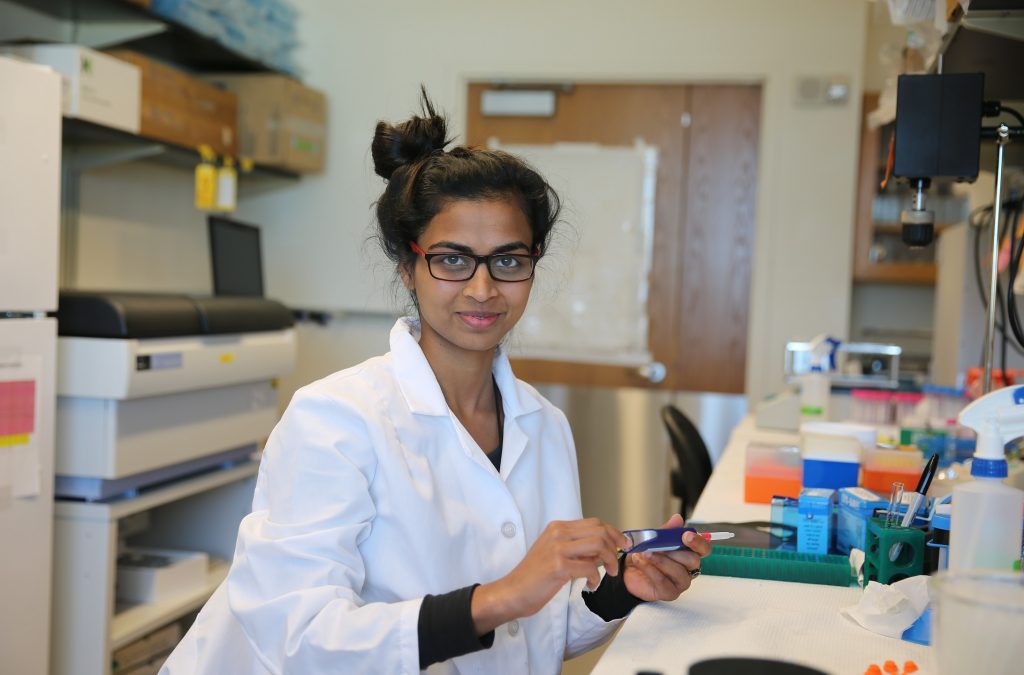 Anika Saxena, Biotechnology M.S.
First Place Master's, Life Sciences
PG-VTV Biogenesis Requires ATP to Facilitate Phosphorylation of Syntaxin 17
Mentor: Dr. Shadab Siddiqi
Co-Authors: Bhavesh Gurwani; Shaila Siddiqi; Shadab Siddiqi, Ph.D.
Saxena's research identified a distinct protein that regulates the secretion of VLDL (bad cholesterol), which in high levels can cause heart disease.
"Atherosclerosis is the biggest cause of death in the U.S., among all cardiovascular diseases," Saxena said, "so it's important to study ways to control VLDL secretion to reduce the instances of heart disease."
For Saxena, the win was unexpected. "There were so many good participants, so I was really surprised. This was really good news for me, the lab and especially my parents in India who are so proud to see me doing so well."
"Anika ranks among my very best students who has proved herself a sterling young scientist," said her mentor, Dr. Shadab Siddiqi, associate professor at the College of Medicine.  "I have also found her to be perseverant and enthusiastic in research activities."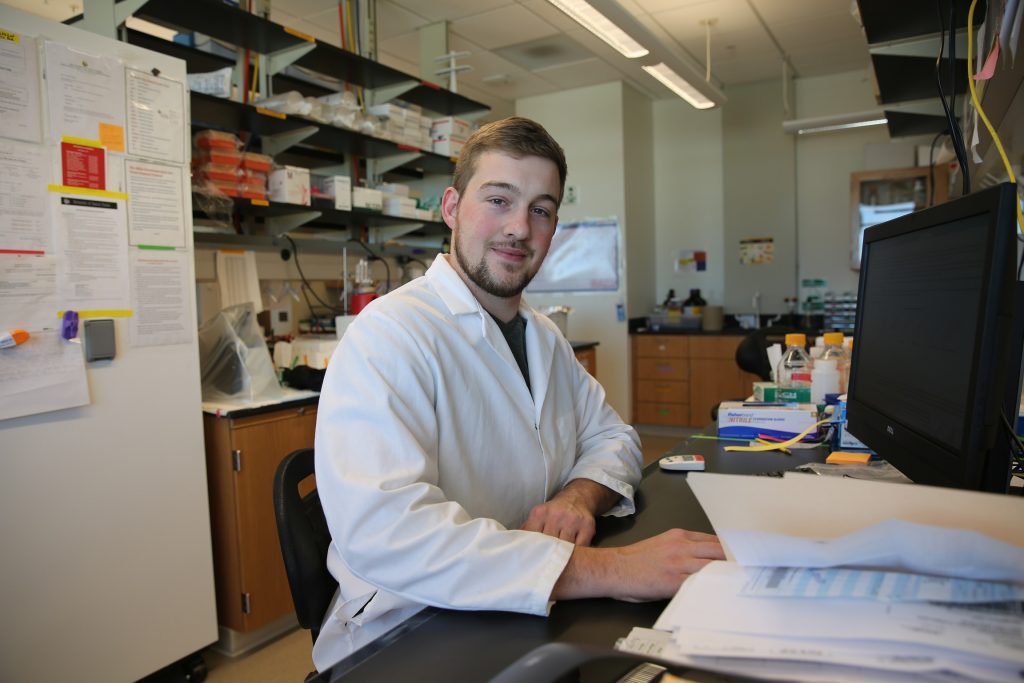 Simeon Thibeaux, M.S. Biotechnology
First Place Master's, Life Sciences
Cathepsin B Regulates VLDL Secretion Through LFABP Cleavage
Mentor: Dr. Shadab Siddiqui
Co-Authors: Shaila Siddiqi; Olga Zhelyabovska; Faisal Moinuddin; Michal Masternak; Shadab Siddiqi, PhD
Simeon Thibeax has spent the last two years researching an enzyme in the liver that contributes to fatty liver disease. His research found that the enzyme cathepsin B controls bad cholesterol secretion by the liver, thus reducing risk of the disease. Fatty liver disease can lead to hepatocellular carcinoma, a form of liver cancer.
"Hepatocellular carcinoma is very difficult to treat, and in most cases can only be corrected with a liver transplant," Thibeaux said, noting that patients have a less than a five percent survival rate after five years of diagnosis. "So my goal is to identify potential mechanisms that you can target and treat before you get to the point where it's no longer clinically treatable."
For Thibeaux, winning the top award is a reward for hard work.
"Beyond everything that you see on my poster, there is a lot that goes on behind the scenes to make sure you are doing everything right," he said. "So it's nice to know that all the late nights and early mornings pay off."
Thibeaux was also mentored by Dr. Siddiqi.
"Simeon is without a question one of the brightest young scientists I have ever encountered who has always exceeded my expectations," Dr. Siddiqi said, "and I am not at all surprised by his win."
Thibeaux is heading to medical school after graduating this spring.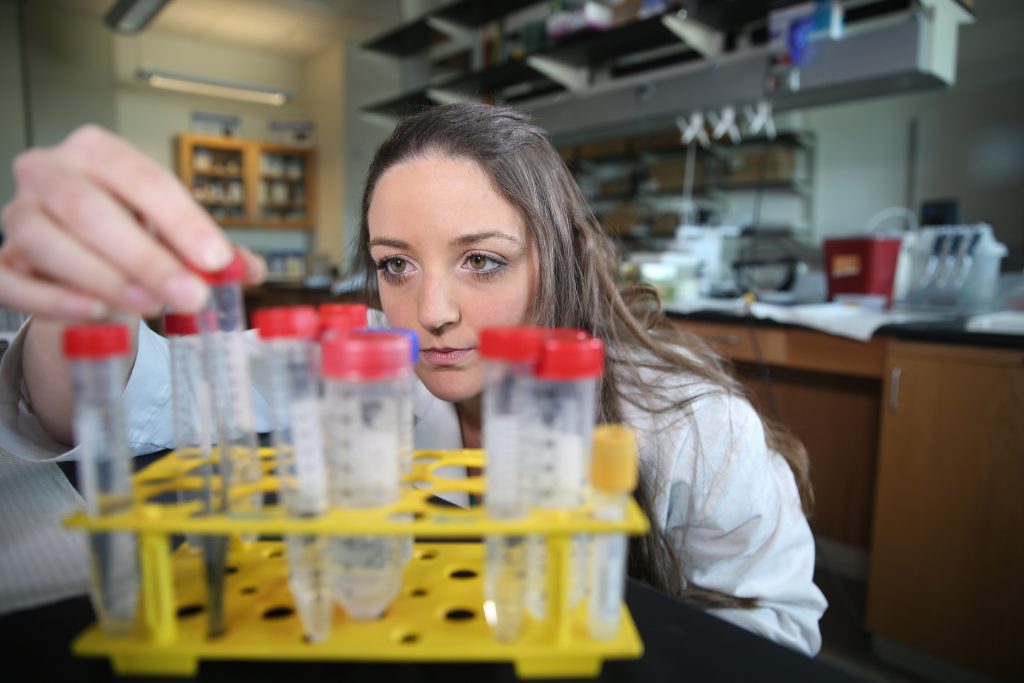 Sarah Gitto
University Award for Excellence by a Graduate Teaching Assistant
For the last six years, Gitto has been a graduate teaching assistant for Robert Borgon, assistant professor, molecular biology and microbiology, in his Quantitative Biological Methods class at UCF Osceola campus.
"Sarah represents the best of UCF and I know she will continue to excel and represent us well as she pursues her career in research and medicine," Dr. Borgon said.
In 2016, Gitto became the first Burnett School graduate student to receive the Order of Pegasus, the university's highest student award. She also works in the lab of Dr. Deborah Altomare, in the Burnett School's Cancer Division, researching pancreatic, ovarian and breast cancers. Gitto graduates this fall and wants to continue on to med school in order to pursue a career as a physician scientist. She said teaching provides an additional perspective to her love of science.
"I really got an opportunity to instruct the class the way I wanted to, so I got really creative with how I taught the students, for example having more discussions and group activities than didactic lectures," Gitto shared. "And what I enjoyed the most was seeing the 'aha moments', when you've been teaching something for a while and the students finally get it."
Post Tags